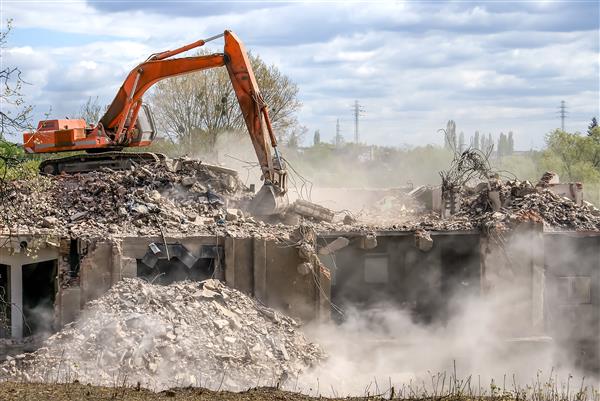 Cost-effective Solutions to Your Concrete Removal Needs in Kansas City, KS
Hiring professionals for concrete removal services in Kansas City, KS is not a minor expense and imagine how frustrating it would be if you ended up employing amateurs. If you want to repair or remodel your home because you want to change the wires or the pipes below the slab, you ought to call in a concrete slab removal expert to help you. Our team of seasoned experts accomplishes everything from concrete hauling to onsite cleaning, with outstanding workmanship and dedication that no specialized training can teach. At Omni Demolition, we give you value for your money.
Important Equipment Used for Concrete Removal in Kansas City, KS
At Omni Demolition, we use a number of equipment for concrete removal. At Omni Demolition, specialized heavy machinery and equipment are required for concrete slab removal. We specialize in removing concrete driveway as well as concrete wall demolition. Compared to other companies, we conduct regular maintenance jobs on the equipment that we use. After the demolition, the waste has to be dealt with, so we also have special machinery for concrete hauling.
Addressing Your Concrete Demolition Needs in Kansas City, KS
Concrete demolition in Kansas City, KS solves the potential issue of unsafe structures. If your property in Kansas City, KS is showing deep and widespread cracks, sunken or fragmented concrete slabs, or signs of frost heave, it is time to call our phone number and consult with the experts. After successfully removing an unwanted driveway, road, sidewalk or any other unwanted concrete surface, we clear the site while carefully observing concrete hauling standards. Safety is a huge part of our operations and we follow all precautions to ensure zero incidents from beginning to end. It could be that you want to replace an old structure with a new one or to remodel an existing structure.
Getting Concrete Removal Permits in Kansas City, KS – We Got That Covered
Planning to undertake a concrete removal and concrete hauling project in Kansas City, KS? Great. There is a limited number of concrete removal companies in the city who take care of processing permits for their client and usually leave it to the owner to apply for the demolition permit themselves. You will definitely need a permit depending on the nature of your project. Usually, you have to obtain a form of approval from the appropriate regulatory body before you can lawfully proceed with the demolition. There are several instances where you need to get a permit from your local council such as: when a building is to be entirely demolished, part of the building is to be demolished or more than a half of a given floor area of a building or structure is to be demolished. If you work with our experts at Omni Demolition, you can be sure that you'll have a great experience.
Cost of Concrete Demolition in Kansas City, KS
For starters, there are demolition permits which can cost you a lot depending on the location of the project. The rate is provided by your local government, and it would be best to check beforehand. Other companies reach a higher price range of $15,000+. Our concrete demolition projects in Kansas City, KS include patio demolition, patio removal, tearing down walkways and walls, demolishing decks, entire buildings, among others. Our ever-helpful staff will be happy to give you a competitive estimate for your project. We can help you regardless of the type of project you wish to work on. We have the necessary skills and equipment to handle any concrete demolition project you may have.
How Much Time Should a Concrete Demolition Project Take in Kansas City, KS?
We are confident in our service delivery timelines. One of our primary focuses is on the time taken to complete your concrete demolition project. The processes such as concrete slab removal, concrete hauling and recycling may be the same but the situations will always have some variation. Depending on our agreement and forecast, work can be completed within a day, a week or even a month. Depending on what we mutually agree on, your project can be completed in a few days, a couple of weeks or even months. Rest assured we will take good care of your demolition needs in Kansas City, KS and provide a clearly defined timeline for the entire project.
What To Do With Crushed or Used Concrete in Kansas City, KS?
After a concrete demolition and removal project is completed, tons of concrete wastes are collected. Because we are an environmentally friendly company, preserving our surroundings is at the forefront of our mission. Feel free to ask our concrete demolition contractors about recycled concrete. It reduces the need for transportation and disposal fees at the landfill. Once concrete waste is salvaged, the uncontaminated concrete free of paper, wood and other materials is crushed.
Hire a Premium Concrete Demolition Company in Kansas City, Kansas
Our team of experts uses modern concrete slab removal techniques and high end equipment, ensuring outstanding concrete demolition services at all times. No matter what concrete slab removal projects you have, dial our phone number today and we will be glad to provide you with a free estimate. Our concrete removal service is compliant with all safety policies and requirements of the state. Our flexibility allows us to work on your project according to your timeline and schedule. Book a concrete removal service today!
Zip Code Areas We Service in Kansas City
66101, 66102, 66103, 66104, 66105, 66106, 66109, 66115, 66112, 66111, 66118, 66110, 66117, 66119, 66160