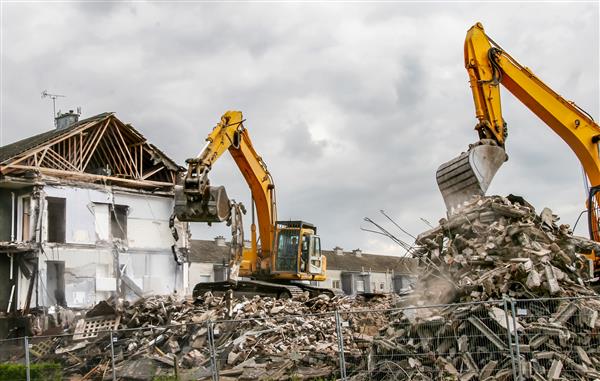 Omni Demolition: A Residential House Demolition Company You Can Trust
Hiring a Kansas City, KS house demolition team to help you knock down your home is the most ideal option if you want to minimize the risk of damaging other parts of your property and getting injured from equipment misuse. Unlike other house demolition companies, we are upfront and reliable, and we will never sell you services you do not need. Consider the amount of effort and money you need to rent out the necessary equipment, not to mention the risks you have to put up with if you knock down your property alone. We only make use of high precision tools and equipment to ensure the quality of our work. Although we are able to handle large demolitions, our contractors are more than happy to take on smaller jobs such as a mobile home demolition project. Omni Demolition is here to assist you with your needs.
Home Demolition Methods in Kansas City, KS
As a company specializing in house demolition in Kansas City, KS, we strive to provide each client with exceptional services. We deliver house demolition solutions such as implosion, remote-controlled demolition, high reach arm and crane demolition methods. The scale and method of all demolition strategies are dependent on the budget available, the size of the project, and any external factors that might be in play-for instance, the need to demolish a structure without causing any damage to the nearby structure. Let our residential demolition contractors work on each necessary part of your house. When hiring residential demolition companies in Kansas City, KS, you need to be very cautious as amateur operators in this field may make mistakes that can create a costly mess out of something as simple as a mobile home demolition project. Rest assured we will lay out the demolition plan before we start.
Requesting a Kansas City, KS Home Demolition Cost Estimate
Now that you understand the strong need to hire a house demolition team to help you in restructuring your home, you should consider comparing the rates of various companies in Kansas City, KS. Variables that affect the cost of a demolition project include asbestos-contaminated materials that are not only more labor intensive to remove, but also cost roughly three times as much to safely get rid of in contrast to other materials like timber or concrete. You can compare our rates with other home demolition companies. Omni Demolition guarantees to provide a complete price quotation, free of charge. Once you approve, and the necessary documentations are processed, we can send our residential demolition contractors to start the house or mobile home demolition project. There's really no other way to get good results but to have it done by a professional. At Omni Demolition, you are welcome to ask for a free cost estimate.
Acquiring a Residential Demolition Permit in Kansas City, KS
You will need to submit the documents to the local Kansas City, KS office. Documentation and special inspections for your demolition project, even for a humble mobile home demolition, could be necessary depending on the state you are in. Our residential demolition contractors are licensed to do the work that you need done, and they will also help you obtain the proper permits for the project at hand. This will help you avoid unnecessary fines and delays in your project. If you fail to acquire demolition permit, you may be penalized. If you do not like project delays or building code penalties, we highly suggest applying for a permit beforehand.Preparing for a Residential Demolition Project in Kansas City, KSJust as you don't just undertake a home demolition project in Kansas City, KS without the proper permits, you don't do it without getting the site ready, either. If water, electricity, or gas lines are not cleared during the demolition of a structure, a collapse could result in a dangerous explosion or exposure to chemicals. These dangerous situations can put every person at a demolition site at risk for serious injury. A demolition contractor then starts the process with the removal of valuables from the building, such as the copper wiring; then follows the removal of materials like glass, asbestos sheets and other materials, which are considered to cause serious safety hazards during and after demolition. You should make sure that no one gets to access your house on the day of the demolition to avoid accidents. Our trustworthy demolition company is experienced in all phases of the demolition process and we believe that this must be followed even for a simple mobile home demolition. When communication does not flow well, you run the risk of serious problems.
Reasons for a Residential Demolition in Kansas City, KS
There are a lot of reasons as to why a residence would need to be demolished. This ranges from wanting to renovate the house, a natural disaster that has damaged parts of the house, or the need to remove an existing structure so you can build a new one. When the structural integrity of a building is compromised, you should already seek the help of professional demolition contractors. Otherwise, you are increasing the risk of getting caught in an accident and suffering from physical injuries. Instead of booking a renovation service, we suggest hiring a specialist to tear down your house if renovations may cost you more long term. Trust our residential demolition professionals in Kansas City, KS. Irrespective of the renovation you are about to make to your house, you need to hire the right company for the job if it involves taking down a portion of your home.
Top-Quality Residential Demolition Tools and Equipment for Your Kansas City, KS Property
For many years, thousands of homeowners have depended on our team of residential demolition contractors to help them with their property. At our company, all our home demolition professionals are equipped to work on any size of residential building. Taking down walls to achieve your desired open floor plan might not be as easy as it seems. While it might be tempting to give it a go using a sledgehammer, it's not a wise thing to do. Depending on what you are demolishing, you might need to use different tools like tractors, wheeled tippers, concrete crushers and excavators to finish the job. They every so often use explosives to implode any condemned building. This method of home demolition is done with a great care so that nearby buildings don't incur damages.
Contact Us Today for Home Demolition Services in Kansas City, Kansas
Don't risk your safety just to save money! We have offered demolition services to the people of Kansas City, Kansas for over many years, offering high-end quality services. Our residential demolition contractors have been rated #1 in Kansas City, Kansas. We also have a wide array of equipment to ensure a smooth work flow. Give us a call at
(855) 885-3366
so we can get started on your demolition project!
Zip Code Areas We Service in Kansas City
66101, 66102, 66103, 66104, 66105, 66106, 66109, 66115, 66112, 66111, 66118, 66110, 66117, 66119, 66160