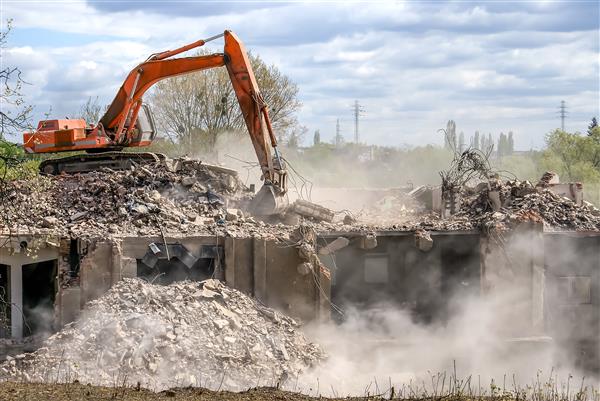 Reliable Provider of Concrete Removal Service in Topeka, KS
Concrete removal is an essential part of any construction project in Topeka, KS. We do not just know the basics of concrete slab removal; we are certified experts. For many years, we have been delivering quality solutions such as construction site cleanup, demolition jobs and concrete hauling. Omni Demolition is the most reliable concrete expert in the city. You can rely on us to get the job done.
Specialized Equipment Used for Concrete Removal in Topeka, KS
Be careful of contractors in Topeka, KS that use outdated and broken down equipment for this could mean impending delays to your project, or work that is so poorly done you will have to hire another company to redo the job. Here at Omni Demolition, in order for a concrete slab removal job to be successfully completed, using the right equipment is very crucial. Here at here Omni Demolition, our bobcats, hoists, pallet jacks and all the other tools we use in the trade are all well-maintained to ensure continuous operations. Demolition hammers are efficient and quick when it comes to demolition work such as removing concrete driveway, concrete slab demolition or concrete wall demolition. Depending on the nature of the project, we select different equipment to deliver maximum results. Pavement breakers are also used for heavy demolition jobs. In primary demolition, equipment and tools such as the wrecking ball, hammers and crushers demolish concrete into big sized rubble. Hydraulic concrete shears are used in secondary demolition where they help to separate concrete from steel reinforcements and further reduce the size of the rubble.
When Do You Need Concrete Demolition Services in Topeka, KS?
Concrete is designed to last a very long time if it is installed properly. However, like every other type of material, its structure will also degrade over time. The structure degrades as the years go by. We have all the equipment needed to perform quality concrete hauling or demolition. Concrete demolition is necessary when your structure becomes old and dilapidated; when your structure has widespread cracking; when moisture penetrates into the ground, freezes and then pushes up the concrete; or when you plan to improve or put up a new structure. Do not just settle for a renovation job where they will only apply another layer of material on the affected structure, hiding the weakening structure below.
Do You Require Permits for Concrete Removal Services in Topeka, KS?
Here at Omni Demolition we want you to save money when hiring us to do a concrete removal or concrete hauling project, so we will take care of filing the permit for you. There is a limited number of concrete removal companies in the city who take care of processing permits for their client and usually leave it to the owner to apply for the demolition permit themselves. You will definitely need a permit depending on the nature of your project. Usually, you have to obtain a form of approval from the appropriate regulatory body before you can lawfully proceed with the demolition. You will be required to submit a few documents depending on the type and size of your project. At Omni Demolition, you can trust our team to assist you in securing the required clearances and permits.
Spending Wisely on Concrete Demolition Costs in Topeka, KS
Applying for a demolition permit can already cost you more than $200. The price can go up, depending on where your project is located. Permits can cost an average of $200 to a few thousand dollars. We vow to conduct clean and honest business because we give more value to a lifetime relationship with our clients. Our concrete demolition projects in Topeka, KS include patio demolition, patio removal, tearing down walkways and walls, demolishing decks, entire buildings, among others. There are special circumstances that can affect the cost of your demo project. On average, demolishing unreinforced concrete in a two-car driveway will cost you somewhere between $1,500 and $2,500. Bigger projects average between $4,000 and $14,000. Demolition permits on the other hand vary greatly and will cost you an average of $200, but can cost up to $10,000 depending on where you are located.
Typical Duration of a Topeka, KS Concrete Demolition Service
Frankly speaking, there is no general timeframe that can be given as each concrete demolition job is different from the other. We understand the importance of honoring our commitments and we deliver our concrete slab removal and concrete hauling services in Topeka, KS with no excuses. At our company, we see to it that our clients understand what happens during every step of the process. It entails dividing slabs into sub-sections as well as grids, then removing them piece by piece. Once we assess the situation, we can come up with a plan and provide a tentative time frame.
What Can I Do With My Concrete Waste in Topeka, KS?
A crucial aspect we consider in a concrete demolition and removal project is where to put the debris. Managing reusable resources is an effective way of minimizing the growing amount of wastes that households, commercial establishments and industrial buildings produce. Our concrete demolition contractors highly encourage recycling in accordance with our adherence to providing eco-friendly solutions. The aggregate can then be used to make new concrete. We can guide you through the process if you choose to have your concrete waste recycled.
Reasons for Hiring Our Concrete Demolition Company in Topeka, Kansas
We offer various concrete demolition services. Omni Demolition has been a well-respected authority in concrete slab removal for many years. They know how to execute their assigned tasks with accuracy and they know how to tactfully minimize the risks associated with concrete slab removal projects. We are capable of demolishing any type of concrete structure or building with precision. Dial our phone number today and let us know what concrete removal service you require. We are also an environmentally friendly company with a focus on recycling reusable materials after a concrete demolition undertaking.
Zip Code Areas We Service in Topeka
66621, 66622, 66609, 66608, 66607, 66606, 66605, 66604, 66603, 66611, 66612, 66614, 66616, 66601, 66620, 66624, 66625, 66626, 66629, 66636, 66647, 66667, 66675, 66683, 66699