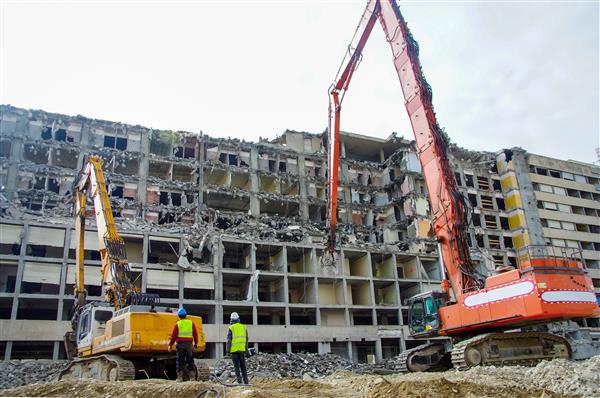 The Demolition Company with Demolition Contractors in Topeka, KS You Can Count On
Omni Demolition is composed of reliable and dependable demolition contractors in Topeka, KS. Our main goal is to provide affordable services without compromising the quality of our work. Our demolition contractor is on standby at all times ready to cater to your needs. Our team of demolition experts provide outstanding demolition services whether complete or selective. We have the resources and expertise to offer you the best solutions in a safe and professional manner.
Dependable Demolition and Deconstruction in Topeka, KS
Demolition can be described as dismantling of buildings or a specific room by a demolition expert. Our demolition experts are most experienced in going over construction sites to see what items may be salvaged and put aside to be used again, often saving time and resources. Deconstruction differs from demolition in that, it involves tearing apart a building or a home in a manner that salvages materials. There are two types of deconstruction: selective and whole-house.
Discover Our Amazing Services for All Your Demolition Projects in Topeka, KS
Our demolition experts will handle your property professionally from start to finish. An experienced and well-trained demolition contractor will manage your project and ensure that the job gets done. We also take time to really understand your needs and deliver according to your desires with no excuses. Taking down a structure sounds chaotic but unlike other demolition contractors, our services are done with utmost care and with as little disturbance to the community as possible.
Our Demolition Services in Topeka, KS
Industrial Demolition services: We have tried and tested thorough demolition of industrialized buildings. Our record includes taking down plants, manufacturing buildings, mills and the like.
Commercial Demolition services: We are a prominent demo company in handling commercial buildings even in the most unimaginable spaces. We have taken down storehouses, grocery stores, airplane hangars, and large public structures among others.
Concrete demolition and recycling services: If you want to save time and money, our demolition experts can also extract concrete materials and slabs onsite to be broken down into reusable gravel.
Scrap Metal Demolition Services: Our demo company is experienced in salvaging scrap from your demolition project. You can recycle the scrap metal. This will minimize on wastage and cost.
We are the Leading Demolition Company in Topeka, KS
Despite being highly preferred over other demolition contractors, we keep our feet grounded. Our demolition experts and demolition contractors have an established performance record of completing demolition jobs in the right way, on budget and on time. Our demolition company in Topeka, KS makes use of a unique approach that minimizes waste and maximizes recyclable materials. Our demo company is well equipped in handling any job, however simple or complex.
The Types of Methods Used in Demolition and Deconstruction in Topeka, KS
Explosive Demolition: This method should be done only by experienced demolition experts in Topeka, KS as it involves safety parameters that should be strictly observed. It involves turning a switch to initiate an explosion, which will then collapse the building into a mound of rubble.
Non-Explosive Demolition: In instances where the height of the building makes it unsafe to use explosives, a wrecking ball is used by local demolition contractors to weaken the structure before tearing it down.
Selective Demolition: Buildings are deconstructed with the aid of special equipment. It is a solution that maximizes efficiency while reducing waste. It is mainly used when building owners want to add extensions to the building, update the interior of a building, convert space or improve the health of the building. This is a delicate procedure that demands great precision and tact, which our demo contractors have and other building demolition companies overlook.
Common Equipment Used for Demolition in Topeka, KS
Hydraulic Breakers-They turn excavators into powerful and effective demolition machines. Our demo company uses hydraulic breakers to break rocks, concrete and other hard materials.
Wrecking balls – Huge metal balls suspended on a metal crane and swung into the building intended to be collapsed either once or as many as needed.
Hydraulic shears and rock breakers – A modification to excavators, these tools help in cutting through solid surfaces such as wood, metal, rocks, and concrete.
Bulldozers – This powerful machinery has a number of uses in construction. A bulldozer can be used to knock down an old or derelict structure. It can also be used to push away debris and clean up the area.
Dumpers – A necessity in every demolition business, dumpers are used to haul waste materials off the demolition site. It ensures the pre-construction area is free from any trash or debris brought about by the demolition.
Cranes – A necessity for demolition contractors, cranes serve multiple purposes including being used for wrecking balls and for transferring heavy tools within the site. Every demo company should have a well-maintained and stable crane to avoid any unforeseen accidents.
Crawler Loaders – They are efficient in moving heavy rubble and waste from the demolition site. They can also be used to demolish heavy structures as well as clear the ground.
For all your Demolition Needs contact us in Topeka, Kansas
Call our demolition company in Topeka, Kansas. We believe in providing professional and affordable services. Signing with our demolition company guarantees a stress-free project, from the accurate estimation, the actual operations, onsite clearance as well as processing required permits. Our work integrity and reasonable packages are only some of the reasons why we are a well renowned Topeka deconstruction and demolition company. Go ahead and give us a call today at
(855) 885-3366
. We are always at your service.
Zip Code Areas We Service in Topeka
66621, 66622, 66609, 66608, 66607, 66606, 66605, 66604, 66603, 66611, 66612, 66614, 66616, 66601, 66620, 66624, 66625, 66626, 66629, 66636, 66647, 66667, 66675, 66683, 66699