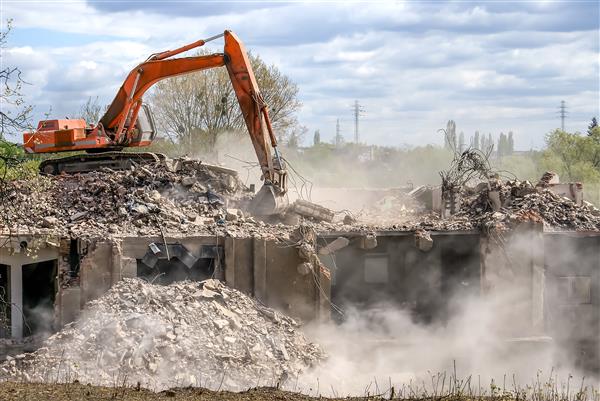 Your Company of Choice for Your Concrete Removal Projects in Lowell, MA
We are experts in providing concrete removal in Lowell, MA. Our concrete slab removal and concrete hauling professionals will take the lead during your demolition project, going above and beyond to deliver exceptional and satisfactory services. When your concrete structure has become old, shaky, unstable and unsightly, it is definitely time to consider getting rid of it for aesthetic reasons and most importantly, for safety purposes. No amount of training can bring the average amateur provider up to speed with the kind of workmanship and commitment that we can only perfect through years of experience.
High-power Equipment Best for Concrete Removal in Lowell, MA
Manual concrete demolition is done on small or residential structures. Concrete slab removal in Lowell, MA requires the use of special equipment to get the job done perfectly, efficiently and safely. You can talk to our experts about your demolition or concrete removal needs anytime you want. Our professional experts in Lowell, MA are able to tackle any task such as removing concrete driveway, concrete slab demolition and concrete wall demolition with the help of our line-up of premium equipment and machinery such as diamond wire saws, demolition hammers, pavement breaks and hydraulic splitters. Depending on the nature of the project, we select different equipment to deliver maximum results. Apart from helping you perform hard tasks by using precision tools and equipment, a concrete hauling expert can help you with the legal papers required by the local authority. Despite the power it possesses, it creates little noise and dust making it perfect for demolition work in inhabited areas.
When to Consider Booking a Lowell, MA Concrete Demolition Service
Concrete demolition in Lowell, MA solves the potential issue of unsafe structures. Whether the project requires breaking asphalt or concrete in residential, commercial or industrial spaces, we have the equipment and service crew ready to do the job. At Omni Demolition, we will see to it that you receive superior quality concrete hauling and demolition service in Lowell, MA. For plumbing, steam fitting and electrical works, concrete demolition is in most cases the only option that allows pipe penetrations. If you see any signs of structural damage on the walls, ceilings and other sections of your house, you must consider booking a demolition service as soon as possible to prevent accidents.
No Need to Stress Over Concrete Removal Permits and Requirements in Lowell, MA
Before undertaking a concrete removal or a concrete hauling project in Lowell, MA, you need to understand and adhere to the policies and requirements of the city council. Some of the concrete structures requiring permits include seawalls and sidewalks, among others. Unlike other concrete removal companies, Omni Demolition will take care of all the permit preparations for you. Often, the permits are necessary to allow governing bodies to check on how the demolition process is being conducted. Omni Demolition ensures a smooth operation for every single client that puts their faith in our services. Before you begin a demolition job, it is advisable to first understand the laws and requirements of your location. Your local council may require that you get planning permits, demolition permits and a concrete demolition consent.
How Much Do I Need to Pay for Concrete Demolition Services in Lowell, MA?
Applying for a demolition permit can already cost you more than $200. The price can go up, depending on where your project is located. There are a number of factors that contribute to the overall cost of your concrete demolition project such as the type of concrete used. The more concrete you need removed, the higher the cost. Removal rates also affect costs. Before you book services even as small as a patio demolition, make sure you ask for the rates first. You can ask our contractors to provide a free quote for a patio removal or other services. Unreinforced concrete on the other hand is easier to remove. As for the service, you might spend around $4,000 to $15,000+, depending on the urgency of the request, size of the project and overall condition of your property in Lowell, MA. We have the necessary skills and equipment to handle any concrete demolition project you may have.
How Much Time Should a Concrete Demolition Project Take in Lowell, MA?
A concrete demolition project requires thorough planning to ensure that it will be completed within the client's deadline. We also explain the permit requirements and application to our clients before we provide services such as concrete hauling and concrete slab removal. There are unforeseen factors that we take into consideration before settling on a completion date for your project such as extremities in weather conditions. We always conduct a comprehensive check on every project we work on in Lowell, MA. With that in mind, it might take days, weeks or even months to have your project completed depending on its nature, type and all the other aforementioned factors.
Why Recycle Concrete in Lowell, MA?
With rising pressure on local landfills, the diversion of rubble from a concrete demolition and removal project is becoming increasingly important. We can help you do the responsible thing by recycling wastes such as pulverized concrete and even metal scraps, which can also help recoup some of the demolition project costs. Our concrete demolition contractors can also use the recycled concrete for landscaping. It is also an environmentally friendly approach of dealing with the waste. We can guide you through the process if you choose to have your concrete waste recycled.
Reasons for Hiring Our Concrete Demolition Company in Lowell, Massachusetts
That is why you need our concrete demolition services in Lowell, MA from experienced professionals to execute such complex undertakings. Omni Demolition has all the skills, tools and equipment needed to perform a concrete slab removal or hauling service. Furthermore, whether you have a strict budget or timeframe, there is no problem we cannot solve. First rate customer service need not make a dent in your savings. We can guarantee incident-free operations with very minimal to zero disruption to adjacent properties. Our friendly customer care specialists will be happy to assist you and provide you with a no-commitment estimate.
Zip Code Areas We Service in Lowell
01851, 01850, 01852, 01854, 01853