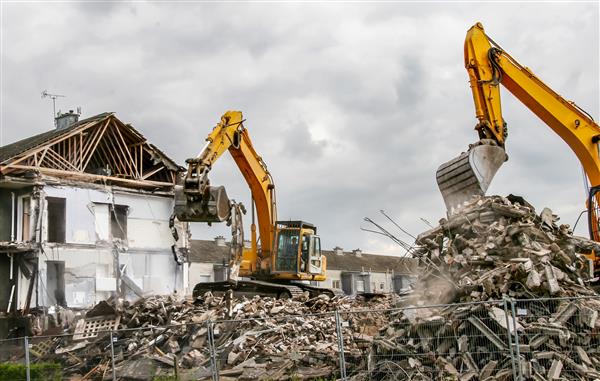 Residential House Demolition by Omni Demolition
House Demolition in Lowell, MA is what our demolition contractors do best. Omni Demolition is among the best house demolition companies in the city. Here at Omni Demolition, our residential demolition contractors will be there and will carry out the task at hand only when you are ready. Removing roofing trusses, pulling out foundation and breaking walls are not simple tasks. Unless you have high-power equipment and industry experience, it would be hard, not to mention dangerous, to handle a demolition job on your own. Call in a professional to have the area checked. Although we are able to handle large demolitions, our contractors are more than happy to take on smaller jobs such as a mobile home demolition project. Instead of covering cracks with layers of cement, you must address the structural issue so you can avoid accidents and other expenses.
Unparalleled Lowell, MA Home Demolition Solutions You Can Afford
House demolition methods are used for demolishing massive residential structures. Our experts use several demolition techniques depending on the situation. The techniques we use also differ if you only need an interior demolition job. In order to bring down unsafe or outdated structures and clear the way for new construction, residential demolition companies employ a variety of demolition methods. Whether it is for a small home or a huge mansion, you must always be cautious in selecting residential demolition companies as amateur employees may make mistakes adding extra delays and costs to the project. It is recommended that you hire a pro even for simple mobile home demolition projects.
Getting a Home Demolition Evaluation in Lowell, MA
Now that you know how we handle our Lowell, MA house demolition service, you might be wondering how much we charge. We determine the final cost by considering various factors, including the severity of the building's condition, the size of the property, and your location. The best way to go about any demolition project is to hire home demolition companies that present turnkey solutions. This means the residential demolition team will come in, demolish the building, and haul everything away for you. We guarantee to send qualified residential demolition contractors to assist you. Rest assured that our affordable mobile home demolition package includes everything you need to get a flawless finish. Find a reliable company that can work with the budget you have and it will make the job itself go much more smoothly. You can count on our staff at Omni Demolition to answer your questions or concerns about our services.
Getting a Residential Demolition Permit in Lowell, MA
If you play by the rules and you have all your ducks in a row with the city you won't have the house demolition inspector in Lowell, MA issuing you stop work notices half way through your job. Documentation and special inspections for your demolition project, even for a humble mobile home demolition, could be necessary depending on the state you are in. To apply for a permit, you will need to secure a list of documents, which may include asbestos inspection clearance and dust control report. If you choose to work with our team, we will happily assist you in completing the requirements and processing the permit application. You can ask our experts about the documentations needed.Arranging for a Residential Demolition in Lowell, MAJust as you don't just undertake a home demolition project in Lowell, MA without the proper permits, you don't do it without getting the site ready, either. Preparing for a demolition takes a lot of time and our residential demolition contractors make sure that time is not wasted. They do a thorough check of the structure, ensure the building and site are cleared and make the best decision as to the type of home demolition that should be applied. Once the walls begin to cave in, there will be no way of going back in. Health and safety preparations should be undertaken prior to the start of a demolition job, no matter how small it is; even as a mobile home demolition. It is important to set up clear exit routes for debris clearing machinery. Site clearance of debris should be immediately assigned to a designated area where debris is being sorted.
Reasons for a Residential Demolition in Lowell, MA
There are other possible reasons for a house demolition. Some possible reasons that could justify demolitions: unstable foundation, widespread infestation in the house, and when there is a need to build a new structure. New structures are hardly demolished, but every so often old buildings that were poorly constructed don't pass the test of time. Also, overcrowded or outdated structures are prone to various infestations or contamination. Trust our residential demolition professionals in Lowell, MA. Irrespective of the renovation you are about to make to your house, you need to hire the right company for the job if it involves taking down a portion of your home.
Equipment and Tools Used for Residential Demolition in Lowell, MA
Omni Demolition's residential demolition contractors have always provided safe and reliable home demolition services in Lowell, MA. The tear-down process chosen by demolition contractors is quite different when it comes to completely demolishing a building in one location versus another, depending on the situation and surrounding conditions. Even better, we have all the experience and technical know-how needed to carry out the task at hand. Because it is extremely dangerous, it requires the demolition contractors to follow all the safety instructions and rules strictly. They every so often use explosives to implode any condemned building. This method of home demolition is done with a great care so that nearby buildings don't incur damages.
Contact us Today and Book a Lowell, Massachusetts Home Demolition
We are a reliable residential demolition company with the equipment and expertise to get the job done on time. Our demolition company has been conducting partial and full demolitions for over a many years. No matter how big or demanding the job, we have the resource, experience, and skills to take care of it safely, responsibly and professionally. Our years of experience being residential demolition contractors in Lowell, Massachusetts enable us to understand and anticipate our customers' needs. Upon your request we will provide a complete cost estimate. Contact us today at
(855) 885-3366
so we can get started on your demolition project!
Zip Code Areas We Service in Lowell
01851, 01850, 01852, 01854, 01853