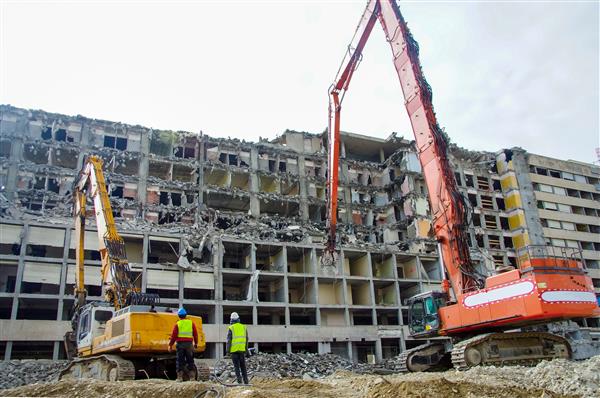 Expert Demolition Contractors Rockville, MD: Your Partner Demolition Company
The strength of Omni Demolition lies not only in its state of the art equipment and the expertise of its demolition contractors but the commitment that we have in providing unsurpassable services. Our main goal is to provide affordable services without compromising the quality of our work. We do not sugar-coat our services and we often deliver more than promised. The commitment and competence of our demolition experts guarantee that you will be working with the most suitable partners. We have the right equipment for any kind of demolition work.
The Main Variances of Demolition and Deconstruction in Rockville, MD
Demolition is the process of tearing down or pulling down buildings and structures by a demolition expert. Demolition can either be selective or explosive. Explosive demolition uses mostly dynamite to bring down big buildings. Selective demolition involves bringing down a part of a building or tearing a section of a wall by a demolition expert. A deconstruction may be a prerequisite to the actual demolition process where hazardous materials are taken out prior to the tear down of the structure. If you are going to rebuild or remodel an existing building and you wish to maintain some segments, a deconstruction is recommended. Deconstruction is when a demolition expert carefully dismantles or takes down a structure with the aim of reusing or recycling the materials.
Complete Accountability from Highly Skilled Specialists for Your Demolition Project in Rockville, MD
Our demolition experts have a solid record of work experience aside from continually receiving refresher trainings every now and then to ensure that they are well updated with any enhancements or changes in technology and procedural protocol. As professional demolition contractors, we religiously adhere to state policies and regulations. Our word is our bond. We have an impeccable record of giving our clients value for their money while never compromising on the quality of our work. Do not be tricked by demolition contractors who cannot walk the talk.
Take Advantage of Our Demolition Services in Rockville, MD
Industrial Demolition services: We are the authority in collapsing massive structures like bridges, factories, industrial buildings and plants.
Commercial Demolition Services: We know all the ins and outs of this delicate procedure. No matter the job, you can be rest assured that our demo company will give you the best results. Our demolition experts have the know-how and experience to bring down buildings and structures even in very tight spaces. Be it tearing down a mall, strip center, warehouse, bridge, hangar or structures in metropolitan areas, we have got you covered. Concrete demolition and recycling services: Let our demolition experts know if you wish to maximize the use of the structure's concrete materials and we will break them down into reusable gravel.
Scrap Metal Demolition Services: Our demo company will expertly demolish your scrap metal projects. Our crew will downsize as well as dismantle the steel structures then process, bundle and recycle the materials.
We are the Leading Demolition Company in Rockville, MD
Our demolition experts and demolition contractors offer a professional and innovative approach to all your demolition projects. We take pride in employing some of the finest calibre of demolition experts throughout the city. Our demolition company is committed in service delivery. Our demo company delivers effective and safe results on your time and budget.
Main Methods for Demolition and Deconstruction in Rockville, MD
Explosive Demolition: It is also known as the implosion method. Our demolition experts fix a building's or structure's slabs, columns and beams with explosives. Once the explosives detonate, the columns collapse and so does the building or structure.
Non-Explosive Demolition: Our local demolition contractors will use a wrecking ball to bring down your structure. This method is cheaper than explosive demolition.
Selective Demolition: Recommended for buildings that are being rebuilt, selective demolition involves carefully removing some parts of the building to make way for a modified construction. Unlike new and upcoming building demolition companies, our demo contractors are experienced in extracting parts of the building while still maintaining its structural integrity.
The Main Equipment Used in Demolition in Rockville, MD
Hydraulic breakers – Massive earthmovers used at our demo company to drill and break concrete areas in no time.
Wrecking balls – Huge metal balls suspended on a metal crane and swung into the building intended to be collapsed either once or as many as needed.
Hydraulic shears and rock breakers – These are helpful in cutting all sorts of steel, wood, rocks, concrete and metal. They make a very clean cut within a short period of time.
Bulldozers – A bulldozer is a heavy piece of equipment that has a robust bucket attachment. This attachment enables the bulldozer to clear trash, rubble and debris from a demolition site. Bulldozers are multi-purpose, they can also be used to push down heavy smaller-sized structures.
Dumpers – A necessity in every demolition business, dumpers are used to haul waste materials off the demolition site. It ensures the pre-construction area is free from any trash or debris brought about by the demolition.
Cranes – Demolition contractors use cranes not only for swinging wrecking balls but also in moving objects within the site. Our demo company facilitates the use of cranes to lift heavy objects from lower grounds to higher areas.
Crawler Loaders – Also called caterpillars, crawlers have flexible ground mechanism allowing them to be useful even on uneven terrain. They are primarily used for excavating.
Dial OurNumber for Top Rated Demolition Services in Rockville, Maryland
Avoid dealing with deconstruction hassles and overpriced bills when you sign with our demolition company in Rockville, Maryland. Signing with us means you deal with our highly diligent specialists who will never present mediocre work to our clients. You're in great hands with our Rockville deconstruction and demolition company. Our Rockville deconstruction and demolition company has highly skilled personnel with years of experience in the demolition business. Go ahead and give us a call today at
(855) 885-3366
. We are always at your service.
Zip Code Areas We Service in Rockville
20852, 20850, 20851, 20847, 20848, 20849, 20857