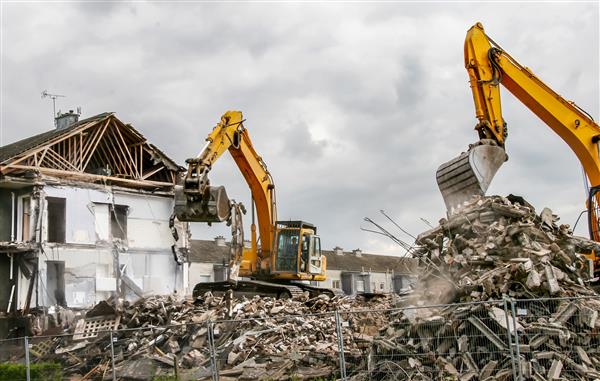 Omni Demolition: Your Expert in House Demolition in Rockville, MD
House Demolition in Rockville, MD is what our demolition contractors do best. Compared to other local house demolition companies, we have more high-powered equipment and professional residential demolition contractors. Our team of residential demolition contractors can attend to your request as soon as possible. Home demolition is not an easy task. In fact, there are many important considerations to bear in mind. One of which is safety because tearing down a structure will require the right equipment, tools, and skilled operators. You may need to have a section of your house removed because it can cause huge problems in the future. We have a team of specialists who can work on big projects such as multi-level buildings or smaller ones like a mobile home demolition project.
Home Demolition Methods in Rockville, MD
House demolition methods are used for demolishing massive residential structures. It is very difficult to bring down a fairly large structure without harming the surrounding buildings. For this reason, the buildings are imploded and our crew plans implosions so the structure collapses in an inward motion. The scale and method of all demolition strategies are dependent on the budget available, the size of the project, and any external factors that might be in play-for instance, the need to demolish a structure without causing any damage to the nearby structure. Our experienced residential demolition contractors operate heavy equipment to carry out a demolition project. Whether it is for a small home or a huge mansion, you must always be cautious in selecting residential demolition companies as amateur employees may make mistakes adding extra delays and costs to the project. We will consult with you even when dealing with a simple mobile home demolition project, so you can have peace of mind knowing that you are in the right hands.
Cost Estimation of Home Demolition in Rockville, MD
House demolitions in Rockville, MD need a proper plan of action. With that said, we make sure that home demolition projects are completed on time and within budget. Variables that affect the cost of a demolition project include asbestos-contaminated materials that are not only more labor intensive to remove, but also cost roughly three times as much to safely get rid of in contrast to other materials like timber or concrete. In addition to the cost, you should also consider the complete package as a whole Some home demolition companies offer cheap rates yet sub-par services. We make it our business to assign dedicated and committed residential demolition contractors to work on your project. In case you have questions, you can easily consult with our mobile home demolition professionals. The size of the building is also taken into consideration. Other factors are also considered, such as the equipment needed, and the urgency of the request.
Getting a Residential Demolition Permit in Rockville, MD
House demolition in Rockville, MD, particularly in densely populated parts, necessitates the filing of permits and other procedures to make sure environmental and physical safety precautions are observed. Other special inspections and documentation for your house tear-down or mobile home demolition may be asked from you depending on the state you are in. You can't start working on the project unless you get a green light from the local office of Rockville, MD. Avoid incurring penalties and delaying your project by applying for the necessary permit. You can ask our experts about the documentations needed.Arranging for a Residential Demolition in Rockville, MDAny big or small home demolition job in Rockville, MD begins with preparation. Start by clearing the area and removing all your furniture and valuables. Make sure that the area is free from harmful chemicals. Be sure that you remove everything from your tiny home decors to your personal valuables. Although a routine mobile home demolition project can be completed fairly quickly, you may still want to check with our team to provide you a tentative schedule for the entire procedure. Limiting house access during the project will also help prevent accidents.
Instances That Call for Residential Demolition in Rockville, MD
There will surely come a time when a house is no longer safe for dwelling, and a simple renovation job is no longer enough to reinforce its structure. A new structure may be needed after an earthquake, fire or flood, or some other incident that damaged the house or building severely. Weigh in your options. Focus on the safety of your loved ones, most especially if you are dealing with weak foundation or walls. Trust our residential demolition professionals in Rockville, MD.
Common Residential Demolition Tools and Equipment Our Rockville, MD Specialists Use
We provide the best services in the city because of our team of brilliant and well-trained residential demolition contractors. We have been the leading company in the city because we have the best contractors who make sure to use only the finest home demolition tools and equipment. Even better, we have all the experience and technical know-how needed to carry out the task at hand. Thanks to our high-powered tools and equipment, we can swiftly work on your requests. We know how to handle our equipment well, so we can readily haul debris, break down walls, excavate building foundation beams and more.
Need a Home Demolition Job Done in Rockville, Maryland? Contact Us Today
We have built a reputation in the house demolition industry as one of the leading demolition companies. We have offered demolition services to the people of Rockville, Maryland for over many years, offering high-end quality services. Upon your request, we can hand you a cost estimate, and schedule your appointment as soon as possible. Our Rockville, Maryland residential demolition contractors are equipped to handle any size of house. We know that we have to earn your business and that is why we uphold high standards when it comes to the quality of services we offer. Contact us today at
(855) 885-3366
so we can get started on your demolition project!
Zip Code Areas We Service in Rockville
20852, 20850, 20851, 20847, 20848, 20849, 20857