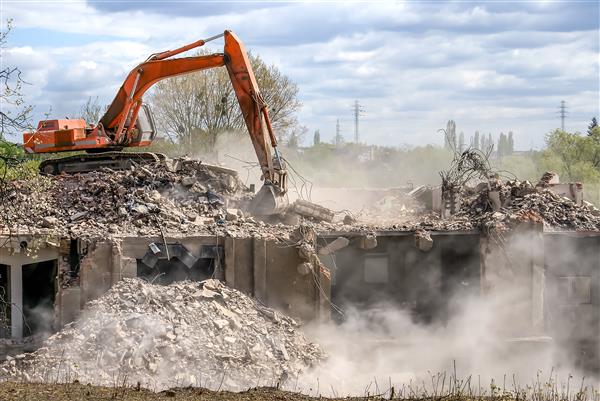 Your Ultimate Concrete Removal Company in Eagan, MN
Concrete removal is a complicated procedure that requires tact and the services of professionals in Eagan, MN. Indeed, time ages all things. If you have a desire to transform your old home into a new one, then we will no doubt make it happen here at Omni Demolition with our concrete slab removal and concrete hauling services. Our reliable craftsmen do not believe in making excuses.
Concrete Removal Tools and Equipment We Use in Eagan, MN
Omni Demolition uses advanced equipment to cut or crush concrete. Omni Demolition does not only invest in quality equipment for concrete slab removal in Eagan, MN, we utilize high end dumpers for concrete hauling as well. Common equipment used for this type of demolition are picks, robotic hammers and sledgehammers. If you need assistance in removing concrete driveway, concrete slab demolition, or concrete wall demolition, we are the company most competent for the job. Trust us to start removing concrete driveway and other concrete structures at your project location as soon as you give us the green light to commence work. Apart from helping you perform hard tasks by using precision tools and equipment, a concrete hauling expert can help you with the legal papers required by the local authority.
When to Consider Booking a Eagan, MN Concrete Demolition Service
Concrete is designed to last a very long time if it is installed properly. However, like every other type of material, its structure will also degrade over time. There are various factors that affect the life span of concrete. Rest assured, we will deliver an excellent job well done, regardless of the scale of the project. Furthermore, we promise to charge reasonable rates for the concrete hauling or crushing task you may need after the demolition work is done. Concrete demolition is necessary when your structure becomes old and dilapidated; when your structure has widespread cracking; when moisture penetrates into the ground, freezes and then pushes up the concrete; or when you plan to improve or put up a new structure. If you see any signs of structural damage on the walls, ceilings and other sections of your house, you must consider booking a demolition service as soon as possible to prevent accidents.
Which Concrete Removal Permits are Required in Eagan, MN?
When it comes to conducting a concrete removal or concrete hauling project, existing policies and permit requirements may vary from state to state. Avoid dealing with questionable concrete removal companies that overcharge for permit processing fees. This is usually determined by the type of demolition project and the location of the project. Other contractors hire a third-party permit service provider to file the necessary permit but this could only mean additional expenses for you. Some demolition projects will require a planning permit.
Cost Estimates of Concrete Demolition in Eagan, MN?
The first step is to determine how much the job will cost you. The cost of demolition is impacted by several things like the amount of concrete that needs to removed. Other companies reach a higher price range of $15,000+. There will be tricky companies who will make a simple patio demolition or patio removal as complicated as possible to deceive you into agreeing to unreasonably expensive estimates. To know how much you need to prepare for your project, we highly recommend getting in touch with your chosen demolition company in Eagan, MN. Working with us means you get straightforward information especially with something as crucial as costs.
How Long Can I expect a Concrete Demolition Project to Take in Eagan, MN?
It doesn't take long to complete a concrete demolition project as long as a careful and detailed plan is made by the demolition team beforehand. We use a complete inventory of tools and equipment for jobs such as a concrete slab removal, concrete demolition and concrete hauling. There are unforeseen factors that we take into consideration before settling on a completion date for your project such as extremities in weather conditions. We explain the steps involved, paperwork required, plus cost estimate to help our clients ensure everything runs smoothly. Once we assess the situation, we can come up with a plan and provide a tentative time frame. The length of the project will mainly be affected by the size and current condition of the structure that needs to be demolished.
What Can I Do With My Concrete Waste in Eagan, MN?
After completing a concrete demolition and removal project, the most viable thing to do with the concrete rubble is to recycle it. Ever wonder how this type of material can be used again? Our team recycles crushed and cut concrete slabs. Our concrete demolition contractors highly encourage recycling in accordance with our adherence to providing eco-friendly solutions. We can help you recover some funds by forwarding not just concrete but also metal scraps to their respective recycling centers. We can guide you through the process if you choose to have your concrete waste recycled.
Why Come to Us for All Your Concrete Demolition Needs in Eagan, Minnesota
Our commitment is in offering personalized and satisfactory concrete demolition services in Eagan, MN to all our clients-from concrete slab removal to any other concrete removal service you may be in need of. There are many reasons why Omni Demolition should be your number one pick for all your concrete slab removal projects. Whether you call for a concrete slab removal, concrete hauling, site cleanup or any other service, you can be sure that you'll be getting the best team to assist you. Our team works systematically as we strive to provide a smooth service. Our fulfillment is in achieving excellence. Contact us today for a concrete removal service!
Zip Code Areas We Service in Eagan
55121, 55122, 55123