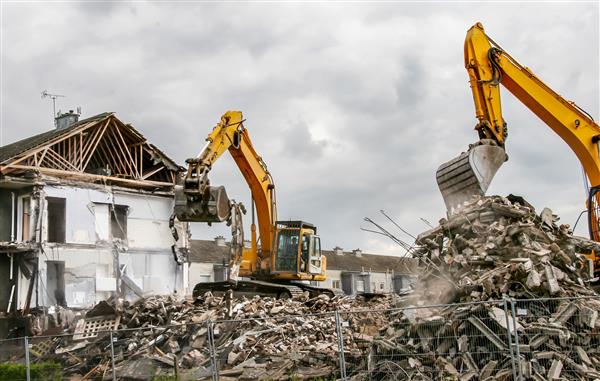 Omni Demolition: A Residential House Demolition Company You Can Count On
A house demolition in Eagan, MN is in order when you notice large cracks and other signs of compromised structure. Compared to other local house demolition companies, we have more high-powered equipment and professional residential demolition contractors. Omni Demolition's residential demolition contractors can manage projects of any size. While we recognize the sentimental and even historical value of any building, when signs of danger are spotted, we recommend having it demolished. Once we get your signal to go ahead, we will make the process simple for you whether our services are needed for a large demolition project or for something as small as a mobile home demolition project.
Home Demolition Techniques in Eagan, MN
At every house demolition job, we make sure that the project is accident-free when we demolish a Eagan, MN property. We do this by conducting an initial inspection and checking every section of the building we need to work on. The entire process can be complex and calls for creative solutions to avoid costly problems. We make sure to check every possible defect to help us identify where we need to start. Let our residential demolition contractors work on each necessary part of your house. When hiring residential demolition companies in Eagan, MN, you need to be very cautious as amateur operators in this field may make mistakes that can create a costly mess out of something as simple as a mobile home demolition project.
Cost Estimation of Home Demolition in Eagan, MN
House demolition costs in Eagan, MN are bound by some variables that determine the total expenses during a demolition project. House demolitions may cost a fortune but if it means ensuring the safety and well-being of the entire family, it is worth it. You can compare our rates with other home demolition companies. Here at Omni Demolition, our residential demolition contractors offer the most affordable house and mobile home demolition rates together with incomparable services. Don't put your fate in an inexperienced company. At Omni Demolition, you are welcome to ask for a free cost estimate.
What Paperwork Should I Secure For My Residential Demolition Project in Eagan, MN?
If you play by the rules and you have all your ducks in a row with the city you won't have the house demolition inspector in Eagan, MN issuing you stop work notices half way through your job. Documentation and special inspections for your demolition project, even for a humble mobile home demolition, could be necessary depending on the state you are in. The amount of demolition permits needed varies from state to state and involve nominal fees. The engineers need to make sure that the building will be brought down in a safe manner and all the debris is contained within the site and will not affect the local neighborhood. You can ask our experts about the documentations needed.
Things To Prepare Before a Eagan, MN Residential Demolition Project Starts
Any big or small home demolition job in Eagan, MN begins with preparation. If you have personal items, furniture or any other valuables, remember to take them out in advance. Once the walls begin to cave in, there will be no way of going back in. Our trustworthy demolition company is experienced in all phases of the demolition process and we believe that this must be followed even for a simple mobile home demolition. Once a demolition job starts, it would be expensive to stop it.
Instances That Call for Residential Demolition in Eagan, MN
Trauma resulting from extreme weather or fire can lead to a building being demolished if its structural integrity has been compromised. Besides the fact the it's useless to reinforce a building that's beyond repair, you should also consider the unnecessary costs you may need to pay. Depending on the overall condition of your house, professionals may recommend breaking down and rebuilding the affected structure or doing a small renovation job to boost the strength of the material. Whatever reasons you have, you can get a quote on residential demolition costs in Eagan, MN from us. Hiring the right company will ensure that you're happy with the end results.
Guaranteed Quality Residential Demolition in Eagan, MN Property
The quality of the services provided by residential demolition contractors depends on two things-the experience of the team and the quality of their equipment. At our company, all our home demolition professionals are equipped to work on any size of residential building. We use a long list of equipment, including trucks, excavators and loaders. Our equipment such as track loaders and excavators allow us to deliver stellar services. They every so often use explosives to implode any condemned building. This method of home demolition is done with a great care so that nearby buildings don't incur damages.
Contact Us Today for Home Demolition Services in Eagan, MN
It is definitely not easy to tear down walls and pull out foundation beams. Choose to work with a seasoned home demolition expert who can carry out your demolition requests. You will need to have the right equipment, plus years of knowledge and experience so you can correctly work on the damaged sections of your house. Our years of experience being residential demolition contractors in Eagan, Minnesota enable us to understand and anticipate our customers' needs. You can have a look at the reviews on our site and social media profiles to see testimonials from many satisfied customers. Give us a call at
(855) 885-3366
so we can get started on your demolition project!
Zip Code Areas We Service in Eagan
55121, 55122, 55123