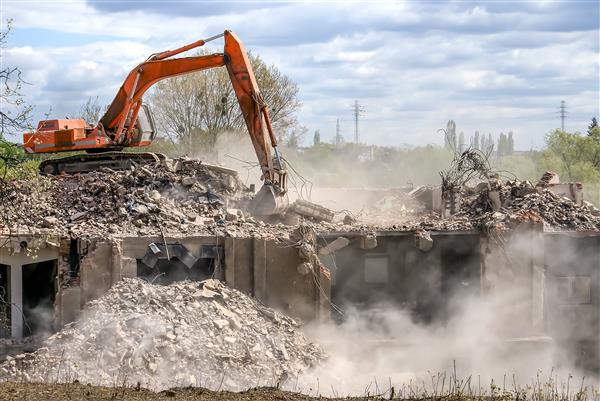 Reliable and Budget-Friendly Eden Prairie, MN Concrete Removal Service
Concrete removal in Eden Prairie, MN is definitely not a job for the faint at heart and that is why many recommend hiring only seasoned expert contractors like those at Omni Demolition to handle your projects. The importance of concrete demolition cannot be overstated. For example, at Omni Demolition, clients need concrete slab removal and concrete hauling services in order to build or rebuild new structures. Our reliable craftsmen do not believe in making excuses.
High-power Equipment Best for Concrete Removal in Eden Prairie, MN
Manual concrete demolition is done on small or residential structures. Other equipment used to ensure maximum success in service delivery are mounted breakers, which are popular in concrete slab removal because of their impact energy, speed and versatility. Some of the tasks involved in a demolition job include concrete slab demolition, removing concrete driveway and concrete wall demolition. It is important to get professional contractors for your demolition and concrete hauling job. We also provide concrete hauling to clean up the site after we finish cutting and crushing your walls, driveways or ceilings.
When Do You Need Concrete Demolition Services in Eden Prairie, MN?
Concrete, when constantly exposed to changing weather and temperature, can weaken and crack. There are various factors that affect the life span of concrete. At Omni Demolition, we will see to it that you receive superior quality concrete hauling and demolition service in Eden Prairie, MN. Safety is a huge part of our operations and we follow all precautions to ensure zero incidents from beginning to end. Apart from wall or ceiling cracks, you will need the help of a professional if you have problems with leaky water pipes or defective house wirings, most especially if they are buried underneath the concrete.
Do You Require Permits for Concrete Removal Services in Eden Prairie, MN?
Planning to undertake a concrete removal and concrete hauling project in Eden Prairie, MN? Great. When choosing among the different local concrete removal companies, make sure to ask if they can assist you with the permit application. Definitely, here at Omni Demolition, our experts can help you get the documentation needed so you can start your project sooner rather than later. This is usually determined by the type of demolition project and the location of the project. We will make sure that you have all the permits you need to ensure an uninterrupted execution of your demolition project. Height and size of your demolition project are factors considered in determining whether or not you will need to get a permit for the job.
How Much Should I Pay for a Concrete Demolition Project in Eden Prairie, MN?
Expect to pay an average of around $200 to secure a demolition permit alone. Sometimes, the charge can go up, depending on the rates of your local government. The rate is provided by your local government, and it would be best to check beforehand. Apart from the cost of the permit, you will also need to pay around $4,000 to $15,000 for the cost of the demolition service. Whether you have a patio demolition or a patio removal project, you can be sure that we are well equipped to handle any demolition project you may have. Unreinforced concrete on the other hand is easier to remove. Permits can cost you a few dollars to thousands of dollars depending on your location and project needs. The cost of disposing waste that contains rebar is also higher.
How Long Can I expect a Concrete Demolition Project to Take in Eden Prairie, MN?
A concrete demolition project requires thorough planning to ensure that it will be completed within the client's deadline. We have access to high precision tools, which allow us to facilitate our services like concrete slab removal and concrete hauling faster and safer. Depending on our agreement and forecast, work can be completed within a day, a week or even a month. The bigger the demolition structure, the more time it will take to complete the job. This is because the speed and performance of hand held tools varies greatly with that of automatic or advanced machinery.
You Get More Value by Recycling Concrete in Eden Prairie, MN
The recycled material from a concrete demolition and removal project can be used as aggregate in making new concrete and in construction work. Ever wonder how this type of material can be used again? Our team recycles crushed and cut concrete slabs. Our seasoned concrete demolition contractors can help you reuse discarded concrete from your project. It is a much more environmentally friendly process as opposed to disposal. This reduces disposal and hauling costs.
Your Company of Choice for All Your Concrete Demolition Needs in Eden Prairie, Minnesota
Our company, Omni Demolition has established a huge number of loyal patrons who prefer our concrete demolition services over other services providers in Eden Prairie, MN. Omni Demolition has been a well-respected authority in concrete slab removal for many years. We will work diligently and efficiently on your projects no matter the size. At Omni Demolition you are guaranteed not only commitment and proven expertise from our team of veteran specialists but also 100% site safety and transparency when it comes to billing and procedures being done on your property. We also follow strict measures and carefully evaluate our demolition and removal plan to avoid delays. Our friendly customer care specialists will be happy to assist you and provide you with a no-commitment estimate.
Zip Code Areas We Service in Eden Prairie
55344, 55346, 55347