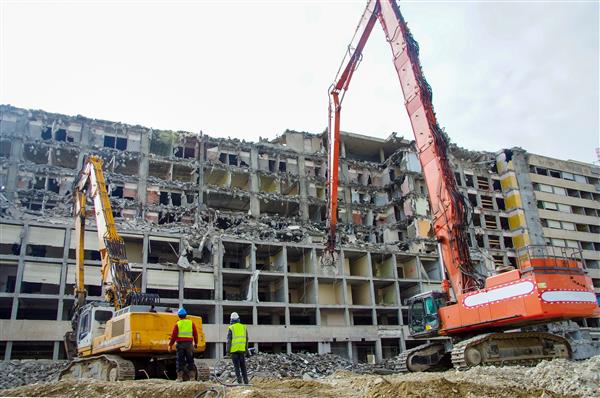 Demolition Contractors Eden Prairie, MN The Demolition Company That You Can Count On
Omni Demolition has paved the way for many construction services in the city through the exemplary workmanship and warm customer service of our demolition contractors. No job is ever too big, too small or too demanding for us. If you need a structure or building taken down, our demolition experts will use the fastest and most economical method of demolition. You can rest assured that our affordable services are top-notch. To achieve this, our demolition experts apply strong verbal, communication, analytical, managerial, decision-making and time-management skills.
What are the differences Between Demolition and Deconstruction in Eden Prairie, MN
Demolition is the tearing down of buildings or structures partly or completely. Some projects require complete levelling while others simply need specific parts removed to be replaced. For every client call, we have a demolition expert equipped to do the job. Deconstruction differs from demolition in that, it involves tearing apart a building or a home in a manner that salvages materials. No matter how complex your project is, we are happy and ready to serve in Eden Prairie, MN.
Highly Recommendable Services for Any Demolition Project in Eden Prairie, MN
Our demolition experts have a solid record of work experience aside from continually receiving refresher trainings every now and then to ensure that they are well updated with any enhancements or changes in technology and procedural protocol. Compared to other demolition contractors who are highly profit-driven, we are committed to giving back to the community through outstanding workmanship and transparent transactions. Most sales agents will promise everything just to close a deal but are no longer accountable when their team fails to deliver. Trust only the most preferred demolition contractor in all of Eden Prairie, MN. Our job is thorough and you can be certain that once we are done, you do not have to worry about hazardous wastes being left behind. Our job is thorough and you can be certain that once we are done, you do not have to worry about hazardous wastes being left behind.
Our Demolition Services in Eden Prairie, MN
Industrial Demolition Services: This type of demolition service requires a surgical approach. We have a systemic, controlled and detailed solution in place for demolishing facilities such as chemical plants, manufacturing plants, port facilities, oil refineries, factories, and lumber mills among others.
Commercial Demolition services: If you are looking for a reliable demo company, our reputation and years in the business is your assurance. Our past contracts include leveling bridges, dilapidated malls, airplane hangars, and even grocery stores.
Concrete demolition and Recycling Services: Our demolition experts are able to recycle your concrete slabs and structures by crushing them and turning them into reusable gravel.
Scrap Metal Demolition Services: Unlike other contractors who concentrate only on concrete, our demo company can assist in handling metal frames and recycling scraps.
We Set the Pace for Other Demolition Companies in Eden Prairie, MN
Our team of demolition experts and demolition contractors will work tirelessly and dedicatedly to ensure that your project is completed on time. Our demolition experts and demolition contractors have an established performance record of completing demolition jobs in the right way, on budget and on time. Our demolition company is experienced in implementing both small and large projects. You will never find a more reliable demolition company in Eden Prairie, MN than us.
High Standard Methods for Demolition and Deconstruction in Eden Prairie, MN
Explosive Demolition: This method should be done only by experienced demolition experts in Eden Prairie, MN as it involves safety parameters that should be strictly observed. It involves turning a switch to initiate an explosion, which will then collapse the building into a mound of rubble.
Non-Explosive Demolition: When a building structure does not allow the use of bombs, a wrecking ball is often utilized to take it down. Compared to other local demolition contractors, our experts use wrecking balls with careful precision. The heavy steel ball is swung into the targeted building causing it to gradually crumble.
Selective Demolition: Our demo contractors are the most sought-after for their record in successfully extracting or tearing down selected parts of a structure. We are one of the few building demolition companies who can conduct a customized approach depending on the client requirement.
The Main Equipment Used in Demolition in Eden Prairie, MN
Hydraulic Breakers – This strong hammer is built to withstand heavy and rigorous use. As one of the high-quality demolition tools used by our demo company, it offers greater productivity in regards to speed, efficiency and its overall performance.
Wrecking balls – A wrecking ball is used together with a crane. This heavy steel ball is suspended from a crane and is used to bring down an entire structure or part of it. Although not widely used, this method is as fast as it is cost effective.
Hydraulic Shears and Rock Breakers – They are able to demolish steel structures. Hydraulic shears are also used for recycling or secondary breaking. Rock Breakers are robust pounding hammers that are usually fitted to excavators. They are used to demolish rocks, as the name suggests or concrete.
Bulldozers – They are used to push demolition debris. They are also used to tear down smaller structures, clear the property of rubble or pile the debris.
Dumpers – In the demolition business, dumpers are used to transport debris from the demolition site.
Cranes – Demolition contractors use a crane to attach a wrecking ball. A demo company can also use a crane for moving materials on the different levels of the structure or building.
Crawler Loaders – They are effective in bringing down structures. They can also be used to clean up a demolition site. Crawler loaders can help move debris. Its tracks enable the unit to move easily and freely on the property.
Call Us for Outstanding Demolition Services in Eden Prairie, Minnesota
Our demolition company is a leading demolition company in Eden Prairie, Minnesota with proven resources, knowledge, professionalism and experience to successfully manage any demolition project you may have. For years now, we have helped all our clients demolish and deconstruct their buildings and structures successfully. When you have a demolition project, do not hesitate to contact us. Consult with a reliable demolition company and save yourself from all the worries. Our Eden Prairie deconstruction and demolition company is licensed and highly reputable. Feel free to get in touch with us today at
(855) 885-3366
!
Zip Code Areas We Service in Eden Prairie
55344, 55346, 55347