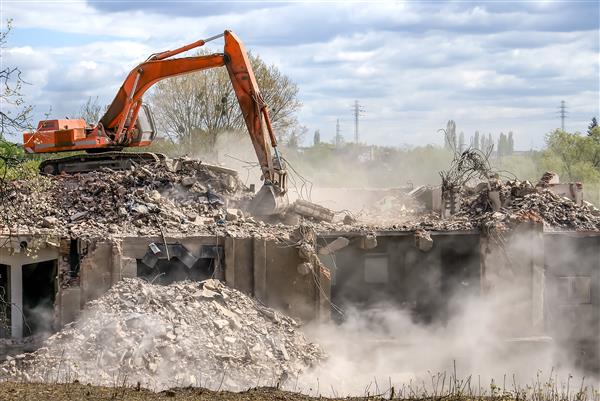 Reliable and Budget-Friendly Plymouth, MN Concrete Removal Service
When you have a concrete removal project in Plymouth, MN, it is important to place your confidence in professionals like us. As with all our clients, we at Omni Demolition will get your job done perfectly with no excuses. For your concrete slab removal and concrete hauling services, you can rest easy knowing that we have got you covered. Ultimately, when you need concrete demolition services to ensure that your building structure is exactly as you envision it to be, you will definitely need Omni Demolition to make it happen. Simply contact us about your project—we are ready to help.
Tools and Equipment We Use to Perform Our Concrete Removal Service in Plymouth, MN
Omni Demolition uses advanced equipment to cut or crush concrete. Other equipment used in concrete slab removal in Plymouth, MN are jack hammers, hoists, pallet jacks and bobcats. It takes professionals with years of experience to safely remove concrete. Service providers who have faulty equipment will surely cause delays in your project or worse, add their own repair expenses on top of your original bill. Some of the tasks involved in a demolition job include concrete slab demolition, removing concrete driveway and concrete wall demolition. Depending on the nature of the project, we select different equipment to deliver maximum results. Other equipment used in demolishing concrete are pallet jacks, hoists and bobcats.
When Should You Book a Concrete Demolition Service in Plymouth, MN?
We have handled all kinds of cement deconstruction in Plymouth, MN and we can safely say, our team is experienced in anything and everything under the sun. Some of the main reasons include the overall condition of the structure and presence of faulty wirings or leaky water pipes underneath the cement. Signing with us means you get professional demo as well as concrete hauling that is beyond the required standards. Concrete demolition is necessary when your structure becomes old and dilapidated; when your structure has widespread cracking; when moisture penetrates into the ground, freezes and then pushes up the concrete; or when you plan to improve or put up a new structure. With just one phone call, you can contact our team in Plymouth, MN and we will handle your requests within the set schedule.
No Need to Stress Over Concrete Removal Permits and Requirements in Plymouth, MN
A concrete removal or concrete hauling project in Plymouth, MN, requires that you obtain a number of permits and approvals from the local council. Make sure that when you select among the concrete removal companies in the city, you check how well the staff can help you in preparing the requirement. The city imposes a strict policy in permit application. Before you begin a demolition job, it is advisable to first understand the laws and requirements of your location. All you have to do is let us know what you need done and relax—we are here to do all the legwork for you.
How Much Do I Need to Pay for Concrete Demolition Services in Plymouth, MN?
The two biggest factors that determine the cost of your concrete demolition project in Plymouth, MN are location and size. In addition to the demolition permit costs, you should also factor in the total cost of the service. In urban areas, demolition companies charge a minimum of $4,000 for their fees. Final costs depend on factors such as disposal fees(some companies charge this separately). Our concrete demolition projects in Plymouth, MN include patio demolition, patio removal, tearing down walkways and walls, demolishing decks, entire buildings, among others. We provide detailed and accurate estimates that are easy to understand. The actual demolition cost alone can cost you from between $1000 – $15000+
Typical Timeline for a Concrete Demolition Operation in Plymouth, MN
Frankly speaking, there is no general timeframe that can be given as each concrete demolition job is different from the other. We understand the importance of honoring our commitments and we deliver our concrete slab removal and concrete hauling services in Plymouth, MN with no excuses. What we can say is that for all contractual projects, we do what we can in terms of equipment and manpower readiness to ensure nonstop operations and an early finish. In instances that an unforeseen situation arises, the client is notified to ensure that they are not kept in the dark and to establish the right expectations. Rest assured we will take good care of your demolition needs in Plymouth, MN and provide a clearly defined timeline for the entire project.
Making the Most Use of Your Demolished Asphalt or Cement in Plymouth, MN
A crucial aspect we consider in a concrete demolition and removal project is where to put the debris. Concrete recycling is an integral part of concrete demolition. With the help of our professional concrete demolition contractors, you can recover some costs and contribute to other projects with your recycled concrete. The aggregate can then be used to make new concrete. Recycled concrete is typically available at a much lower price so you get to save money while also helping save the environment.
Make the Wise Decision by Calling Us for Concrete Demolition in Plymouth, Minnesota
We offer various concrete demolition services. Whether you require a simple concrete slab removal or a major interstate pavement, our team of experts is the most knowledgeable for the job. We guarantee to provide superior quality concrete slab removal, site cleanup and other services no matter where you live in the city. Our experts are the best at what they do. This is not a job for amateurs and if done wrongly, it could be costly on your end. If not demolished properly, concrete can cause serious harm and injury to the environment and people. Contact us today for a concrete removal service!
Zip Code Areas We Service in Plymouth
55442, 55441, 55447, 55446