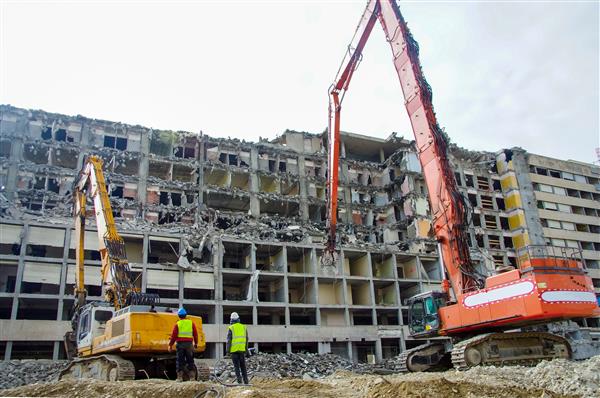 Expert Demolition Contractors Plymouth, MN: Your Partner Demolition Company
Omni Demolition has demolition contractors at your service whose specialty is providing superior-quality, safe and cost-effective services for all our clients. Just like any other major construction or remodeling plan, having a property demolished requires the skills of professionals, along with the use of appropriate equipment. We do not sugar-coat our services and we often deliver more than promised. Unlike other service providers, our demolition experts are all highly skilled and experienced in this business. For complex demolition jobs, we offer reliable demolition services.
Distinction Between Demolition and Deconstruction in Plymouth, MN
Demolition is a faster process in comparison to deconstruction. Deconstruction is when a demolition expert carefully dismantles or takes down a structure with the aim of reusing or recycling the materials. Knowing the accurate requirements for your project is important to steering it into the right direction. There are two types of deconstruction: selective and whole-house.
We are the Most Competent Specialists for Your Demolition Project in Plymouth, MN
Our demolition experts guarantee to provide you with professional demolition services. As professional demolition contractors, we religiously adhere to state policies and regulations. Being in the business for years, our experience and continued trainings ensure that you work with only the most able specialists in the industry. But this is not just a one-time initiative, it is ingrained in the workmanship of each and every demolition contractor in our company.
Our Demolition Services in Plymouth, MN
Industrial Demolition services: We have an impeccable history in handling industrial buildings such as warehouses, chemical plants, mills and more. No matter how gigantic the structure is, our team of experts can surely manage.
Commercial Demolition Services: Despite commercial buildings being located in compact spaces, our demo company is able to bring down your building or structure in a safe way with minimal damage to the surrounding area. Using modernized equipment, our team of professionals have pulled down warehouses, grocery stores, shops, airplane hangars among others.
Concrete demolition and recycling services: We are the only demolition experts who carefully set aside re-usable materials from your site for possible future use such as slabs to be crushed later on into gravel.
Scrap Metal Demolition Services: Our demo company will expertly demolish your scrap metal projects. Our crew will downsize as well as dismantle the steel structures then process, bundle and recycle the materials.
The Top Choice Among Demolition Companies in Plymouth, MN
Our highly trained demolition contractors are able to offer flexible services to suit your specific needs. We take pride in employing some of the finest calibre of demolition experts throughout the city. We are a top-rated demolition company in Plymouth, MN. As an established demo company, we continue to make innovations in the field of construction while also maintaining the highest standards of our services.
Authorized Methods for Demolition and Deconstruction in Plymouth, MN
Explosive Demolition: Explosive materials are strategically placed on the building or structure in Plymouth, MN by our demolition experts. The explosives are timed to make a structure go down on itself in seconds in order to minimize damage to the surroundings.
Non-Explosive Demolition: Our local demolition contractors will use a wrecking ball to demolish a building in situations that do not allow the use of explosives.
Selective Demolition: In cases where property owners want to retain a certain part or frame of a structure, demo contractors will conduct the selective method. In this procedure, building demolition companies need to ensure the integrity of the structure is not compromised after some parts are removed.
We Utilize Well-maintained Equipment for Demolition in Plymouth, MN
Hydraulic breakers – Our demo company uses hydraulic breakers or hammers in crushing otherwise solid surfaces such as concrete, cement and even rocks.
Wrecking balls – A massive ball made of steel, it is suspended on a crane and maneuvered into a swinging motion to tear down a building. It sounds less dangerous than using explosives but the use of wrecking balls gives little control to the depth of damage done, hence it requires careful and professional handling.
Hydraulic shears and rock breakers – When attached to excavators, these tools are helpful in cutting through any type of surface. Using electrical force, it can slice through metal, steel, concrete, rock and wood.
Bulldozers – Commonly seen in construction sites, bulldozers are not only good for flattening surfaces but also for moving and transporting waste materials. It can also be maneuvered to knock down weak walls and structures.
Dumpers – A dumper is a very useful piece of machinery in every demolition business. It is used to carry away demolition waste from demolition sites.
Cranes – Demolition contractors use cranes not only for swinging wrecking balls but also in moving objects within the site. Our demo company facilitates the use of cranes to lift heavy objects from lower grounds to higher areas.
Crawler Loaders – Also meant to be used in excavating, crawler loaders have declined in popularity compared to hydraulics that can be used in heavy drilling. This equipment, however, can run on its own power as opposed to hydraulic excavators that more often require towing.
For All Your Demolition Service Needs in Plymouth, Minnesota, Contact Us Today
If you are looking for a reliable demolition company in Plymouth, Minnesota, there is no need to look any further. There's a reason why we continue to be highly recommended by building contractors and the rest of our clientele. We are your one-stop-shop demolition company and we offer free consultation plus an accurate estimation of the costs. We deliver your Plymouth demolition needs in a timely manner without compromising on the quality of our work. Call us today at
(855) 885-3366
and allow us to assist you with your demolition requirements.
Zip Code Areas We Service in Plymouth
55442, 55441, 55447, 55446