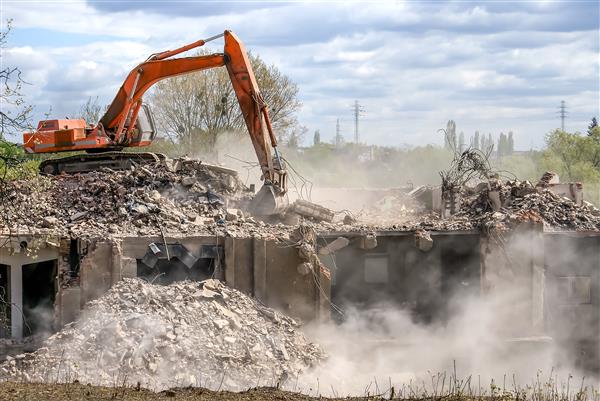 The Leading Company for All Your Concrete Removal Needs in Rochester, MN
When you have a concrete removal project in Rochester, MN, it is important to place your confidence in professionals like us. As with all our clients, we at Omni Demolition will get your job done perfectly with no excuses. Our concrete slab removal and concrete hauling professionals will take the lead during your demolition project, going above and beyond to deliver exceptional and satisfactory services. Without concrete removal, there wouldn't be space to erect new structures or to rebuild them. At Omni Demolition, we give you value for your money.
Important Equipment Used for Concrete Removal in Rochester, MN
At Omni Demolition, we use a number of equipment for concrete removal. Here at Omni Demolition, in order for a concrete slab removal job to be successfully completed, using the right equipment is very crucial. Some of the tasks involved in a demolition job include concrete slab demolition, removing concrete driveway and concrete wall demolition. We offer a wide range of services, which include concrete slab demolition. This will ensure that the job is done thoroughly to your satisfaction. We are well equipped in handling all your concrete removal and concrete hauling projects.
Here to Help with Your Concrete Demolition Needs in Rochester, MN
Concrete removal is an essential part of making your home, building or structure beautiful. It not only allows you to erect new buildings but it also gets rid of aging, dilapidated and unsafe structures. Rest assured, we will deliver an excellent job well done, regardless of the scale of the project. Furthermore, we promise to charge reasonable rates for the concrete hauling or crushing task you may need after the demolition work is done. If you see frost heave or concrete that is pushed upward, cobweb-like cracks on cement, sunken slabs and even fragmented foundations, it is best to call us for a concrete demo and plan on rebuilding your property. We are an environmentally friendly company.
Getting Concrete Removal Permits in Rochester, MN – We Got That Covered
In almost all cases, you will need permits for carrying out a concrete removal or concrete hauling project in Rochester, MN. Unlike other concrete removal companies, we at Omni Demolition will advise you on everything that is required in your concrete removal project-from how to get the necessary permits and the cost of the permits to the cost of the entire project and the time it will take to complete it. The kind of concrete demolition permit you will require will basically depend on what you are demolishing, where the demolition project is and how much you are demolishing. You must submit your application together with all the required documents. Some of the required paperwork include clearances from your electric, water and gas companies. Some demolition projects will require a planning permit.
Cost Estimates of Concrete Demolition in Rochester, MN?
The first step is to determine how much the job will cost you. There are a number of factors that contribute to the overall cost of your concrete demolition project such as the type of concrete used. Final costs depend on factors such as disposal fees(some companies charge this separately). We have the expertise, manpower and equipment to carry out any demolition project in Rochester, MN; even smaller jobs such as patio demolition and patio removal. Our ever-helpful staff will be happy to give you a competitive estimate for your project. As for the service, you might spend around $4,000 to $15,000+, depending on the urgency of the request, size of the project and overall condition of your property in Rochester, MN. The cost of disposing waste that contains rebar is also higher.
How Long Does It Take to Complete a Concrete Demolition Project in Rochester, MN?
A concrete demolition project requires thorough planning to ensure that it will be completed within the client's deadline. Concrete slab removal and concrete hauling is a delicate procedure. We will only give you and agree on realistic time frames when all things have been factored in such as the size of the project. We explain the steps involved, paperwork required, plus cost estimate to help our clients ensure everything runs smoothly. We do not give our clients overly ambitious timelines.
Making the Most Use of Your Demolished Asphalt or Cement in Rochester, MN
Whether you are an environmental advocate or you just want to make some extra money, recycling wastes from a completed concrete demolition and removal project is the way to go. Because we are an environmentally friendly company, preserving our surroundings is at the forefront of our mission. Our concrete demolition contractors are knowledgeable in inspecting rubbish and identifying which ones are valuable. We recommend recycling concrete because it can be reused as a good quality construction material. Once concrete waste is salvaged, the uncontaminated concrete free of paper, wood and other materials is crushed.
Work with Concrete Demolition Experts in Rochester, Minnesota
If you have been looking to hire a concrete slab removal expert, chances are you have seen ads from other providers in Rochester, MN who offer the cheapest concrete demolition services, but are you sure you want to risk spending on a contractor that has no credibility and is seemingly desperate for clients? Hopefully not. No matter what concrete slab removal projects you have, dial our phone number today and we will be glad to provide you with a free estimate. We will work diligently and efficiently on your projects no matter the size. We have been in this business for many years. We guarantee to come and fix your concrete-related problems fast. Using state-of-the-art equipment and cutting-edge technology in execution, you can be certain that your project is in great hands. Don't risk your safety; work with demolition professionals in Rochester, MN.
Zip Code Areas We Service in Rochester
55902, 55901, 55906, 55904, 55905, 55903