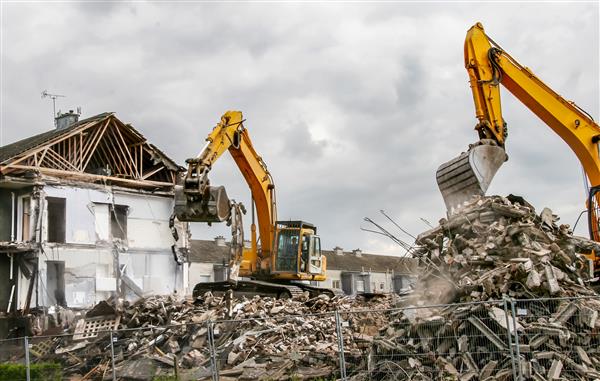 Omni Demolition: A Residential House Demolition Company You Can Count On
Sometimes, it is best to book a house demolition in Rochester, MN than to call in a renovation team to restore your property. Unlike other house demolition companies, we are upfront and reliable, and we will never sell you services you do not need. At Omni Demolition, we take great pride in our residential demolition contractors who have been in this industry for several years. We have been in business for many years providing exceptional customer service. Once you see thick cracks on the wall or observe any signs of a weak foundation, you must schedule an appointment with a building expert right away. This way, you can already assess the situation and decide if you will need a renovation or demolition job. We can handle everything from a straightforward mobile home demolition to a full-blown townhouse complex or condo demolition. It could be about making your dream home a reality or making some improvements in the appearance of an old house.
How We Provide Our Rochester, MN Home Demolition Service
We are a well-known house demolition company in Rochester, MN. Demolition methods include top-down deconstruction, crane, high reach arm, remote-controlled demolition, and implosion. The scale and method of all demolition strategies are dependent on the budget available, the size of the project, and any external factors that might be in play-for instance, the need to demolish a structure without causing any damage to the nearby structure. Let our residential demolition contractors work on each necessary part of your house. Unlike other residential demolition companies, our contractors are proficient in working on any size of project, whether you need a mobile home demolition project done or you need a large multi-storey building demolished.
What to Consider After Receiving a Rochester, MN Home Demolition Cost Estimate
House demolition costs in Rochester, MN are bound by some variables that determine the total expenses during a demolition project. By knowing how much each company charges, you can choose who to hire with more ease. You can compare our rates with other home demolition companies. At Omni Demolition, our residential demolition contractors promise the most cost effective charges together with unparalleled services whether it's for something small like a mobile home demolition or as big as a multi-level condominium. The fees differ depending on the size and difficulty of the project. Rest assured, at Omni Demolition, we only provide professional and cost-effective services.
Get Your Residential Demolition Permits in Rochester, MN
Apart from safety issues, you will also need to secure all required permits from local authority. Documentation and special inspections for your demolition project, even for a humble mobile home demolition, could be necessary depending on the state you are in. There are several requirements you will need to secure so the local government can process your application. If you have questions about the documentation requirements in your area, contact our team.
Things To Prepare Before a Rochester, MN Residential Demolition Project Starts
We highly recommend keeping your kids, pets and other people away from the vicinity of the house so our Rochester, MN home demolition team can work as quickly as possible. If water, electricity, or gas lines are not cleared during the demolition of a structure, a collapse could result in a dangerous explosion or exposure to chemicals. These dangerous situations can put every person at a demolition site at risk for serious injury. A demolition contractor then starts the process with the removal of valuables from the building, such as the copper wiring; then follows the removal of materials like glass, asbestos sheets and other materials, which are considered to cause serious safety hazards during and after demolition. Talk to our mobile home demolition professionals for more tips on how to prepare your home.
Why Do I Need a Rochester, MN Residential Demolition Service?
After some time, the structure of a house weakens due to constant exposure to changing weather, as well as other stressors. Or perhaps the land needs to be prepped for a new construction. Perhaps you bought the land with a property already on it, or it could just be an old structure that needs to go. More often it costs less to rebuild than to repair. With the help of our friendly Rochester, MN residential demolition specialists, you can ensure the safety of your loved ones and your personal valuables. You can build new and stronger structures once the demolition project is completed.
Using the Right Equipment and Tools for a Residential Demolition in Rochester, MN
The residential demolition contractors at Omni Demolition have provided safe and reliable home demolition services in Rochester, MN for many years now. There are several types of equipment used in the industry today-loaders, material handlers, trucks, grapples, excavators, and pulverisers to name a few-and we have access to all of them. For simple home demolition assignment, sledgehammers and chainsaws, etc. could be enough, but for larger demolition jobs, cranes, bulldozers, etc. may be needed. Our equipment such as track loaders and excavators allow us to deliver stellar services. We know how to handle our equipment well, so we can readily haul debris, break down walls, excavate building foundation beams and more.
Give Us a Ring Today for Home Demolition Services in Rochester, Minnesota
We take pride in offering professional residential demolition services. Never hire companies that will charge you a cheap rate but provide unsatisfactory services. Our Rochester, Minnesota residential demolition contractors are equipped to handle any size of house. Rest assured that we follow strict measures when performing our services. We are only a phone call away for all your demolition needs.
Zip Code Areas We Service in Rochester
55902, 55901, 55906, 55904, 55905, 55903