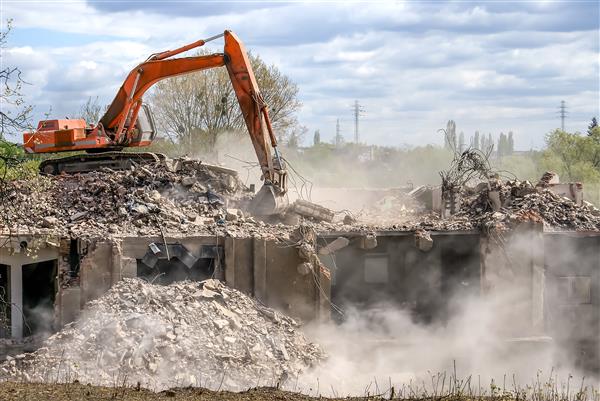 Reliable and Budget-Friendly Woodbury, MN Concrete Removal Service
We are experts in providing concrete removal in Woodbury, MN. If you have a desire to transform your old home into a new one, then we will no doubt make it happen here at Omni Demolition with our concrete slab removal and concrete hauling services. As such our contractors know how to carry out the necessary service you need to rebuild or remodel your home. We achieve 100% success in all our projects by examining the task at hand from all conceivable angles and then deciding on the course of action that is best suited for your project.
Important Equipment Used for Concrete Removal in Woodbury, MN
At Omni Demolition, we use quite a number of heavy machinery and equipment for concrete demolition. Our contractors at Omni Demolition use a wide range of equipment when we perform our services such as concrete slab removal. Common equipment used for this type of demolition are picks, robotic hammers and sledgehammers. We specialize in removing concrete driveway as well as concrete wall demolition. Depending on the nature of the project, we select different equipment to deliver maximum results. Diamond wire saws are able to to cut through thick concrete and is usually used in heavy demolition work. We are well equipped in handling all your concrete removal and concrete hauling projects.
When to Consider Booking a Woodbury, MN Concrete Demolition Service
Concrete, when constantly exposed to changing weather and temperature, can weaken and crack. Concrete is no exception and the time inevitably comes when you will need to demolish your concrete structure in Woodbury, MN, for one reason or another. Whatever your demolition and concrete hauling requirements are, we can help you achieve all your goals at a budget-friendly price. The most common reasons why concrete wears out easily include extreme temperature fluctuations, corrosion and overload. With our trusted services, you have our assurance that the job will be done correctly and safely.
Are Permits necessary for Concrete Removal in Woodbury, MN?
It is essential that before you start your concrete hauling project, you have already secured a concrete removal permit in Woodbury, MN. Some concrete removal companies may charge extra for processing it on your behalf but not us—we are here to make the permit process as simple and effortless as possible. The kind of concrete demolition permit you will require will basically depend on what you are demolishing, where the demolition project is and how much you are demolishing. You must submit your application together with all the required documents. Some of the required paperwork include clearances from your electric, water and gas companies. If you work with our experts at Omni Demolition, you can be sure that you'll have a great experience.
How Much Can a Concrete Demolition Project Cost in Woodbury, MN?
Applying for a demolition permit can already cost you more than $200. The price can go up, depending on where your project is located. Our contracts fall midrange but our customer service and workmanship rockets sky high. The more concrete you need removed, the higher the cost. Removal rates also affect costs. Whether you need estimates for small jobs such as a patio demolition or patio removal, or you need a proposal for breaking up concrete at an industrial property, we will provide you with a detailed breakdown of expenses. No need to get worked up in guessing project costs when all you have to give us a call and we will be happy to give you a free estimate. On average, demolishing unreinforced concrete in a two-car driveway will cost you somewhere between $1,500 and $2,500. Bigger projects average between $4,000 and $14,000. Demolition permits on the other hand vary greatly and will cost you an average of $200, but can cost up to $10,000 depending on where you are located.
How Much Time Should a Concrete Demolition Project Take in Woodbury, MN?
No concrete demolition project is completely the same as each requires varied materials, manpower, equipment and time frame to finish. Once you find it satisfactory and approve of the proposal, work on your concrete slab removal and concrete hauling project in Woodbury, MN commences. This all depends on a number of things such as the size of the concrete structure. We explain the steps involved, paperwork required, plus cost estimate to help our clients ensure everything runs smoothly. This is because the speed and performance of hand held tools varies greatly with that of automatic or advanced machinery.
Is It Possible to Recycle concrete in Woodbury, MN?
Whether you are an environmental advocate or you just want to make some extra money, recycling wastes from a completed concrete demolition and removal project is the way to go. A demolition project can generate tons of waste materials. Fortunately, we can recycle the removed concrete so you can use them as base materials for your asphalt pavement, patios and other parts of the project. Our seasoned concrete demolition contractors can help you reuse discarded concrete from your project. You can get paid by companies who reuse concrete in major constructions such as road paving and you also help minimize damage to the environment through responsible recycling – it's a win-win situation! This reduces disposal and hauling costs.
Work with Concrete Demolition Experts in Woodbury, Minnesota
Our team of experts uses modern concrete slab removal techniques and high end equipment, ensuring outstanding concrete demolition services at all times. At Omni Demolition, your Concrete slab removal project needs the exceptional expertise and experience that we bring to the table in Woodbury, MN. Whether you call for a concrete slab removal, concrete hauling, site cleanup or any other service, you can be sure that you'll be getting the best team to assist you. Our experts are the best at what they do. This is not a job for amateurs and if done wrongly, it could be costly on your end. We also follow strict measures and carefully evaluate our demolition and removal plan to avoid delays. We are also an environmentally friendly company with a focus on recycling reusable materials after a concrete demolition undertaking.
Zip Code Areas We Service in Woodbury
55129, 55125, 55187