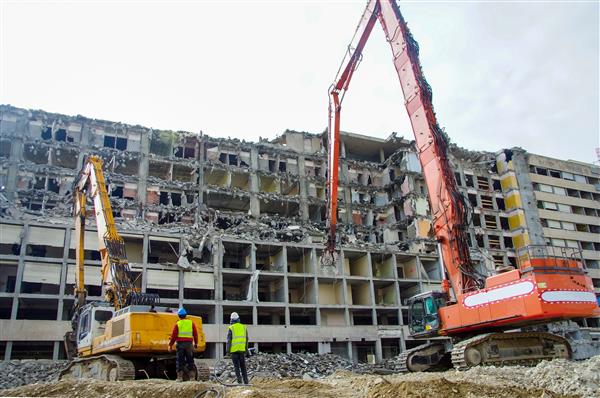 Demolition Contractors Woodbury, MN: The Number One Demolition Company
For years, Omni Demolition has continuously served and established its reputation as the most trusted demolition contractor in Woodbury, MN. We are dedicated to working on your project with no distractions whatsoever. No need to break the bank to avail of first rate service and exceptional outcome. Here at Omni Demolition, you can expect nothing less than high-quality customer service and spotless workmanship courtesy of our seasoned demolition experts. We have the resources and expertise to offer you the best solutions in a safe and professional manner.
Do You Need Demolition or Deconstruction in Woodbury, MN?
Demolition is taking down or dismantling a building or structure with a strong and overwhelming force whose end result is rubble or waste. Demolition is the actual tearing down of a structure to be done by a demolition expert. Some of the items salvaged in deconstruction are: roofing materials, windows, plumbing fixtures, doors, cabinets, flooring among others. In instances where a building will be remodelled or reconstructed, a deconstruction is more appropriate.
Why Come to Us for Your Demolition Project in Woodbury, MN
Our demolition experts as well as our demolition contractors in Woodbury, MN have highly specialized equipment and all the resources needed to complete any project you may have for us, however big or small it may be. If you wish to have a an effortless and hassle-free experience when leveling a property in Woodbury, MN, we are the demolition contractor that you can rely on. We are knowledgeable in protocols and we prioritize safety at all times. Our demolition contractor will handle your needs on a one-on-one level and ensure that your project is given the undivided attention it deserves. Whether small or large, we strive to always provide you with the highest possible standards of service in completing your projects within your budget and timeframe without complications. Whether small or large, we strive to always provide you with the highest possible standards of service in completing your projects within your budget and timeframe without complications.
Our Demolition Services in Woodbury, MN
Industrial Demolition services: We have an impeccable history in handling industrial buildings such as warehouses, chemical plants, mills and more. No matter how gigantic the structure is, our team of experts can surely manage.
Commercial Demolition services: We are a prominent demo company in handling commercial buildings even in the most unimaginable spaces. We have taken down storehouses, grocery stores, airplane hangars, and large public structures among others.
Concrete demolition and recycling services: Let our demolition experts know if you wish to maximize the use of the structure's concrete materials and we will break them down into reusable gravel.
Scrap Metal Demolition Services: Unlike other contractors who concentrate only on concrete, our demo company can assist in handling metal frames and recycling scraps.
A class Above the Rest in Woodbury, MN
Despite being highly preferred over other demolition contractors, we keep our feet grounded. We are a class above the rest. What sets us apart is our unshaken resolve to achieve 100% in customer satisfaction. You are guaranteed a hassle-free experience when you sign with us, the most trusted demolition company in Woodbury, MN. Each project in our demo company is always given the care and attention that our customers deserve and expect.
Safely Regulated Methods for Demolition and Deconstruction in Woodbury, MN
Explosive Demolition: Done by licensed demolition experts in Woodbury, MN, this method may sound dangerous and it could be when proper procedures are not followed. After explosives are strategically laid out, a switch is all it takes to completely take down a building.
Non-Explosive Demolition: Our local demolition contractors will use a wrecking ball attached to a crane to knock down a building. The heavy wrecking ball is swung several times on the targeted structure before it can collapse.
Selective Demolition: This type of demolition is done when you want to remodel or renovate a building. It can either be exterior or interior by nature. Exterior demolition involves tearing down a part of the building with a purpose of increasing it in size or making it smaller. Interior demolition focuses mostly on taking apart spaces for remodeling or renovation.
We Facilitate High-End Equipment for Demolition in Woodbury, MN
Hydraulic Breakers – Our demo company will use this heavy hammer to demolish rocks or concrete structures. Hydraulic breakers are also an important part of recycling operations.
Wrecking balls – A wrecking ball is used together with a crane. This heavy steel ball is suspended from a crane and is used to bring down an entire structure or part of it. Although not widely used, this method is as fast as it is cost effective.
Hydraulic Shears and Rock Breakers – They are usually attached to excavators and then used to make clean cuts through concrete, metal, wood and rocks of large structures.
Bulldozers – Commonly used where heavy lifting is required, this flexible machine can also be used to topple down weak structures.
Dumpers – A dumper or a tipper truck is essential in the demolition business. This vehicle is specially designed to carry debris such as gravel, or demolition waste in bulk away from the property. It makes cleaning up the property after demolition easier and faster.
Cranes – Demolition contractors use cranes to transfer materials within the site especially from lower to upper floors and vice versa. Aside from being used as a pulley, our demo company also uses cranes for wrecking balls.
Crawler Loaders – A flexible machine, crawlers are perfect for excavating narrow spaces. Although not very good for excavating, it can be used to haul items easily.
Call Us for Outstanding Demolition Services in Woodbury, Minnesota
Your number one demolition company in Woodbury, Minnesota is always at your service. We believe in providing professional and affordable services. Consult with a reliable demolition company and save yourself from all the worries. Our Woodbury deconstruction and demolition company has highly skilled personnel with years of experience in the demolition business. Feel free to get in touch with us today at
(855) 885-3366
!
Zip Code Areas We Service in Woodbury
55129, 55125, 55187