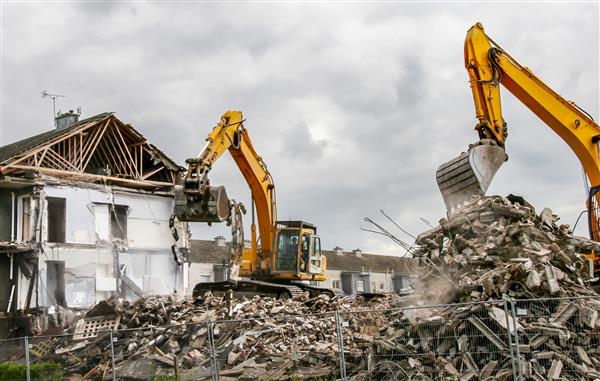 Omni Demolition – The Best Provider of House Demolition Service in Maple Grove, MN
It takes a lot of effort and time to do a house demolition in Maple Grove, MN. It is also quite a risky job, most especially if you don't have the right equipment or if you lack technical background and experience. You must learn how to choose among the many house demolition companies in the city. Our team of residential demolition contractors can attend to your request as soon as possible. Don't delay the demolition job because the damage can result in accidents, injuries and even expensive repair jobs. Once you see thick cracks on the wall or observe any signs of a weak foundation, you must schedule an appointment with a building expert right away. This way, you can already assess the situation and decide if you will need a renovation or demolition job. We can handle everything from a straightforward mobile home demolition to a full-blown townhouse complex or condo demolition. Instead of covering cracks with layers of cement, you must address the structural issue so you can avoid accidents and other expenses.
How We Provide Our Maple Grove, MN Home Demolition Service
House demolition in Maple Grove, MN is not as simple as it seems. There's more to taking down a building than just smashing it with a wrecking ball. The entire process can be complex and calls for creative solutions to avoid costly problems. If you do not have a solid plan on how to take down each part of the structure, you risk getting injured. Other demolition methods that our experienced residential demolition contractors employ include crane, wrecking ball, and high reach arm. When hiring residential demolition companies in Maple Grove, MN, you need to be very cautious as amateur operators in this field may make mistakes that can create a costly mess out of something as simple as a mobile home demolition project.
Home Demolition Estimates in Maple Grove, MN
House demolition costs in Maple Grove, MN are bound by some variables that determine the total expenses during a demolition project. Variables that affect the cost of a demolition project include asbestos-contaminated materials that are not only more labor intensive to remove, but also cost roughly three times as much to safely get rid of in contrast to other materials like timber or concrete. To help you choose the right company, we suggest asking for a cost estimate, and then comparing all the rates of the home demolition companies you surveyed. This will allow you to check which team offers the best rates. Here at Omni Demolition, our residential demolition contractors offer the most affordable house and mobile home demolition rates together with incomparable services. Upon your request, we can provide a full breakdown of the fees you will need to pay. You can count on our staff at Omni Demolition to answer your questions or concerns about our services.
Get Your Residential Demolition Permits in Maple Grove, MN
House demolition in Maple Grove, MN, particularly in densely populated parts, necessitates the filing of permits and other procedures to make sure environmental and physical safety precautions are observed. Some of the usual paperwork required for a house demolition or mobile home demolition job include asbestos inspection repair and dust control clearance. You must secure the documents required in Maple Grove, MN. Without a permit, you may have to pay for heavy fines imposed by the government, and you certainly would not want that to happen.
What Things Should I Prepare Before the Residential Demolition Job in Maple Grove, MN Starts?
Unlike construction, a home demolition in Maple Grove takes less time, but one of the most time consuming and tiresome parts of the process would be the preparation stage. If water, electricity, or gas lines are not cleared during the demolition of a structure, a collapse could result in a dangerous explosion or exposure to chemicals. These dangerous situations can put every person at a demolition site at risk for serious injury. Once the walls begin to cave in, there will be no way of going back in. Make sure you remove any personal items or important home equipment. There shouldn't be anything left inside the house during the demolition job to avoid interruptions. Talk to our mobile home demolition professionals for more tips on how to prepare your home. When communication does not flow well, you run the risk of serious problems.
Why You Should Book a Residential Demolition Service in Maple Grove, MN
The strength of various structures fades over time. Sometimes, a building degrades faster when it is exposed to extreme temperature changes, pest infestation, water damage or fire. Other factors that affect the durability of a building are environmental stressors like fluctuating temperature and sudden weather changes. It won't take long for our team to tear down the weak parts of your home. If your property has undergone extensive fire damage or water damage, it is important to call a residential demolition company in Maple Grove, MN as soon as possible.
Equipment and Tools Used for Residential Demolition in Maple Grove, MN
Our residential demolition contractors only use top-quality equipment. With the extensive industry background of our contractors, you can definitely enjoy outstanding home demolition deals, regardless of how small or big your property is. We use a long list of equipment, including trucks, excavators and loaders. The dimensions of the structure to be destroyed determine the type of instruments to be used for demolition. We know how to handle our equipment well, so we can readily haul debris, break down walls, excavate building foundation beams and more.
Call Us and Start Your Home Demolition in Maple Grove, Minnesota Today!
We take pride in offering professional residential demolition services. We have the skills, equipment, and background needed to handle any size or type of property. Fortunately, with our Maple Grove, Minnesota residential demolition contractors, you will never have to worry about handling your run-down property on your own. You can have a look at the reviews on our site and social media profiles to see testimonials from many satisfied customers. Call
(855) 885-3366
today to get in touch with our staff.
Zip Code Areas We Service in Maple Grove
55369, 55311