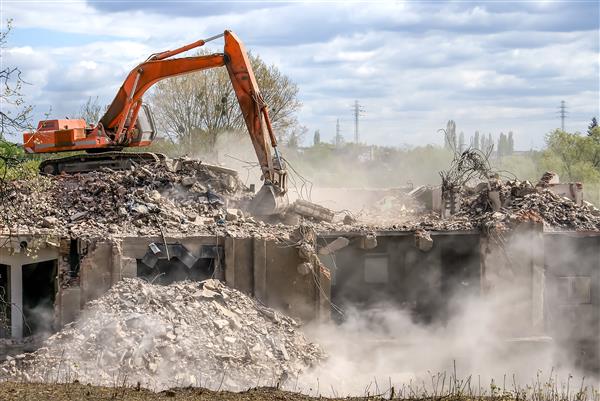 Your Ultimate Concrete Removal Company in Kansas City, MO
Concrete removal in Kansas City, MO is definitely not a job for the faint at heart and that is why many recommend hiring only seasoned expert contractors like those at Omni Demolition to handle your projects. When it comes to concrete slab removal and concrete hauling, we are your number one choice. Omni Demolition is the most reliable concrete expert in the city. They are dedicated to only one outcome: 100% success in project execution.
Important Equipment Used for Concrete Removal in Kansas City, MO
When looking for a contractor to hire, do not get drawn in by bargain prices. Instead, double check the company's performance and the condition of their equipment. Our contractors at Omni Demolition use a wide range of equipment when we perform our services such as concrete slab removal. For all your concrete demolition needs like removing concrete driveway, concrete slab demolition and concrete wall demolition, contact our highly trained experts for a comprehensive evaluation of your concrete removal and concrete hauling project. It pays to work with professionals, most especially when you don't know what to do. After the demolition, the waste has to be dealt with, so we also have special machinery for concrete hauling.
Why You May Need Concrete Demolition Services in Kansas City, MO
Concrete is designed to last a very long time if it is installed properly. However, like every other type of material, its structure will also degrade over time. There are various factors that affect the life span of concrete. Our concrete removal services and concrete hauling will not only help you get rid of old unsightly structures but will also ensure that your property has better aesthetic appeal. Concrete demolition is necessary when your structure becomes old and dilapidated; when your structure has widespread cracking; when moisture penetrates into the ground, freezes and then pushes up the concrete; or when you plan to improve or put up a new structure. With our trusted services, you have our assurance that the job will be done correctly and safely.
Are Permits necessary for Concrete Removal in Kansas City, MO?
In almost all cases, you will need permits for carrying out a concrete removal or concrete hauling project in Kansas City, MO. While other concrete removal companies may include additional fees for processing the required permits, we at Omni Demolition have got you covered. The governing bodies also ensure that environmental and safety regulations are complied with. You will also need to have a rough estimate of the possible project costs. Your main goal should be to minimize the risks of delaying the project by preparing the necessary documents beforehand.
How Much Do You Have to Pay for a Concrete Demolition in Kansas City, MO
There are a number of factors that contribute to the cost of concrete removal with the biggest contributor being the total area of concrete to be removed. Our contracts fall midrange but our customer service and workmanship rockets sky high. Hauling and disposal costs depend on the amount of debris and the distance from the demolition site to the disposal facility. We have the expertise, manpower and equipment to carry out any demolition project in Kansas City, MO; even smaller jobs such as patio demolition and patio removal. No need to get worked up in guessing project costs when all you have to give us a call and we will be happy to give you a free estimate. We can assure you that we have the best priced packages in the area.
How Long is a Concrete Demolition Service in Kansas City, MO?
We are confident in our service delivery timelines. One of our primary focuses is on the time taken to complete your concrete demolition project. Concrete slab removal and concrete hauling is a delicate procedure. This all depends on a number of things such as the size of the concrete structure. Depending on what we mutually agree on, your project can be completed in a few days, a couple of weeks or even months. This is because the speed and performance of hand held tools varies greatly with that of automatic or advanced machinery.
What Can I Do With My Concrete Waste in Kansas City, MO?
With rising pressure on local landfills, the diversion of rubble from a concrete demolition and removal project is becoming increasingly important. Concrete recycling is an environmentally friendly process and prevents unnecessary waste transportation and disposal costs. Our concrete demolition contractors are knowledgeable in inspecting rubbish and identifying which ones are valuable. It reduces the need for transportation and disposal fees at the landfill. Concrete lasts long, and you can use it in various ways.
Why Come to Us for All Your Concrete Demolition Needs in Kansas City, Missouri
By choosing our experts, you can be completely sure that you will receive smooth and exceptional concrete demolition services as compared to hiring other companies. There are many reasons why Omni Demolition should be your number one pick for all your concrete slab removal projects. Experience a professional concrete removal service that is reasonably priced. Our flexibility allows us to work on your project according to your timeline and schedule. We can guarantee incident-free operations with very minimal to zero disruption to adjacent properties. Our friendly customer care specialists will be happy to assist you and provide you with a no-commitment estimate.
Zip Code Areas We Service in Kansas City
64163, 64164, 64165, 64167, 64161, 64053, 64119, 64118, 64151, 64153, 64155, 64154, 64157, 64156, 64158, 64108, 64109, 64102, 64105, 64101, 64128, 64124, 64125, 64126, 64127, 64120, 64123, 64129, 64166, 64192, 64114, 64117, 64116, 64111, 64110, 64113, 64112, 64132, 64130, 64146, 64145, 64149, 64147, 64106, 64139, 64138, 64133, 64131, 64137, 64136, 64134, 64121, 64141, 64144, 64148, 64162, 64168, 64170, 64171, 64179, 64180, 64184, 64187, 64188, 64190, 64191, 64195, 64196, 64197, 64198, 64199, 64999