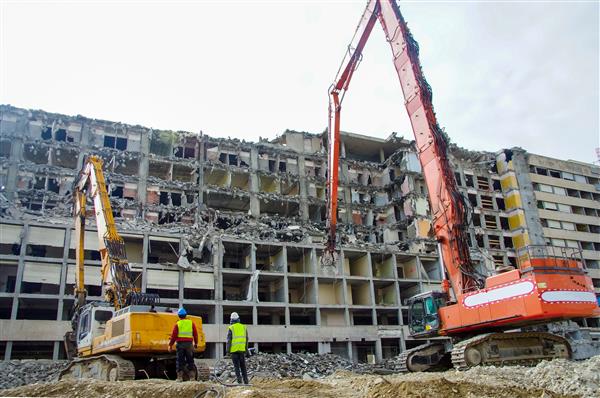 Demolition Contractors Kansas City, MO: The Number One Demolition Company
For years, Omni Demolition has continuously served and established its reputation as the most trusted demolition contractor in Kansas City, MO. You are guaranteed to get the best value for your money with our expertise partnered with updated equipment and strict adherence to state safety regulations and policies. Our demolition contractor is on standby at all times ready to cater to your needs. Led by deconstruction experts in the industry in Kansas City, MO, our demolition experts offer innovative approaches to all your projects, whether big or small. We are highly competent and able to handle any project you may have.
How is Demolition Different from Deconstruction in Kansas City, MO?
Demolition is the tearing down of buildings or structures partly or completely. Some projects require complete levelling while others simply need specific parts removed to be replaced. For every client call, we have a demolition expert equipped to do the job. Deconstruction differs from demolition in that, it involves tearing apart a building or a home in a manner that salvages materials. If you are going to rebuild or remodel an existing building and you wish to maintain some segments, a deconstruction is recommended.
Why Come to Us for Your Demolition Project in Kansas City, MO
Our demolition experts have a solid record of work experience aside from continually receiving refresher trainings every now and then to ensure that they are well updated with any enhancements or changes in technology and procedural protocol. Compared to other demolition contractors who are highly profit-driven, we are committed to giving back to the community through outstanding workmanship and transparent transactions. Our management style is hands-on, giving us the opportunity to customize solutions to fit your demolition needs. Our demolition contractors are not only committed to providing first rate work but also ensure that all steps are taken to cause little to zero disturbance to the environment and to the properties adjacent to the site. From the start to the finish of your project, we are focused on your absolute satisfaction. From the start to the finish of your project, we are focused on your absolute satisfaction.
Take Advantage of Our Demolition Services in Kansas City, MO
Industrial Demolition services: We focus on enhancing safety and maximizing productivity. We are responsive and flexible enough to be able to deal with any complications that such a challenging demolition project may bring. With our knowledgeable technicians and superior equipment, we can handle demolishing refineries, highways, powerplants, bridges, mines and airports among others.
Commercial Demolition services: We isolate the targeted building before performing the actual demolition so as not to cause any damage to its neighboring structures. Our demo company, has handled tearing down malls, airplane hangars, markets, and even bridges.
Concrete demolition and recycling services: We are the only demolition experts who carefully set aside re-usable materials from your site for possible future use such as slabs to be crushed later on into gravel.
Scrap Metal Demolition Services: Allow our demo company to take down your metal structure. Our experts will downsize and process scrap metal for the purpose of recycling or reusing.
The Top Choice Among Demolition Companies in Kansas City, MO
Our highly trained demolition contractors are able to offer flexible services to suit your specific needs. Our team uses sophisticated equipment and observes high standards in every operation. We are a demolition company that takes our work seriously and consistently conduct regularly equipment maintenance, which ensures efficient and quick clearing operations. Being a demo company in this business for years, we have perfected the process of demolishing structures as cost-effectively and safely as possible.
Main Methods Used in Demolition and Deconstruction in Kansas City, MO
Explosive Demolition: Our qualified demolition experts have years of experience in explosive demolition projects. Using our expertise and meticulous planning, we will safely execute your project with minimal disruption to your surroundings.
Non-Explosive Demolition: Instead of explosives, local demolition contractors may also use a wrecking ball to tear down a building. This method also requires safety precaution as swinging wrecking balls are harder to control than it seems.
Selective Demolition: Recommended for buildings that are being rebuilt, selective demolition involves carefully removing some parts of the building to make way for a modified construction. Unlike new and upcoming building demolition companies, our demo contractors are experienced in extracting parts of the building while still maintaining its structural integrity.
Important Equipment Used for Demolition in Kansas City, MO
Hydraulic breakers – Commonly known as hydraulic hammers, these are often used by our demo company to grind up slabs and concrete structures.
Wrecking Balls – Buildings or structures that are more than 6 storeys high are demolished with the help of a wrecking ball suspended on a crane by a steel rope. The wrecking ball is pulled then released towards the structure. With force, the steel ball strikes the structure and demolishes it in bits.
Hydraulic shears and rock breakers – Used by specialists to cut through various materials such as concrete, metal, wood, and steel.
Bulldozers – These powerful machines are used to bring down smaller sized buildings or structures. They are also used to transfer debris and rubble to trucks.
Dumpers – A necessity in every demolition business, dumpers are used to haul waste materials off the demolition site. It ensures the pre-construction area is free from any trash or debris brought about by the demolition.
Cranes – Aside from being used to secure a wrecking ball, demolition contractors in our demo company also use cranes to lower and lift materials within the site.
Crawler Loaders – A flexible machine, crawlers are perfect for excavating narrow spaces. Although not very good for excavating, it can be used to haul items easily.
For all your Demolition Needs contact us in Kansas City, Missouri
If you are in dire need of a reliable demolition company in Kansas City, Missouri but are quite not sure what kind of method you will require and how much it will cost you, do not hesitate to call us. Signing with us means you deal with our highly diligent specialists who will never present mediocre work to our clients. Consult with a reliable demolition company and save yourself from all the worries. Our Kansas City deconstruction and demolition company has highly skilled personnel with years of experience in the demolition business. For all your demolition needs, call us at
(855) 885-3366
.
Zip Code Areas We Service in Kansas City
64163, 64164, 64165, 64167, 64161, 64053, 64119, 64118, 64151, 64153, 64155, 64154, 64157, 64156, 64158, 64108, 64109, 64102, 64105, 64101, 64128, 64124, 64125, 64126, 64127, 64120, 64123, 64129, 64166, 64192, 64114, 64117, 64116, 64111, 64110, 64113, 64112, 64132, 64130, 64146, 64145, 64149, 64147, 64106, 64139, 64138, 64133, 64131, 64137, 64136, 64134, 64121, 64141, 64144, 64148, 64162, 64168, 64170, 64171, 64179, 64180, 64184, 64187, 64188, 64190, 64191, 64195, 64196, 64197, 64198, 64199, 64999