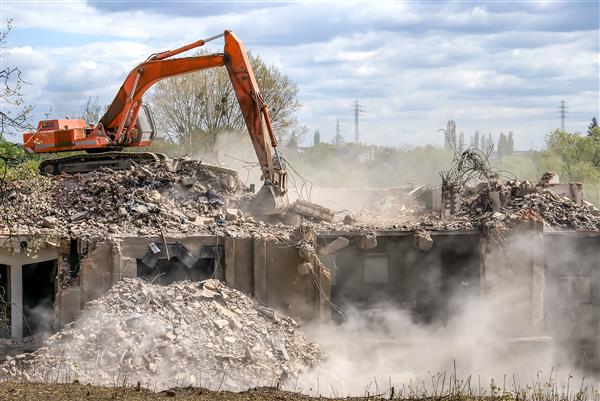 Your Premium Concrete Removal Company in Lee's Summit, MO
Concrete removal in Lee's Summit, MO is definitely not a job for the faint at heart and that is why many recommend hiring only seasoned expert contractors like those at Omni Demolition to handle your projects. Our highly trained experts undergo rigorous and continuous training to ensure that any concrete slab removal or concrete hauling job is executed safely and correctly. Our high ratings clearly speak for our loyal clients and how much value they get from hiring us as their contractor.
Important Equipment Used for Concrete Removal in Lee's Summit, MO
Most fly-by-night companies do not invest in good equipment or worse, they utilize faulty machinery which can cause delays and substandard outcomes. At Omni Demolition, the type of equipment needed for concrete slab removal in Lee's Summit, MO depends on the techniques used to tear down a building or structure. A few examples of the equipment we use include chipping hammers, demolition hammers and hydraulic concrete crushers. If you need assistance in removing concrete driveway, concrete slab demolition, or concrete wall demolition, we are the company most competent for the job. Compared to other companies, we conduct regular maintenance jobs on the equipment that we use. Book with us for stress-free services and operations that finish on time.
Conditions that Require a Concrete Demolition in Lee's Summit, MO
Some property owners in Lee's Summit, MO may delay hiring a demolition contractor for the sake of avoiding expenses. Some of the main reasons include the overall condition of the structure and presence of faulty wirings or leaky water pipes underneath the cement. The concrete demolition and concrete hauling process is necessary in some circumstances such as when your structure has aged significantly, when your building has widespread cracking, when you are planning to improve or upgrade your structure and when frost heave occurs. The most common reasons why concrete wears out easily include extreme temperature fluctuations, corrosion and overload. Safety is a primary concern for any concrete demolition job.
No Need to Stress Over Concrete Removal Permits and Requirements in Lee's Summit, MO
Before you can start a Lee's Summit, MO concrete removal, concrete hauling project or any other related service, you need to secure a few documents. Start by applying for a permit from the local authority. Unlike other concrete removal companies, we at Omni Demolition will advise you on everything that is required in your concrete removal project-from how to get the necessary permits and the cost of the permits to the cost of the entire project and the time it will take to complete it. Start by applying for a permit from the local authority. Other contractors hire a third-party permit service provider to file the necessary permit but this could only mean additional expenses for you. Different councils have their own different set of rules, based on whether you are demolishing an entire structure or just a part of it.
Concrete Demolition Expenses in Lee's Summit, MO
Other service providers in Lee's Summit, MO make their proposed contract sound complicated to justify unreasonably priced estimates. There are a number of factors that contribute to the overall cost of your concrete demolition project such as the type of concrete used. Final costs depend on factors such as disposal fees(some companies charge this separately). Whether you have an easy patio demolition or patio removal job for us or a major road removal project, expect nothing less than V.I.P. treatment and a premium end result. Unreinforced concrete on the other hand is easier to remove. We guarantee to provide a competitive and reasonable price. Manpower, permits and type of equipment used also determine the cost of the project.
Expected Duration of a Concrete Demolition in Lee's Summit, MO
A concrete demolition project requires thorough planning to ensure that it will be completed within the client's deadline. We plot reasonable timetables for the complete operation in Lee's Summit, MO, from preparation, to actual concrete slab removal, up to concrete hauling and site clearing. We put a lot of thought into every step of the process so the safety of our workers and the satisfaction of our clients are completely assured. We devise a plan to safely accomplish your project in a cost-effective way with projected timelines and then submit our proposal to you. Once we assess the situation, we can come up with a plan and provide a tentative time frame. The type can either be reinforced or unreinforced. For example, reinforced concrete structures with rebar are heavier in nature and will require heavier and more equipment or more time than unreinforced concrete structures.
Making the Most Use of Your Demolished Asphalt or Cement in Lee's Summit, MO
Concrete demolition and removal projects make the most amount of wastes and debris which is why, instead of throwing them away, it is best to make an effort to avoid harming the environment when disposing of these materials. Concrete recycling is an integral part of concrete demolition. With the help of our professional concrete demolition contractors, you can recover some costs and contribute to other projects with your recycled concrete. It is also an environmentally friendly approach of dealing with the waste. Once concrete waste is salvaged, the uncontaminated concrete free of paper, wood and other materials is crushed.
Call for a Quick Concrete Demolition Service Today
Our team of experts uses modern concrete slab removal techniques and high end equipment, ensuring outstanding concrete demolition services at all times. At Omni Demolition, our demolition contractors have specialized skills and years of experience in the field undertaking many concrete slab removal projects. They know how to execute their assigned tasks with accuracy and they know how to tactfully minimize the risks associated with concrete slab removal projects. We have been in this business for many years. We guarantee to come and fix your concrete-related problems fast. Our concrete removal and hauling professionals in Lee's Summit, MO are available to assist you as soon as possible. Call us today at
(855) 885-3366
for a free consultation and ask one of our agents for a free estimate.
Zip Code Areas We Service in Lee's Summit
64086, 64082, 64064, 64063, 64081, 64002