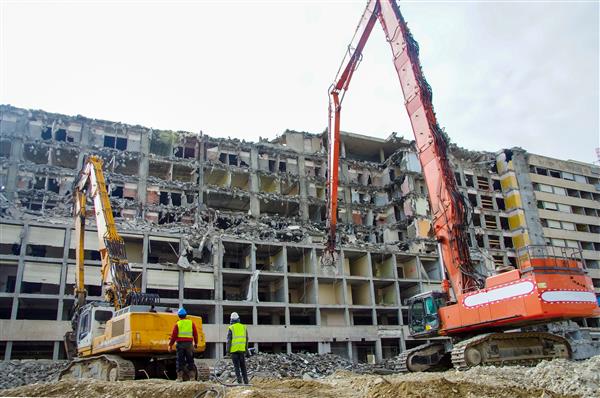 The Demolition Company with Demolition Contractors in Lee's Summit, MO You Can Count On
Omni Demolition is composed of reliable and dependable demolition contractors in Lee's Summit, MO. We are dedicated to working on your project with no distractions whatsoever. We have an enduring assurance to safety. You can trust that our demolition experts are all well-versed when it comes to everything that has to do with eco-friendly demolition, as well as health and safety guidelines. You can rest assured that our affordable services are top-notch. To achieve this, our demolition experts apply strong verbal, communication, analytical, managerial, decision-making and time-management skills.
The Main Variances of Demolition and Deconstruction in Lee's Summit, MO
Demolition is taking down or dismantling a building or structure with a strong and overwhelming force whose end result is rubble or waste. It can either be done manually or mechanically by a demolition expert. On the other hand, deconstruction focuses on reusing, recycling, conserving and salvaging materials. In deconstruction, the building is taken down carefully. Knowing the accurate requirements for your project is important to steering it into the right direction. No matter how complex your project is, we are happy and ready to serve in Lee's Summit, MO. Deconstruction is when a demolition expert carefully dismantles or takes down a structure with the aim of reusing or recycling the materials.
Complete Accountability from Highly Skilled Specialists for Your Demolition Project in Lee's Summit, MO
Our demolition experts and demolition contractors in Lee's Summit, MO offer superior services in demolition for all your projects. Compared to other demolition contractors who are highly profit-driven, we are committed to giving back to the community through outstanding workmanship and transparent transactions. We pride ourselves in being reliable and efficient service providers who will cater to all your unique needs. Trust only the most preferred demolition contractor in all of Lee's Summit, MO.
Our Main Demolition Services in Lee's Summit, MO
Industrial Demolition services: We have the expertise, equipment and manpower to take down, mills, plants, manufacturing buildings among others without compromising the integrity of neighbouring structures.
Commercial Demolition Services: Despite commercial buildings being located in compact spaces, our demo company is able to bring down your building or structure in a safe way with minimal damage to the surrounding area. Using modernized equipment, our team of professionals have pulled down warehouses, grocery stores, shops, airplane hangars among others.
Concrete Demolition and Recycling Services: We are a safe demolition company. We also listen to what you are saying. Are you trying to cut down on costs and reduce wastage? Once our demolition experts have demolished your concrete structure, we can grind it into gravel or turn it into an aggregate for making new concrete.
Scrap Metal Demolition Services: Our demo company is also experienced in extracting steel and metal from a building.
A class Above the Rest in Lee's Summit, MO
Our demolition company in Lee's Summit, MO offers a broad spectrum of solutions which enables us to deliver prompt and successful results. We are on a continuous path to success and we have managed to do this through perfection in our demolition services. Our demolition company in Lee's Summit, MO makes use of a unique approach that minimizes waste and maximizes recyclable materials. Our demo company appreciates all our clients and we demonstrate this by endeavoring to give you nothing but the very best.
Authorized Methods for Demolition and Deconstruction in Lee's Summit, MO
Explosive Demolition: We have a team of demolition experts in Lee's Summit, MO who thoroughly oversee the process of using explosives to crumble a structure, including the strict adherence to safety regulations and environmental protocols.
Non-Explosive Demolition: Our local demolition contractors use a wrecking ball attached to a crane to knock down buildings. It is a cheaper and faster method unlike explosive demolition.
Selective Demolition: This method is used when buildings are being remodeled or rebuilt and the client wishes to retain some parts of the structure. Not all contractors can perform this demolition as it involves meticulous planning and careful effort. Our demo contractors are veterans in conducting selective demolition especially in handling specialized equipment required for the job. You can trust our team of experts in providing calculated and top of the line performance, which other inexperienced building demolition companies cannot guarantee.
The process requires demo contractors to work around normal operating hours on small working spaces and under strict timetables. Our company, unlike other building demolition companies, understands the significance of all these considerations. We ensure that we provide an environment that is safe for everyone involved with as minimal disruption as possible.
We Utilize Well-maintained Equipment for Demolition in Lee's Summit, MO
Hydraulic breakers-Heavy-duty excavators are used at our demo company to aid in breaking or crushing concrete segments of the building. Be wary of contractors who have poorly maintained equipment such as hydraulic breakers because this will surely cause delays in your timeline.
Wrecking balls – Attached to a crane, these heavy balls made of steel are used to weaken structures. They are swayed right into the building causing it to break and collapse.
Hydraulic shears and rock breakers – Designed to cut through the toughest materials with very minimal effort, these tools are attached to excavators to do the job. They can slice through rocks, concrete, metal, wood and steel.
Bulldozers – These powerful machines are used to bring down smaller sized buildings or structures. They are also used to transfer debris and rubble to trucks.
Dumpers – In the demolition business, dumpers are used to transport debris from the demolition site.
Cranes – Demolition contractors use cranes not only for swinging wrecking balls but also in moving objects within the site. Our demo company facilitates the use of cranes to lift heavy objects from lower grounds to higher areas.
Crawler Loaders – Mostly used for excavating, this equipment is also utilized for its lifting and loading capabilities.
Contact Us for Cost-effective Demolition Services in Lee's Summit, Missouri
We are ranked as the leading demolition company in Lee's Summit, Missouri. You can rest easy knowing that we have a solution for all your demolition projects. You're in great hands with our Lee's Summit deconstruction and demolition company. Our Lee's Summit deconstruction and demolition company has highly skilled personnel with years of experience in the demolition business. Give us a call today at
(855) 885-3366
and we will get back to you as soon as we can.
Zip Code Areas We Service in Lee's Summit
64086, 64082, 64064, 64063, 64081, 64002