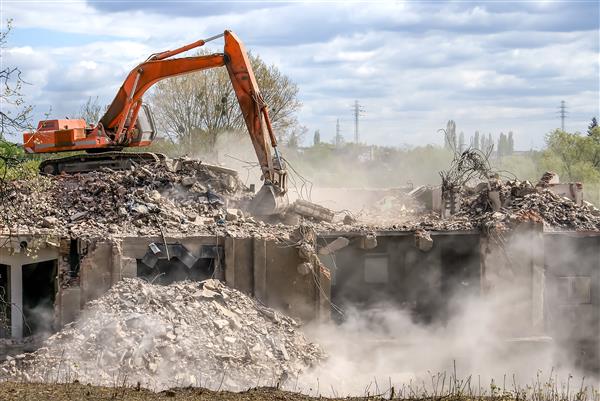 Your Premium Concrete Removal Company in St. Louis, MO
Concrete removal is a complicated procedure that requires tact and the services of professionals in St. Louis, MO. Indeed, time ages all things. Rest assured we will only assign well-trained contractors to your concrete slab removal, house demolition, and concrete hauling projects. Whether you wish to remodel a small section of your house or rebuild the entire structure, you can count on us to provide a good service.
Special Equipment Used for Concrete Removal in St. Louis, MO
At Omni Demolition, we use quite a number of heavy machinery and equipment for concrete demolition. Our contractors at Omni Demolition use a wide range of equipment when we perform our services such as concrete slab removal. Hydraulic slitters are very efficient in breaking thick and dense concrete. We are equipped with all the appropriate expertise, machinery and tools to execute your demolition projects such as removing concrete driveway, concrete slab demolition, or concrete wall demolition. Rotary hammers, on the other hand, can demolish concrete using the hammer alone or they can make holes in concrete. Diamond wire saws are able to to cut through thick concrete and is usually used in heavy demolition work.
When Do You Need Concrete Demolition Services in St. Louis, MO?
Concrete, when constantly exposed to changing weather and temperature, can weaken and crack. If your property in St. Louis, MO is showing deep and widespread cracks, sunken or fragmented concrete slabs, or signs of frost heave, it is time to call our phone number and consult with the experts. No matter the size of your demolition and concrete hauling project, we are well able to handle it for you. Safety is a huge part of our operations and we follow all precautions to ensure zero incidents from beginning to end. Since concrete is a sturdy material, you will need to hire the services of experts to have your project executed safely and with precision.
What Documents Do I Need to Secure Before a Concrete Removal Service in St. Louis, MO?
You will need to obtain several permits and approvals from the government if you plan on carrying out a concrete removal or concrete hauling project in St. Louis, MO. While other concrete removal companies may charge you extra fees to have your permits processed, our experts at Omni Demolition will sort it out for you. The city imposes a strict policy in permit application. There are several instances where you need to get a permit from your local council such as: when a building is to be entirely demolished, part of the building is to be demolished or more than a half of a given floor area of a building or structure is to be demolished. Different councils have their own different set of rules, based on whether you are demolishing an entire structure or just a part of it.
Cost Estimates of Concrete Demolition in St. Louis, MO?
Some contractors in St. Louis, MO will give you rock bottom packages which could mean poor quality services while some will be too expensive with no guarantee that they will deliver as promised. In addition to the demolition permit costs, you should also factor in the total cost of the service. In urban areas, demolition companies charge a minimum of $4,000 for their fees. If you live in an urbanized location, expect the permit application fees to go up to a thousand dollars or more. You should contact our reputable professionals in St. Louis, MO for any concrete removal job such as a patio demolition or patio removal. Different places charge differently for disposal of demolition waste. Rebar removal raises the cost of labor and eventually the overall demolition cost. The actual demolition cost alone can cost you from between $1000 – $15000+ If the structure contains hazardous materials such as asbestos, it may cost you extra to have the hazardous materials removed.
Estimated Time a Concrete Demolition Project Should Take in St. Louis, MO?
We pride ourselves in having a quick an efficient turn around time in our concrete demolition projects. It can take days, weeks or even months to complete a concrete slab removal and concrete hauling project in St. Louis, MO. At our company, we see to it that our clients understand what happens during every step of the process. The bigger the demolition structure, the more time it will take to complete the job. This is because the speed and performance of hand held tools varies greatly with that of automatic or advanced machinery. The type can either be reinforced or unreinforced. For example, reinforced concrete structures with rebar are heavier in nature and will require heavier and more equipment or more time than unreinforced concrete structures.
Is it Possible to Recycle Concrete in St. Louis, MO?
Whether you are an environmental advocate or you just want to make some extra money, recycling wastes from a completed concrete demolition and removal project is the way to go. Because we are an environmentally friendly company, preserving our surroundings is at the forefront of our mission. With the help of our professional concrete demolition contractors, you can recover some costs and contribute to other projects with your recycled concrete. It is also an environmentally friendly approach of dealing with the waste. Concrete lasts long, and you can use it in various ways.
Make the Wise Decision by Calling Us for Concrete Demolition in St. Louis, Missouri
Our commitment is in offering personalized and satisfactory concrete demolition services in St. Louis, MO to all our clients-from concrete slab removal to any other concrete removal service you may be in need of. At Omni Demolition, we handle all types of concrete demolition project-from scanning work to wall cutting, and from sawing to core drilling, there is no concrete slab removal project that is out of bounds for us. We will ensure that concrete slab removal and other types of concrete removal service are done according to your specifications. Our experts are the best at what they do. This is not a job for amateurs and if done wrongly, it could be costly on your end. Our professional contractors know the proper way to handle equipment. Contact us today!
Zip Code Areas We Service in St. Louis
63110, 63111, 63112, 63113, 63115, 63116, 63118, 63120, 63107, 63106, 63104, 63103, 63102, 63101, 63109, 63108, 63155, 63139, 63137, 63143, 63147, 63145, 63150, 63151, 63156, 63157, 63158, 63160, 63163, 63164, 63166, 63167, 63169, 63171, 63177, 63178, 63179, 63180, 63182, 63188, 63195, 63197, 63199