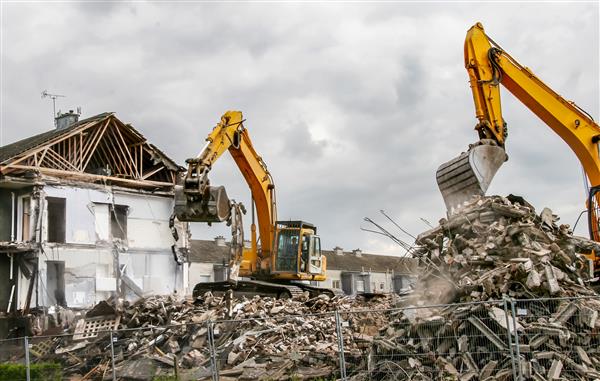 Omni Demolition – The Best Provider of House Demolition Service in St. Louis, MO
When a property in St. Louis, MO has sustained enough damage or takes up a desired spot for a new structure, your best option is a house demolition. Omni Demolition is among the best house demolition companies in the city. Here at Omni Demolition, our residential demolition contractors will be there and will carry out the task at hand only when you are ready. We coordinate the entire project from start to finish, including but not limited to all the necessary documentation, inspections, and city permitting. We also have a great amount of experience with mobile home demolition projects.
Home Demolition Techniques in St. Louis, MO
The safety of the workers and everyone near the area is our number one priority when we perform a house demolition job in St. Louis, MO. Demolition methods include top-down deconstruction, crane, high reach arm, remote-controlled demolition, and implosion. It is important that the building collapses inwards in order to avoid damaging adjacent constructions. For this purpose, our crew carefully plans the explosions. Usually, the major pillar or columns that support the building are chosen. Other demolition methods that our experienced residential demolition contractors employ include crane, wrecking ball, and high reach arm. Unlike other residential demolition companies, our contractors are proficient in working on any size of project, whether you need a mobile home demolition project done or you need a large multi-storey building demolished.
Getting a Home Demolition Evaluation in St. Louis, MO
Comparing the rates of house demolition companies in St. Louis, MO should be included in your to-do list. House demolitions may cost a fortune but if it means ensuring the safety and well-being of the entire family, it is worth it. A teardown can be a worthwhile option for you, but be aware of some home demolition companies' potential snares, traps, and costs up front. Here at Omni Demolition, our residential demolition contractors offer the most affordable house and mobile home demolition rates together with incomparable services. With our detailed price quotation, we aim to help you decide which team to hire. Rest assured, at Omni Demolition, we only provide professional and cost-effective services.
Obtaining a Residential Demolition Permit in St. Louis, MO
A house demolition project will require you to apply for a permit. You can't start a house demolition or mobile home demolition job without a permit from the local government. The first thing that needs to be done is to ask for the appropriate demolition permits and to establish any legal requirements necessary for the building to be demolished. If you have questions about the documentation requirements in your area, contact our team. If you do not like project delays or building code penalties, we highly suggest applying for a permit beforehand.Arranging for a Residential Demolition in St. Louis, MOUnlike construction, a home demolition in St. Louis takes less time, but one of the most time consuming and tiresome parts of the process would be the preparation stage. Initially, you should clean out your house. Remove all your valuables and furniture. A demolition contractor then starts the process with the removal of valuables from the building, such as the copper wiring; then follows the removal of materials like glass, asbestos sheets and other materials, which are considered to cause serious safety hazards during and after demolition. The area will be completely cleared out and no one but authorized personnel will be permitted near it. When it comes to preparing even a simple mobile home demolition, you want to be sure that everyone is on the same page. When communication does not flow well, you run the risk of serious problems.
Should I Get a Residential Demolition Service in St. Louis, MO?
Materials degrade over time, most especially when they are constantly exposed to environmental stressors such as weather changes, intense heat, cold, and pest infestation and may become unsafe or not financially viable to fix the issues. If you spot cracks, cave-ins or other signs of wear and tear, especially in the home's foundation, contact an expert right away. Instead of booking a renovation service, we suggest hiring a specialist to tear down your house if renovations may cost you more long term. Our St. Louis, MO residential demolition experts are well-prepared to take on your request on your preferred schedule. You can rebuild your home or parts of it to ensure that it is safe for you and your loved ones.
Guaranteed Quality Residential Demolition in St. Louis, MO Property
For many years, thousands of homeowners have depended on our team of residential demolition contractors to help them with their property. At our company, all our home demolition professionals are equipped to work on any size of residential building. Some of the heavy machinery that demolition contractors need to use consist of wrecking balls, cranes, bulldozers, jackhammers, chainsaws and sledgehammers. Occasionally, they even need to use explosives. Thanks to our high-powered tools and equipment, we can swiftly work on your requests. We guarantee to work fast so you can start rebuilding your property right away.
Have a Pending Home Demolition Project in St. Louis, Missouri? Call Us Now
It is definitely not easy to tear down walls and pull out foundation beams. We are a company that prides itself in being able to provide reliable and efficient services. Our superior work ethic is the reason we exceed our customers' expectations. Count on our residential demolition contractors in St. Louis, Missouri to provide everything you need for your house demolishing needs. We know that we have to earn your business and that is why we uphold high standards when it comes to the quality of services we offer. Give us a call at
(855) 885-3366
so we can get started on your demolition project!
Zip Code Areas We Service in St. Louis
63110, 63111, 63112, 63113, 63115, 63116, 63118, 63120, 63107, 63106, 63104, 63103, 63102, 63101, 63109, 63108, 63155, 63139, 63137, 63143, 63147, 63145, 63150, 63151, 63156, 63157, 63158, 63160, 63163, 63164, 63166, 63167, 63169, 63171, 63177, 63178, 63179, 63180, 63182, 63188, 63195, 63197, 63199