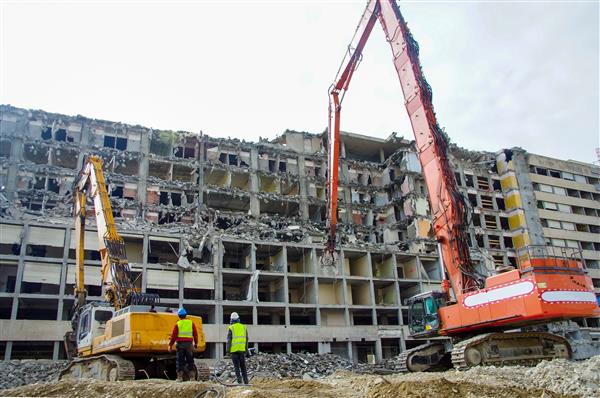 Recognizing an Outstanding Demolition Company from Inexperienced Demolition Contractors Gastonia, NC
It can be a huge challenge finding reliable and affordable demolition contractors in Gastonia, NC, but that is what Omni Demolition is here for. As widely renowned experts in Gastonia, NC, we see to it that the high standards we have established are met in every transaction. Our contractors ensure that the necessary safety measures and procedures are in place in the work environment. Our demolition experts employ the safest and most efficient ways of wrecking and demolishing old homes, dilapidated buildings and any other structure you may want demolished. This minimizes the chances of accidents or injuries at the demolition site.
The Difference Between Demolition and Deconstruction in Gastonia, NC
Demolition is the process of tearing down or pulling down buildings and structures by a demolition expert. Deconstruction is when a demolition expert carefully dismantles or takes down a structure with the aim of reusing or recycling the materials. A deconstruction may be implemented on its own or as a pre-demolition procedure. The materials can be reused in rebuilding or reconstruction.
Why Choose Us as Your Company of Choice for Your Demolition Project in Gastonia, NC
Our demolition experts will handle your property professionally from start to finish. If you wish to have a an effortless and hassle-free experience when leveling a property in Gastonia, NC, we are the demolition contractor that you can rely on. It is our core mission to exceed all your expectations. Our demolition contractor will handle your needs on a one-on-one level and ensure that your project is given the undivided attention it deserves. Our service delivery is focused on safety and efficiency. Our service delivery is focused on safety and efficiency.
Our Main Demolition Services in Gastonia, NC
Industrial Demolition services: We have tried and tested thorough demolition of industrialized buildings. Our record includes taking down plants, manufacturing buildings, mills and the like.
Commercial Demolition services: Need your commercial demolition project done right the first time? Our demo company will take care of that for you. Our portfolio includes: airplane hangars, restaurants, grocery stores, gas stations, warehouses and libraries among others.
Concrete demolition and Recycling Services: Our demolition experts are able to recycle your concrete slabs and structures by crushing them and turning them into reusable gravel.
Scrap Metal Demolition Services: Allow our demo company to take down your metal structure. Our experts will downsize and process scrap metal for the purpose of recycling or reusing.
We Take the Lead Among Other Demolition Companies in Gastonia, NC
Our demolition experts and highly skilled demolition contractors have worked on the most noteworthy projects in Gastonia, NC. We are on a continuous path to success and we have managed to do this through perfection in our demolition services. Our demolition company is experienced in implementing both small and large projects. Our demo company appreciates all our clients and we demonstrate this by endeavoring to give you nothing but the very best.
Types of Demolition and Deconstruction in Gastonia, NC
Explosive Demolition: We have a team of demolition experts in Gastonia, NC who thoroughly oversee the process of using explosives to crumble a structure, including the strict adherence to safety regulations and environmental protocols.
Non-Explosive Demolition: Our local demolition contractors will use a wrecking ball to bring down your structure. This method is cheaper than explosive demolition.
Selective Demolition: This type of demolition is done when you want to remodel or renovate a building. It can either be exterior or interior by nature. Exterior demolition involves tearing down a part of the building with a purpose of increasing it in size or making it smaller. Interior demolition focuses mostly on taking apart spaces for remodeling or renovation.
The process requires demo contractors to work around normal operating hours on small working spaces and under strict timetables. Our company, unlike other building demolition companies, understands the significance of all these considerations. We ensure that we provide an environment that is safe for everyone involved with as minimal disruption as possible.
Well-maintained Equipment for Demolition in Gastonia, NC
Hydraulic breakers – Also known as hydraulic hammers, our demo company uses this to demolish rocks or concrete structures.
Wrecking balls – Heavy and solid balls made of steel, wrecking balls are safely suspended on a crane and used to weaken a building until it gives.
Hydraulic Shears and Rock Breakers – They can be able to quickly and effectively cut through rocks, concrete, steel, wood and metal.
Bulldozers – Common equipment in construction sites used for excavating and hauling materials or waste. This machine can also be used to flatten or level structures hence the term bulldoze.
Dumpers – An efficient demolition business uses dumpers to haul wastes off the demo site for its clearing process. Not having dumpers means requiring a third party contractor to get rid of the trash and may cause delays on the project timeline.
Cranes – Demolition contractors use cranes to attach a wrecking ball to it. The wrecking ball suspended on a crane is then swung to the targeted structure. A demo company can use cranes to remove debris from high areas of a demolished structure. Cranes can also be used to load debris onto a dumper.
Crawler Loaders – Particularly useful in tight spaces, crawler loaders are versatile vehicles that function as a flexible loading and hauling machine. It can also be used for digging the ground.
Call Us for Outstanding Demolition Services in Gastonia, North Carolina
Avoid dealing with deconstruction hassles and overpriced bills when you sign with our demolition company in Gastonia, North Carolina. We will meet all your demands and give the same meticulous attention to your projects no matter the size. Our demolition company provides all our clients with dynamic solutions for all their Gastonia demolition and deconstruction needs. As the top Gastonia deconstruction and demolition company, no job is ever too big or too small for us. Give us a call today at
(855) 885-3366
and we will get back to you as soon as we can.
Zip Code Areas We Service in Gastonia
28054, 28056, 28052, 28053, 28055