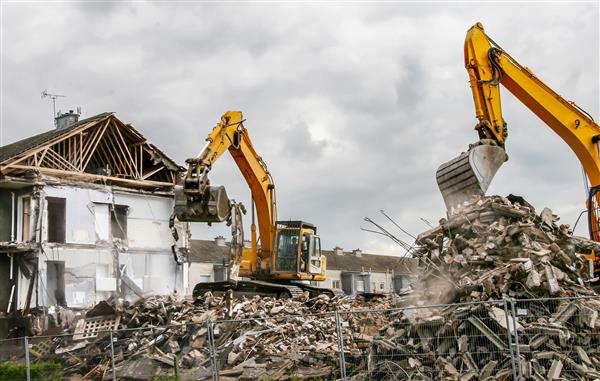 Fast and Reliable House Demolition Service in Gastonia, NC from Omni Demolition
House Demolition in Gastonia, NC is what our demolition contractors do best. We at Omni Demolition strive to provide the most cost-effective services among all the other local house demolition companies. We have a team of seasoned residential demolition contractors who can readily assess your property. Our team of experts can handle a wide range of projects. You may need to have a section of your house removed because it can cause huge problems in the future. Whether you call us for a full-scale mansion demolition or an easy mobile home demolition, rest assured you will receive our best services.
Unparalleled Gastonia, NC Home Demolition Solutions You Can Afford
We make sure to create a comprehensive plan before we start a house demolition. Our experts use several demolition techniques depending on the situation. Our approach differs depending on the size of the building and its overall condition. With the extensive knowledge and experience of our residential demolition contractors, we can provide a reasonable working schedule. When hiring residential demolition contractors, be extremely selective in who you hire, as a company with little experience can cause unnecessary damage, resulting in additional costs and delays. We will consult with you even when dealing with a simple mobile home demolition project, so you can have peace of mind knowing that you are in the right hands.
Things to Consider When You Get a Home Demolition Price Estimate in Gastonia, NC
House demolition costs in Gastonia, NC are bound by some variables that determine the total expenses during a demolition project. Before you completely say yes to an offer, see to it that you check every factor involved. There are a few things home demolition companies use to determine the total cost of a service, and the list includes your project location and the condition of the structure. We at Omni Demolition will assign seasoned residential demolition contractors to work on your project. We can supply you with a cost estimate for anything as small as a mobile home demolition project or as big as a multi-storey condo development. The overall cost of the demolition depends on the location of the property; the existence of established plants and trees and the placement of essential services such as electricity, gas and water; and lastly the proximity to the nearest disposal or recycling facility. Rest assured, at Omni Demolition, we only provide professional and cost-effective services.
Acquiring a Residential Demolition Permit in Gastonia, NC
Apart from safety issues, you will also need to secure all required permits from local authority. For more information about the application process and the requirements needed to start a mobile home demolition project or larger, you can readily consult with our specialists. The requirements vary depending on the state you live in. Without a permit, you may have to pay for heavy fines imposed by the government, and you certainly would not want that to happen. Allow our team of specialists to assist you the best way possible.Getting ready for a Residential Demolition in Gastonia, NCMake sure to keep your kids and pets out of the property once the Gastonia, NC home demolition team arrives. This way, you can prevent any unnecessary incidents and ensure that the plan will run smoothly. Once the local office approves your permit application, you must start preparing the property. Make sure that the area is free from harmful chemicals. We make sure that mobile home demolition service is carried out efficiently at a very cost effective rate, and that no error takes place during the duration of the project, making sure to meet your schedule as quickly and efficiently as possible.
Do I Really Need a Residential Demolition Service in Gastonia, NC?
There are other possible reasons for a house demolition. Some possible reasons that could justify demolitions: unstable foundation, widespread infestation in the house, and when there is a need to build a new structure. New structures are hardly demolished, but every so often old buildings that were poorly constructed don't pass the test of time. Also, overcrowded or outdated structures are prone to various infestations or contamination. Another case in which you may need a residential demolition crew is when you are tired of the floor plan of your residence and need a change. Renovation is mostly recommended for aesthetic purposes, while Gastonia, NC residential demolition is done to create better and more durable structures. We will only need to study the place to know where we should start first.
Equipment Used for Residential Demolition in Gastonia, NC
We provide the best services in the city because of our team of brilliant and well-trained residential demolition contractors. At our company, all our home demolition professionals are equipped to work on any size of residential building. Aside from our extensive tools and equipment, our experts are equipped with advanced technical skills and industry experience. Because it is extremely dangerous, it requires the demolition contractors to follow all the safety instructions and rules strictly. Thanks to our high-precision equipment, we can provide a definite project schedule.
Need a Home Demolition Job Done in Gastonia, North Carolina? Contact Us Today
For more many years, we have provided residents of Gastonia, North Carolina with quality demolition services. We have the skills, equipment, and background needed to handle any size or type of property. Call a professional who can assess the situation and identify the areas that need work. If you're in need of an expert residential demolition contractor in Gastonia, NC to assist you with your next project, don't hesitate to give us a call at
(855) 885-3366
. Rest assured that we follow strict measures when performing our services. Give us a call at
(855) 885-3366
so we can get started on your demolition project!
Zip Code Areas We Service in Gastonia
28054, 28056, 28052, 28053, 28055