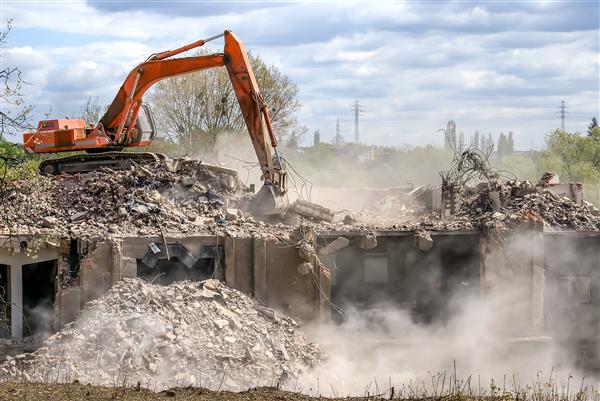 Your Company of Choice for Your Concrete Removal Projects in Omaha, NE
Concrete removal involves tearing down concrete buildings and structures in Omaha, NE. For your concrete slab removal and concrete hauling services, you can rest easy knowing that we have got you covered. When your concrete structure has become old, shaky, unstable and unsightly, it is definitely time to consider getting rid of it for aesthetic reasons and most importantly, for safety purposes. No amount of training can bring the average amateur provider up to speed with the kind of workmanship and commitment that we can only perfect through years of experience.
Cutting Edge Equipment Made for Concrete Removal in Omaha, NE
Omni Demolition uses advanced equipment to cut or crush concrete. We have access to pallet jackets, hoists, bobcats and other equipment so we can ensure the timely delivery of our Omaha, NE concrete slab removal services. Hydraulic concrete crushers, also known as smashers, are used for efficient and methodical concrete demolition and can turn concrete structures into manageable debris, making concrete hauling an easy process. For all your concrete demolition needs like removing concrete driveway, concrete slab demolition and concrete wall demolition, contact our highly trained experts for a comprehensive evaluation of your concrete removal and concrete hauling project. Depending on the nature of the project, we select different equipment to deliver maximum results. After the demolition, the waste has to be dealt with, so we also have special machinery for concrete hauling. We are meticulous in our service delivery ensuring that your solution is customized to achieve the best possible results.
When Do You Need Concrete Demolition Services in Omaha, NE?
The only thing permanent in this world is change. Temporary resurfacing cracked surfaces or patching up crumbling foundations will only cause repeated spending, more hassles and even threaten the safety of the building occupants. Along with concrete demolition we also offer concrete hauling services. Oftentimes, damages to properties require a complete removal and replacement instead of a concrete resurfacing which only hides the damage. Apart from wall or ceiling cracks, you will need the help of a professional if you have problems with leaky water pipes or defective house wirings, most especially if they are buried underneath the concrete.
When are Concrete Removal Permits Required in Omaha, NE?
You can't proceed with your concrete removal or concrete hauling project without securing a permit in Omaha, NE. There are several concrete removal companies in the city, so make sure you select one that will help you all throughout the process. The city imposes a strict policy in permit application. We take care of everything, including necessary permits for deconstructing, to properly clearing out the construction site and hauling all wastes to be recycled. Some demolition projects will require a planning permit.
How Much You Should Spend on a Omaha, NE Concrete Demolition
The cost of a concrete demolition project depends on the size and location of the project. You need to factor in the cost of permits and hauling as well. The bigger the size of the concrete, the more the job will cost. The good news is that you are guaranteed to get bigger savings when hiring us as opposed to our competitors. Whether you have a patio demolition or a patio removal project, you can be sure that we are well equipped to handle any demolition project you may have. Different places charge differently for disposal of demolition waste. Rebar removal raises the cost of labor and eventually the overall demolition cost. We can help you regardless of the type of project you wish to work on. The demolition project itself will usually cost you an estimated $1000 to $15,000+, depending on the size and situation.
Typical Duration of a Omaha, NE Concrete Demolition Service
Time taken to complete a concrete demolition project usually depends on a number of things. Once you find it satisfactory and approve of the proposal, work on your concrete slab removal and concrete hauling project in Omaha, NE commences. This is a key aspect in our line of work. We understand the importance of service delivery to our clients in a timely manner. We always conduct a comprehensive check on every project we work on in Omaha, NE. Other factors determining the length of time your demolition project will take are the area of the concrete structure, the thickness of the concrete slab and the type of slab.
Concrete Recycling in Omaha, NE?
With rising pressure on local landfills, the diversion of rubble from a concrete demolition and removal project is becoming increasingly important. Managing reusable resources is an effective way of minimizing the growing amount of wastes that households, commercial establishments and industrial buildings produce. The concrete is crushed by our concrete demolition contractors and used as a coarse aggregate for new concrete. The aggregate can then be used to make new concrete. Recycled concrete is typically available at a much lower price so you get to save money while also helping save the environment.
Reasons for Hiring Our Concrete Demolition Company in Omaha, Nebraska
By choosing our experts, you can be completely sure that you will receive smooth and exceptional concrete demolition services as compared to hiring other companies. At Omni Demolition, we handle all types of concrete demolition project-from scanning work to wall cutting, and from sawing to core drilling, there is no concrete slab removal project that is out of bounds for us. We will work diligently and efficiently on your projects no matter the size. Our team works systematically as we strive to provide a smooth service. With our experts, you won't worry about accidents, hidden costs, and other concerns. Book a concrete removal service today!
Zip Code Areas We Service in Omaha
68116, 68118, 68106, 68107, 68105, 68108, 68178, 68111, 68122, 68127, 68124, 68110, 68112, 68114, 68117, 68022, 68132, 68144, 68137, 68135, 68134, 68131, 68130, 68102, 68104, 68164, 68152, 68154, 68101, 68103, 68109, 68119, 68139, 68145, 68172, 68175, 68176, 68179, 68180, 68182, 68183, 68198