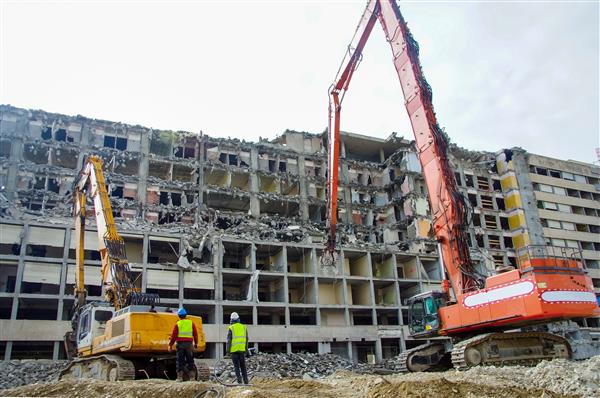 Demolition Contractors in Omaha, NE: Your Trusted Demolition Company
It can be a huge challenge finding reliable and affordable demolition contractors in Omaha, NE, but that is what Omni Demolition is here for. Just like any other major construction or remodeling plan, having a property demolished requires the skills of professionals, along with the use of appropriate equipment. If you need to hire a professional demolition contractor in Omaha, NE without spending a ridiculous amount of money, you have come to the right place. The commitment and competence of our demolition experts guarantee that you will be working with the most suitable partners. We are highly competent and able to handle any project you may have.
What is the Difference between Demolition and Deconstruction in Omaha, NE
Demolition can be described as dismantling of buildings or a specific room by a demolition expert. Some projects require complete levelling while others simply need specific parts removed to be replaced. For every client call, we have a demolition expert equipped to do the job. A deconstruction may be implemented on its own or as a pre-demolition procedure. It entails tearing down the components of a building for the purpose of recycling, re-using as well as waste management.
Why Come to Us for Your Demolition Project in Omaha, NE
Our demolition experts will handle your property professionally from start to finish. Compared to other demolition contractors who are highly profit-driven, we are committed to giving back to the community through outstanding workmanship and transparent transactions. Our word is our bond. We have an impeccable record of giving our clients value for their money while never compromising on the quality of our work. No other demolition contractor in all of Omaha, NE has a crew that is as dedicated and diligent as ours. From the start to the finish of your project, we are focused on your absolute satisfaction. From the start to the finish of your project, we are focused on your absolute satisfaction.
Check Our Broad Range of Demolition Services in Omaha, NE
Industrial Demolition services: Our countless contracts include leveling massive structures such as worn-down factories, mills, and chemical warehouses.
Commercial Demolition services: Being a world-class demo company, you can rest easy knowing that your property is in safe and capable hands. We have the capability to bring down commercial structures such as warehouses, airplane hangars, shopping malls, garages, office buildings and sports facilities among others.
Concrete Demolition and Recycling Services: Once we have demolished your concrete structure, our demolition experts will crush and re-use the salvaged concrete as a base course for gravel.
Scrap Metal Demolition Services: As an all-around demo company, we can also take care of any unwanted steel erections and metal scraps onsite. We follow a certain procedure in salvaging items that are still good for future use so you can be sure nothing goes to waste.
We Lead, Other Demolition Companies Follow in Omaha, NE
Our demolition experts and highly skilled demolition contractors consistently make innovations with the way demolitions are made. Our demolition experts are highly experienced in all types demolition services be they in a remote or challenging environment. Using cutting edge technology added to our team's expertise, our demolition company is guaranteed to deliver more than promised. When it comes to bringing down old, dilapidated or unwanted property, we have vast experience as a demo company and we will ensure that our services do not cause any unintended damage or pollution
Methods Applied in Demolition and Deconstruction in Omaha, NE
Explosive Demolition: Our demolition experts in Omaha, NE bring down structures or buildings by removing the main structural elements such as the walls and pillars with the help of explosives. This reduces the building's structural stability, causing it to collapse under its own weight. This method is faster, environmentally friendly and safer when compared to other methods.
Non-Explosive Demolition: This method of demolition does not use explosives. Our local demolition contractors can use equipment such as wrecking balls, excavators and bulldozers.
Selective Demolition: This process entails tearing down a part of the structure. Efficiency is maximized by recycling reusable material thus reducing waste and lessening the impact on the environment. As the leading demo contractors, we have set standards that other building demolition companies have a hard time measuring up to.
We Facilitate High-End Equipment for Demolition in Omaha, NE
Hydraulic breakers – Powerful excavators necessary in every demo company, hydraulic breakers or crushers are used to excavate structures quickly. These are commonly used to grind up concrete or rocks.
Wrecking Balls – A wrecking ball is made from steel. It is suspended from a steel chain attached to a crane and is used to demolish large buildings. It is swung several times towards the intended structure until the structure crumbles. The working of a wrecking ball relies on the skills of an experienced operator.
Hydraulic Shears and Rock Breakers – They are highly effective in cutting steel, metal, concrete, wood and rocks. Their high power to weight ratio enable hydraulic shears to yield a higher output.
Bulldozers – This powerful machinery has a number of uses in construction. A bulldozer can be used to knock down an old or derelict structure. It can also be used to push away debris and clean up the area.
Dumpers – Essential in clearing a demolition site, our dumpers make it easier and quicker to take out unwanted debris and materials from the site to be properly disposed of. Our demolition business has invested in quality dumpers to ensure a speedy clean-up of the property and that your project timeline is met.
Cranes – Demolition contractors utilize a crane to ease the burden of moving heavy materials or equipment back and forth on a construction site. Our demo company also uses cranes to suspend wrecking balls for non-explosive demos.
Crawler Loaders – Mostly used for excavating, this equipment is also utilized for its lifting and loading capabilities.
Give Us a Call for Top of the Line Demolition Services in Omaha, Nebraska
A proper assessment from a qualified demolition company in Omaha, Nebraska is necessary before you proceed with any major changes in your property. We take any demolition challenge head on. We are your one-stop-shop demolition company and we offer free consultation plus an accurate estimation of the costs. Get in touch with the leading Omaha deconstruction and demolition company. Call us today at
(855) 885-3366
and get your job done quickly, flawlessly and affordably.
Zip Code Areas We Service in Omaha
68116, 68118, 68106, 68107, 68105, 68108, 68178, 68111, 68122, 68127, 68124, 68110, 68112, 68114, 68117, 68022, 68132, 68144, 68137, 68135, 68134, 68131, 68130, 68102, 68104, 68164, 68152, 68154, 68101, 68103, 68109, 68119, 68139, 68145, 68172, 68175, 68176, 68179, 68180, 68182, 68183, 68198