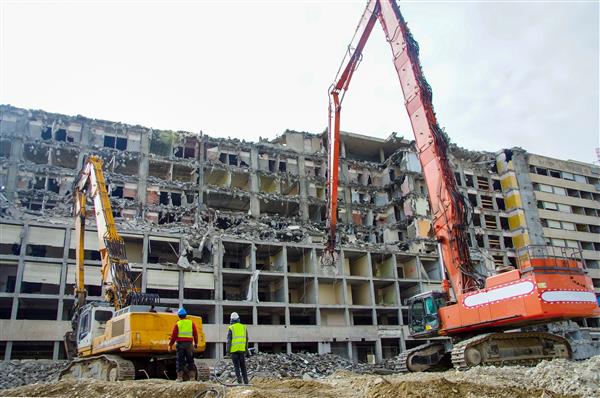 Demolition Contractors Nashua, NH: Your Go-To Demolition Company
It can be a huge challenge finding reliable and affordable demolition contractors in Nashua, NH, but that is what Omni Demolition is here for. You are guaranteed to get the best value for your money with our expertise partnered with updated equipment and strict adherence to state safety regulations and policies. Our contractors ensure that the necessary safety measures and procedures are in place in the work environment. We have a team of seasoned demolition experts ready to act on any project. We have the resources and expertise to offer you the best solutions in a safe and professional manner.
Distinction Between Demolition and Deconstruction in Nashua, NH
Demolition is the process of tearing down or pulling down buildings and structures by a demolition expert. Our demolition expert tests and removes hazardous material before knocking down the building. A deconstruction may be implemented on its own or as a pre-demolition procedure. The materials can be reused in rebuilding or reconstruction.
We are the Most Competent Specialists for Your Demolition Project in Nashua, NH
Our demolition experts have done thousands of contracts and not a single one has given us negative feedback. If you wish to have a an effortless and hassle-free experience when leveling a property in Nashua, NH, we are the demolition contractor that you can rely on. We are knowledgeable in protocols and we prioritize safety at all times. Our demolition contractor will handle your needs on a one-on-one level and ensure that your project is given the undivided attention it deserves. Taking down old and unwanted buildings may look like a simple task; however, it requires the experience and competence of professional service providers like us to get your job done properly. Taking down old and unwanted buildings may look like a simple task; however, it requires the experience and competence of professional service providers like us to get your job done properly.
We Offer Demolition Services in Nashua, NH Fit for Your Needs
Industrial Demolition services: We have an impeccable history in handling industrial buildings such as warehouses, chemical plants, mills and more. No matter how gigantic the structure is, our team of experts can surely manage. Commercial Demolition Services: This type of demolition requires tact in working around obstacles. Our demo company is highly skilled in demolishing commercial structures such as hotels, retail spaces, office buildings, warehouses, bridges and airplane hangars among others. Concrete demolition and Recycling Services: Our demolition experts are able to recycle your concrete slabs and structures by crushing them and turning them into reusable gravel. Scrap Metal Demolition Services: Our demo company will also clear out your property of any undesirable steel erections and salvage any existing metal scraps for recycling.
The Top Choice Among Demolition Companies in Nashua, NH
Despite being highly preferred over other demolition contractors, we keep our feet grounded. Our demolition experts and demolition contractors are dedicated to meeting all your needs. We are a demolition company that takes our work seriously and consistently conduct regularly equipment maintenance, which ensures efficient and quick clearing operations. Being a demo company in this business for years, we have perfected the process of demolishing structures as cost-effectively and safely as possible.
Types of Demolition and Deconstruction in Nashua, NH
Explosive Demolition: Our well-trained demolition experts in Nashua, NH strictly follow all protocols to ensure safety onsite and in nearby areas. Aside from safety precautions, all procedures in using explosives are guaranteed to be eco-friendly and not invasive. Non-Explosive Demolition: Our local demolition contractors use a wrecking ball attached to a crane to knock down buildings. It is a cheaper and faster method unlike explosive demolition. Selective Demolition: This is a type of demolition whereby building materials, part of the structure or building are separated and then sorted for the purpose of reusing or recycling. Our demo contractors have mastered the art of selective demolition that other building demolition companies do not have.
Main Equipment Used in Demolition in Nashua, NH
Hydraulic breakers – Also known as hydraulic hammers, our demo company uses this to demolish rocks or concrete structures. Wrecking balls – Huge metal balls suspended on a metal crane and swung into the building intended to be collapsed either once or as many as needed. Hydraulic Shears and Rock Breakers – They can be able to quickly and effectively cut through rocks, concrete, steel, wood and metal. Bulldozers – It has a ripper and is used to move large quantities of rubble. It is also used to bring walls down. Dumpers – In the demolition business, dumpers are used to transport debris from the demolition site. Cranes – Demolition contractors use a crane to attach a wrecking ball. A demo company can also use a crane for moving materials on the different levels of the structure or building. Crawler Loaders – Mostly used for excavating, this equipment is also utilized for its lifting and loading capabilities.
For All Your Demolition Service Needs in Nashua, New Hampshire, Contact Us Today
Avoid dealing with deconstruction hassles and overpriced bills when you sign with our demolition company in Nashua, New Hampshire. Signing with us means you deal with our highly diligent specialists who will never present mediocre work to our clients. We are your one-stop-shop demolition company and we offer free consultation plus an accurate estimation of the costs. Get in touch with the leading Nashua deconstruction and demolition company. Get in touch with us today at
(855) 885-3366
and we will be more than glad to help.
Zip Code Areas We Service in Nashua
03062, 03063, 03060, 03064, 03061