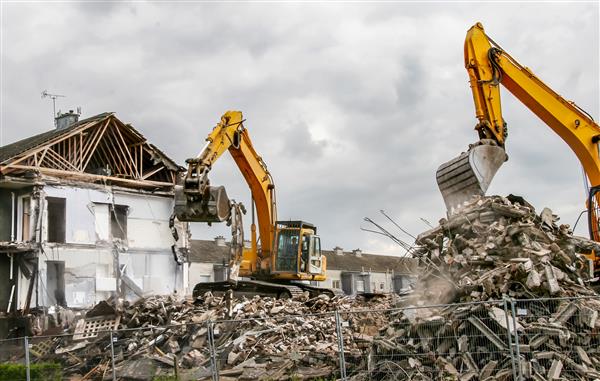 Experience the Best House Demolition in Nashua, NH with Omni Demolition
Hiring a Nashua, NH house demolition team to help you knock down your home is the most ideal option if you want to minimize the risk of damaging other parts of your property and getting injured from equipment misuse. You must learn how to choose among the many house demolition companies in the city. Omni Demolition has many full-time employees; we own our trucks and equipment; and our residential demolition contractors are well trained and capable of handling any demolition job. Removing roofing trusses, pulling out foundation and breaking walls are not simple tasks. Unless you have high-power equipment and industry experience, it would be hard, not to mention dangerous, to handle a demolition job on your own. You may need to have a section of your house removed because it can cause huge problems in the future. All of our work is conducted by experienced machine operators who can work even on your mobile home demolition project to ensure a safe demolition project. Cracks tend to widen over time, and this allows moisture to seep into the material. The extra moisture weakens the integrity of the structure. By working with experts, you can avoid such issues.
Home Demolition Techniques in Nashua, NH
The safety of the workers and everyone near the area is our number one priority when we perform a house demolition job in Nashua, NH. Your safety is our top priority. We follow strict safety measures to avoid accidents. Our experienced residential demolition contractors operate heavy equipment to carry out a demolition project. Hire only residential demolition companies that have the know-how and technical knowledge to tailor their approach to your distinctive home demolition project. An inexperienced amateur demolition company can turn a simple mobile home demolition project into a large costly disaster.
Making a Decision After You Get a Nashua, NH Home Demolition Cost Estimate
A house demolition in Nashua, NH can cost a substantial amount of money to properly execute. You may end up hurting yourself while carrying out the task on your own. You can compare our rates with other home demolition companies. We guarantee to send qualified residential demolition contractors to assist you. Rest assured that our affordable mobile home demolition package includes everything you need to get a flawless finish. We can confidently say that our services are all-inclusive. Unlike other companies, you can get everything you need from our contractors for a fair price.
Obtaining a Residential Demolition Permit in Nashua, NH
Apart from safety issues, you will also need to secure all required permits from local authority. Other special inspections and documentation even for a mobile home demolition might be asked from you depending on the state you are in. To apply for a permit, you will need to secure a list of documents, which may include asbestos inspection clearance and dust control report. The engineers need to make sure that the building will be brought down in a safe manner and all the debris is contained within the site and will not affect the local neighborhood. You can ask our experts about the documentations needed.
Things You Must Prepare Before a Residential Demolition Service in Nashua, NH
Just as you don't just undertake a home demolition project in Nashua, NH without the proper permits, you don't do it without getting the site ready, either. Clear your site by getting rid of all the furniture and personal items so that it is ready to be broken apart. The project may be put to a halt if the authorities spot any harmful chemicals in the property. Additionally, you will need to double check all the appliances and equipment. Health and safety preparations should be undertaken prior to the start of a demolition job, no matter how small it is; even as a mobile home demolition.
Why Should I Pick a Nashua, NH Residential Demolition Over a Renovation Service?
The strength of various structures fades over time. Sometimes, a building degrades faster when it is exposed to extreme temperature changes, pest infestation, water damage or fire. Perhaps you bought the land with a property already on it, or it could just be an old structure that needs to go. It is better to call a demolition specialist to lend you a hand instead. If your property has undergone extensive fire damage or water damage, it is important to call a residential demolition company in Nashua, NH as soon as possible. You can rebuild your home or parts of it to ensure that it is safe for you and your loved ones.
Guaranteed Quality Residential Demolition in Nashua, NH Property
The quality of the services provided by residential demolition contractors depends on two things-the experience of the team and the quality of their equipment. At our company, all our home demolition professionals are equipped to work on any size of residential building. Taking down walls to achieve your desired open floor plan might not be as easy as it seems. While it might be tempting to give it a go using a sledgehammer, it's not a wise thing to do. It would take immense effort and time to manually knock down a house.
Contact us Today and Book a Nashua, New Hampshire Home Demolition
We are not your typical sloppy residential demolition company. Contrary to what most people believe, demolishing a house or any type of building is not an easy task. Our superior work ethic is the reason we exceed our customers' expectations. If you're in need of an expert residential demolition contractor in Nashua, NH to assist you with your next project, don't hesitate to give us a call at
(855) 885-3366
. You can have a look at the reviews on our site and social media profiles to see testimonials from many satisfied customers. We are only a phone call away for all your demolition needs.
Zip Code Areas We Service in Nashua
03062, 03063, 03060, 03064, 03061