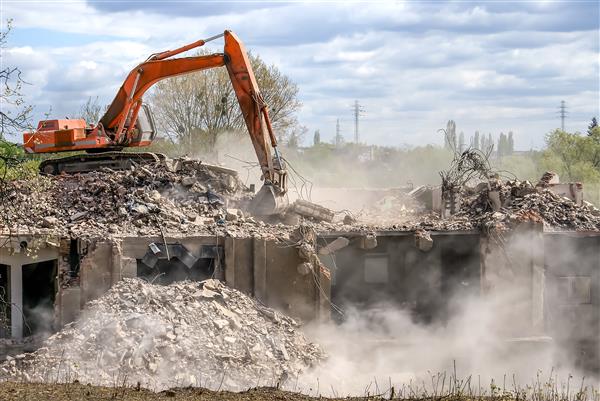 A First-Class Company for all Your Concrete Removal Needs in Clifton, NJ
Concrete removal is an important aspect in the construction industry in Clifton, NJ. Rest assured we will only assign well-trained contractors to your concrete slab removal, house demolition, and concrete hauling projects. Omni Demolition is the most reliable concrete expert in the city. You can rely on us to get the job done.
Concrete Removal Equipment Used in Clifton, NJ
When looking for a contractor to hire, do not get drawn in by bargain prices. Instead, double check the company's performance and the condition of their equipment. Here at Omni Demolition, in order for a concrete slab removal job to be successfully completed, using the right equipment is very crucial. Hydraulic slitters are very efficient in breaking thick and dense concrete. We are equipped with all the appropriate expertise, machinery and tools to execute your demolition projects such as removing concrete driveway, concrete slab demolition, or concrete wall demolition. It pays to work with professionals, most especially when you don't know what to do. After we cut and crush the concrete, we can also provide concrete hauling services to get rid of or recycle the waste materials.
When Do You Need Concrete Demolition Services in Clifton, NJ?
Concrete demolition in Clifton, NJ solves the potential issue of unsafe structures. Our concrete removal services in Clifton, NJ include: removing old foundations, unwanted driveways, walkways and slabs. We have all the equipment needed to perform quality concrete hauling or demolition. Great concrete quickly transforms the look of a structure. It also upgrades the quality of a building and comfort of the residents. With our trusted services, you have our assurance that the job will be done correctly and safely.
When are Concrete Removal Permits Required in Clifton, NJ?
Here at Omni Demolition we want you to save money when hiring us to do a concrete removal or concrete hauling project, so we will take care of filing the permit for you. Avoid dealing with questionable concrete removal companies that overcharge for permit processing fees. This is usually determined by the type of demolition project and the location of the project. This however varies with your location. Ignoring permit requirements can become a costly affair. Height and size of your demolition project are factors considered in determining whether or not you will need to get a permit for the job.
Spending Wisely on Concrete Demolition Costs in Clifton, NJ
Expect to pay an average of around $200 to secure a demolition permit alone. Sometimes, the charge can go up, depending on the rates of your local government. The larger the square footage, the more tools and labor required for the job. In addition, the more concrete demolished, the higher the disposal fee and the heavier the waste, the higher the cost of transportation. Final costs depend on factors such as disposal fees(some companies charge this separately). The good news is that we have a competent team in Clifton, NJ that is able to customize solutions even for small projects such as patio demolition and patio removal for you at an affordable cost. We provide detailed and accurate estimates that are easy to understand. We can help you regardless of the type of project you wish to work on. The demolition project itself will usually cost you an estimated $1000 to $15,000+, depending on the size and situation.
Estimated Time Required for a Concrete Demolition Project in Clifton, NJ
We pride ourselves in having a quick an efficient turn around time in our concrete demolition projects. It can take days, weeks or even months to complete a concrete slab removal and concrete hauling project in Clifton, NJ. The removal process requires the use of an arsenal of state-of-the-art equipment, skilled experts and adequate manpower. As soon as we assess the situation, we can draft a plan and present it to you for approval. We do not give our clients overly ambitious timelines.
Recycling Concrete in Clifton, NJ?
A crucial aspect we consider in a concrete demolition and removal project is where to put the debris. Concrete recycling is an environmentally friendly process and prevents unnecessary waste transportation and disposal costs. Feel free to ask our concrete demolition contractors about recycled concrete. In this day and age of strict adherence to environmental laws, recycling concrete is a welcomed option. Concrete recycling also reduces waste in landfills.
Make the Wise Decision by Calling Us for Concrete Demolition in Clifton, New Jersey
We offer various concrete demolition services. At Omni Demolition, our demolition contractors have specialized skills and years of experience in the field undertaking many concrete slab removal projects. We will work diligently and efficiently on your projects no matter the size. At Omni Demolition you are guaranteed not only commitment and proven expertise from our team of veteran specialists but also 100% site safety and transparency when it comes to billing and procedures being done on your property. Our fulfillment is in achieving excellence. Concrete demolition in Omni Demolition is the best way to safely tear down buildings or structures made from concrete.
Zip Code Areas We Service in Clifton
07014, 07013, 07012, 07011, 07015