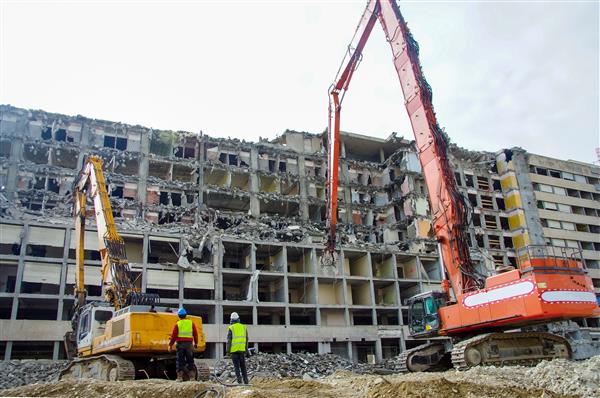 The Demolition Company with Demolition Contractors in Clifton, NJ You Can Count On
When looking to hire demolition contractors in Clifton, NJ, Omni Demolition is your best choice. We offer unrivalled expertise and deliver tailor-made solutions to both simple and tough demolition projects. Led by deconstruction experts in the industry in Clifton, NJ, our demolition experts offer innovative approaches to all your projects, whether big or small. There are no second guesses when you sign with us.
What is the Difference between Demolition and Deconstruction in Clifton, NJ
Demolition is the tearing down of buildings or structures partly or completely. A demolition expert may order a deconstruction if parts of the original structure need to be retained or hazardous materials and reusable items need to be extracted before an actual demolition. Deconstruction in Clifton, NJ involves taking a structure apart. On the other hand, whole-house deconstruction entails tearing down an entire structure and salvaging any reusable or recyclable materials.
Our Commitment to Your Demolition Project in Clifton, NJ
Our demolition experts have done thousands of contracts and not a single one has given us negative feedback. Some demolition contractors may offer you an attractive contract with a very cheap price tag, but are you sure you are getting a steal? One of our biggest hallmarks is giving you undivided personal attention. Trust only the most preferred demolition contractor in all of Clifton, NJ.
Take Advantage of Our Demolition Services in Clifton, NJ
Industrial Demolition Services: This type of demolition service requires a surgical approach. We have a systemic, controlled and detailed solution in place for demolishing facilities such as chemical plants, manufacturing plants, port facilities, oil refineries, factories, and lumber mills among others.
Commercial Demolition services: We isolate the targeted building before performing the actual demolition so as not to cause any damage to its neighboring structures. Our demo company, has handled tearing down malls, airplane hangars, markets, and even bridges.
Concrete demolition and recycling services: We are the only demolition experts who carefully set aside re-usable materials from your site for possible future use such as slabs to be crushed later on into gravel.
Scrap Metal Demolition Services: Allow our demo company to remove useless steel erections onsite and salvage reusable metal for recycling instead of hiring a separate contractor, which means more expenses for you.
We Lead, Other Demolition Companies Follow in Clifton, NJ
Despite being highly preferred over other demolition contractors, we keep our feet grounded. Our demolition experts are highly experienced in all types demolition services be they in a remote or challenging environment. Our demolition company is committed in service delivery. As an established demo company, we continue to make innovations in the field of construction while also maintaining the highest standards of our services.
Methods Conducted by Experts on Demolition and Deconstruction in Clifton, NJ
Explosive Demolition: Explosive materials are strategically placed on the building or structure in Clifton, NJ by our demolition experts. The explosives are timed to make a structure go down on itself in seconds in order to minimize damage to the surroundings.
Non-Explosive Demolition: Our local demolition contractors use a wrecking ball attached to a crane to knock down buildings. It is a cheaper and faster method unlike explosive demolition.
Selective Demolition: Recommended for buildings that are being rebuilt, selective demolition involves carefully removing some parts of the building to make way for a modified construction. Unlike new and upcoming building demolition companies, our demo contractors are experienced in extracting parts of the building while still maintaining its structural integrity.
Important Equipment Used for Demolition in Clifton, NJ
Hydraulic breakers-Heavy-duty excavators are used at our demo company to aid in breaking or crushing concrete segments of the building. Be wary of contractors who have poorly maintained equipment such as hydraulic breakers because this will surely cause delays in your timeline.
Wrecking Balls – A wrecking ball is made from steel. It is suspended from a steel chain attached to a crane and is used to demolish large buildings. It is swung several times towards the intended structure until the structure crumbles. The working of a wrecking ball relies on the skills of an experienced operator. Hydraulic Shears and Rock Breakers – They are usually attached to excavators and then used to make clean cuts through concrete, metal, wood and rocks of large structures.
Bulldozers – It has a ripper and is used to move large quantities of rubble. It is also used to bring walls down.
Dumpers – Essential in clearing a demolition site, our dumpers make it easier and quicker to take out unwanted debris and materials from the site to be properly disposed of. Our demolition business has invested in quality dumpers to ensure a speedy clean-up of the property and that your project timeline is met.
Cranes – Demolition contractors use a crane to attach a wrecking ball. A demo company can also use a crane for moving materials on the different levels of the structure or building.
Crawler Loaders – Mostly used for excavating, this equipment is also utilized for its lifting and loading capabilities.
Call us Today for Demolition Services in Clifton, New Jersey
If you are in dire need of a reliable demolition company in Clifton, New Jersey but are quite not sure what kind of method you will require and how much it will cost you, do not hesitate to call us. We will meet all your demands and give the same meticulous attention to your projects no matter the size. You're in great hands with our Clifton deconstruction and demolition company. Our Clifton deconstruction and demolition company is licensed and highly reputable. Contact us at
(855) 885-3366
.
Zip Code Areas We Service in Clifton
07014, 07013, 07012, 07011, 07015