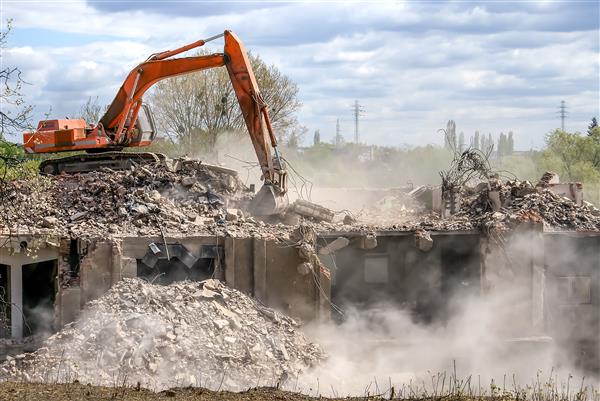 Your Company of Choice for Your Concrete Removal Projects in East Orange, NJ
When you have a concrete removal project in East Orange, NJ, it is important to place your confidence in professionals like us. As with all our clients, we at Omni Demolition will get your job done perfectly with no excuses. Rest assured we will only assign well-trained contractors to your concrete slab removal, house demolition, and concrete hauling projects. Whether it is taking down an old building to replace it with a new one or improving the condition of a derelict building, Omni Demolition has the right people for the job. At Omni Demolition, we give you value for your money.
Important Equipment Used for Concrete Removal in East Orange, NJ
You no longer need to worry about paying high equipment rental fees when you hire our team in East Orange, NJ. Here at Omni Demolition, in order for a concrete slab removal job to be successfully completed, using the right equipment is very crucial. We highly recommend consulting with experts when you plan for your demolition project. We strategically plan out tasks and delegate enough manpower especially in removing concrete driveway, conducting concrete slab demolition, or doing a concrete wall demolition. Consulting with a trained expert is important, as there are a number of things that need to be considered before embarking on concrete removal, such as your legal obligations and safety requirements. Apart from helping you perform hard tasks by using precision tools and equipment, a concrete hauling expert can help you with the legal papers required by the local authority.
Conditions that Require a Concrete Demolition in East Orange, NJ
When is it necessary for you to get demolition services in East Orange, NJ? The structure degrades as the years go by. Our concrete removal services and concrete hauling will not only help you get rid of old unsightly structures but will also ensure that your property has better aesthetic appeal. While a renovation job might be a less expensive option, we still recommend hiring a demolition specialist, as a renovation may be superficially covering up critical signs of an unsafe structure. Do not just settle for a renovation job where they will only apply another layer of material on the affected structure, hiding the weakening structure below.
What Documents Do I Need to Secure Before a Concrete Removal Service in East Orange, NJ?
You can't proceed with your concrete removal or concrete hauling project without securing a permit in East Orange, NJ. While other concrete removal companies may factor processing the permits and approvals as additional costs to you, at Omni Demolition, we take care of that for you. For one, you will need a permit. The purpose of a permit is to ensure that the governing body is able to monitor the work being done in its jurisdiction for the safety of all involved. We take care of everything, including necessary permits for deconstructing, to properly clearing out the construction site and hauling all wastes to be recycled. You may be required to get in touch with the gas, electric and water company for clearances or reports.
Concrete Demolition Expenses in East Orange, NJ
Other service providers in East Orange, NJ make their proposed contract sound complicated to justify unreasonably priced estimates. Permits can cost an average of $200 to a few thousand dollars. Final costs depend on factors such as disposal fees(some companies charge this separately). Our concrete demolition projects in East Orange, NJ include patio demolition, patio removal, tearing down walkways and walls, demolishing decks, entire buildings, among others. Another factor that contributes to the overall cost is whether or not the concrete debris will be recycled. As for the service, you might spend around $4,000 to $15,000+, depending on the urgency of the request, size of the project and overall condition of your property in East Orange, NJ.
How Long is a Concrete Demolition Service in East Orange, NJ?
Concrete is usually reinforced with tough steel making it virtually indestructible. A concrete demolition project needs the services of professionals to have it done right and safely. The processes such as concrete slab removal, concrete hauling and recycling may be the same but the situations will always have some variation. This is a key aspect in our line of work. We understand the importance of service delivery to our clients in a timely manner. Depending on what we mutually agree on, your project can be completed in a few days, a couple of weeks or even months. Other factors determining the length of time your demolition project will take are the area of the concrete structure, the thickness of the concrete slab and the type of slab.
Can Concrete Be Recycled in East Orange, NJ?
After a concrete demolition and removal project is completed, tons of concrete wastes are collected. Deconstructed concrete is not the type of waste that will disintegrate and decay at a fast pace when left on its own which is why we encourage recycling, instead of disposing of them in dump sites. Some companies even buy concrete wastes so they can process it to be reused in constructing roads, sidewalks and even airport runways. Our concrete demolition contractors can also use the recycled concrete for landscaping. The crushed materials are often referred to as dry aggregates, and they can last a long time if applied the right way. Additionally, crushed concrete is also cheaper and greener compared to the regular type. Recycled concrete is typically available at a much lower price so you get to save money while also helping save the environment.
Work with Concrete Demolition Experts in East Orange, New Jersey

Our concrete slab removal services are unmatched. Moreover, we are well equipped to handle any other concrete removal service you may be in need of. There are many reasons why Omni Demolition should be your number one pick for all your concrete slab removal projects. We guarantee to provide superior quality concrete slab removal, site cleanup and other services no matter where you live in the city. We act fast and charge fair rates for whatever service we deliver. With our help, you won't have to risk your family's safety. If not demolished properly, concrete can cause serious harm and injury to the environment and people. Call us today at (855) 885-3366 for a free consultation and ask one of our agents for a free estimate.
Zip Code Areas We Service in East Orange
07018, 07017, 07019