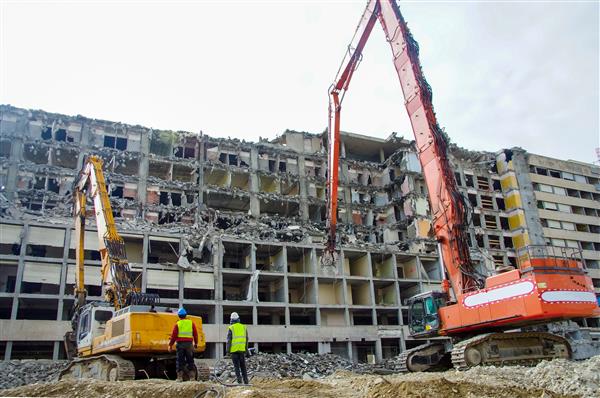 Demolition Contractors East Orange, NJ The Demolition Company That You Can Count On
Omni Demolition is recognized as the leading provider of demolition contractors in East Orange, NJ. Our demolition process complies with all the regulations and standards in East Orange, NJ. We do not sugar-coat our services and we often deliver more than promised. You can trust that our demolition experts are all well-versed when it comes to everything that has to do with eco-friendly demolition, as well as health and safety guidelines. We have the resources and expertise to offer you the best solutions in a safe and professional manner.
Distinction Between Demolition and Deconstruction in East Orange, NJ
Demolition is the tearing down of buildings or structures partly or completely. A demolition expert typically recommends a deconstruction before the actual demolition to be rid of any potentially dangerous materials in the building or to salvage items that can still be re-used in the future. A deconstruction may be a prerequisite to the actual demolition process where hazardous materials are taken out prior to the tear down of the structure. There are two types of deconstruction: selective and whole-house.
You can Trust Us with Your Demolition Project in East Orange, NJ
We have demolition experts who plan everything meticulously, from the bringing in of our equipment up to the clearance of the property from wastes and debris. Compared to other demolition contractors who are highly profit-driven, we are committed to giving back to the community through outstanding workmanship and transparent transactions. Property owners usually think first rate services always come with a steep price to pay, but not with us. You will not find another demolition contractor in all of East Orange, NJ who will help you save and spend wisely.
We Offer a Wide Array of Professional Demolition Services in East Orange, NJ
Industrial Demolition services: We have the expertise, equipment and manpower to take down, mills, plants, manufacturing buildings among others without compromising the integrity of neighbouring structures.
Commercial Demolition services: Being a world-class demo company, you can rest easy knowing that your property is in safe and capable hands. We have the capability to bring down commercial structures such as warehouses, airplane hangars, shopping malls, garages, office buildings and sports facilities among others.
Concrete Demolition and Recycling Services: We are a safe demolition company. We also listen to what you are saying. Are you trying to cut down on costs and reduce wastage? Once our demolition experts have demolished your concrete structure, we can grind it into gravel or turn it into an aggregate for making new concrete.
Scrap Metal Demolition Services: Instead of hiring another contractor, we will help you save money as our demo company will take care of handling misplaced steel erections and sorting metal scraps for salvaging.
We Lead, Other Demolition Companies Follow in East Orange, NJ
Our highly trained demolition contractors are able to offer flexible services to suit your specific needs. Our demolition experts and demolition contractors are dedicated to meeting all your needs. We are a demolition company that takes our work seriously and consistently conduct regularly equipment maintenance, which ensures efficient and quick clearing operations. As an established demo company, we continue to make innovations in the field of construction while also maintaining the highest standards of our services.
Types of Demolition and Deconstruction in East Orange, NJ
Explosive Demolition: It is also known as the implosion method. Our demolition experts fix a building's or structure's slabs, columns and beams with explosives. Once the explosives detonate, the columns collapse and so does the building or structure.
Non-Explosive Demolition: Our local demolition contractors are flexible and in situations where explosive demolition may be unsafe, we may use a wrecking ball which is attached to a crane at a manageable height to bring down a building.
Selective Demolition: This process entails tearing down a part of the structure. Efficiency is maximized by recycling reusable material thus reducing waste and lessening the impact on the environment. As the leading demo contractors, we have set standards that other building demolition companies have a hard time measuring up to.
We Utilize Well-maintained Equipment for Demolition in East Orange, NJ
Hydraulic Breakers – Our demo company will use this heavy hammer to demolish rocks or concrete structures. Hydraulic breakers are also an important part of recycling operations.
Wrecking balls – Heavy and solid balls made of steel, wrecking balls are safely suspended on a crane and used to weaken a building until it gives.
Hydraulic shears and rock breakers – These specialized accessories allow cutting into a variety of materials such as metal, wood, rocks, and cement.
Bulldozers – This powerful machinery has a number of uses in construction. A bulldozer can be used to knock down an old or derelict structure. It can also be used to push away debris and clean up the area.
Dumpers – Copious amount of time is spent clearing demolition sites and this is where dumpers come in very handy. An experienced demolition business deploys dumpers to haul debris and waste away from the site.
Cranes – Demolition companies use cranes to move materials from different levels of a structure. A demo company will also use this machinery together with a steel ball. For a wrecking ball to work, it has to be attached to the crane.
Crawler Loaders – Particularly useful in tight spaces, crawler loaders are versatile vehicles that function as a flexible loading and hauling machine. It can also be used for digging the ground.
We are the Number to Call for Premium Demolition Services in East Orange, New Jersey
Our demolition company is a leading demolition company in East Orange, New Jersey with proven resources, knowledge, professionalism and experience to successfully manage any demolition project you may have. For years now, we have helped all our clients demolish and deconstruct their buildings and structures successfully. Our dedication is in ensuring that we maximize your asset potential. Contact us today and let our demolition company take the pressure off of you. Our East Orange deconstruction and demolition company has highly skilled personnel with years of experience in the demolition business. Dial
(855) 885-3366
for a professional East Orange demolition that will not break your bank.
Zip Code Areas We Service in East Orange
07018, 07017, 07019