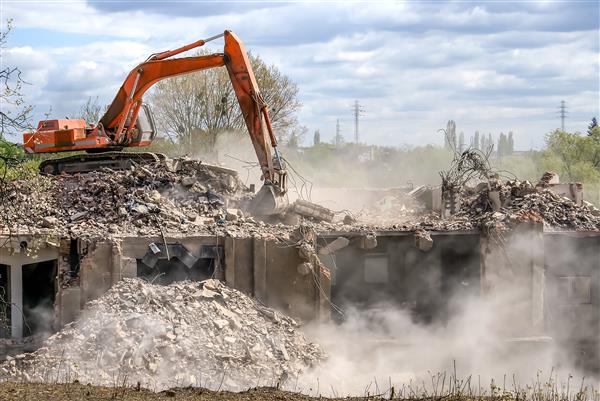 Reliable and Budget-Friendly Elizabeth, NJ Concrete Removal Service
When you have a concrete removal project in Elizabeth, NJ, it is important to place your confidence in professionals like us. As with all our clients, we at Omni Demolition will get your job done perfectly with no excuses. When it comes to concrete slab removal and concrete hauling, we are your number one choice. Ultimately, when you need concrete demolition services to ensure that your building structure is exactly as you envision it to be, you will definitely need Omni Demolition to make it happen. They are dedicated to only one outcome: 100% success in project execution.
Concrete Removal Tools and Equipment We Use in Elizabeth, NJ
At Omni Demolition, we use quite a number of heavy machinery and equipment for concrete demolition. Omni Demolition uses state of the art technology dedicated to do rapid yet effective concrete slab removal and concrete hauling. A few examples of the equipment we use include chipping hammers, demolition hammers and hydraulic concrete crushers. Mechanical concrete demolition is used on bigger sized structures such as a concrete silo. Types of equipment used for getting this kind of job done are bulldozers, excavators, loaders and cranes. We also use jackhammers, pallet jacks, bobcats and hoists for demolition work such as removing concrete driveway, concrete slab demolition and concrete wall demolition. It pays to work with professionals, most especially when you don't know what to do. They also reduce concrete into recyclable pieces.
Why You May Need Concrete Demolition Services in Elizabeth, NJ
There could be various reasons for a complete or partial concrete demolition, but no matter what the cause is, rest assured that we will carefully assess the situation so we can give you the right solution. Our concrete removal services in Elizabeth, NJ include: removing old foundations, unwanted driveways, walkways and slabs. We have all the equipment needed to perform quality concrete hauling or demolition. The most common reasons why concrete wears out easily include extreme temperature fluctuations, corrosion and overload. We are an environmentally friendly company.
What Documents Should I Prepare for My Concrete Removal Project in Elizabeth, NJ?
You can't proceed with your concrete removal or concrete hauling project without securing a permit in Elizabeth, NJ. Unlike other concrete removal companies, we at Omni Demolition will advise you on everything that is required in your concrete removal project-from how to get the necessary permits and the cost of the permits to the cost of the entire project and the time it will take to complete it. Avoid getting penalized by the local authority. You will also need to have a rough estimate of the possible project costs. In some locations, the percentage of the structure you are demolishing will determine whether you require a permit or not.
How Much Can a Concrete Demolition Project Cost in Elizabeth, NJ?
The first step is to determine how much the job will cost you. In addition to permit application fees in Elizabeth, NJ, there is no accurate range of expenses that we can give outright as every project requirement is unique. We are not after a one-time money-making scheme. Instead we take care of our clients to maintain a healthy and harmonious professional relationship that will last for years. It doesn't matter if you need a patio demolition, concrete hauling, patio removal or other services. Additional fees may follow for services like inspections for water, electrical and sewer disconnections. We guarantee to provide a competitive and reasonable price. Our quote covers the entire concrete demolition process.
Estimated Time Required for a Concrete Demolition Project in Elizabeth, NJ
We pride ourselves in having a quick an efficient turn around time in our concrete demolition projects. The processes such as concrete slab removal, concrete hauling and recycling may be the same but the situations will always have some variation. In cases where a city inspector has checked whether all sewer, utilities, and water facilities have been taken care of, our own men double checks to ensure the safety of our demolition in Elizabeth, NJ. Count on us to ensure that your project is executed perfectly. This is because the speed and performance of hand held tools varies greatly with that of automatic or advanced machinery. The length of the project will mainly be affected by the size and current condition of the structure that needs to be demolished.
How Can I Reuse the Concrete Waste Generated from My Project in Elizabeth, NJ?
Concrete demolition and removal projects make the most amount of wastes and debris which is why, instead of throwing them away, it is best to make an effort to avoid harming the environment when disposing of these materials. Concrete recycling is an environmentally friendly process and prevents unnecessary waste transportation and disposal costs. With the help of our professional concrete demolition contractors, you can recover some costs and contribute to other projects with your recycled concrete. We repurpose the material so they can be used to create asphalt pavement and other similar structures. Contractors also take advantage of recycled concrete as they are not only environmentally-friendly but also cost-effective while still proven durable.
Your Company of Choice for All Your Concrete Demolition Needs in Elizabeth, New Jersey
We offer various concrete demolition services. At Omni Demolition, your Concrete slab removal project needs the exceptional expertise and experience that we bring to the table in Elizabeth, NJ. Experience a professional concrete removal service that is reasonably priced. We act fast and charge fair rates for whatever service we deliver. With our help, you won't have to risk your family's safety. We professionally handle each client request in Elizabeth, NJ.
Zip Code Areas We Service in Elizabeth
07208, 07202, 07201, 07206, 07207