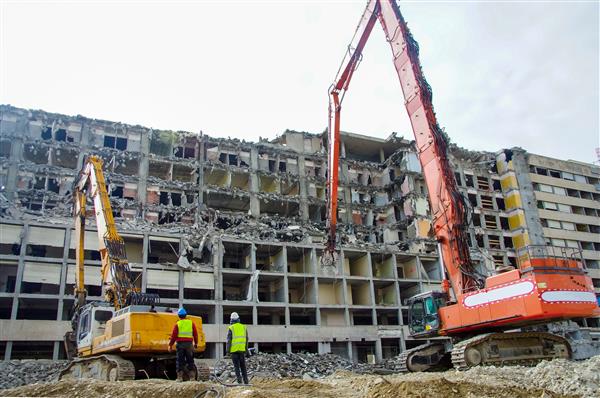 The Demolition Company with Demolition Contractors in Elizabeth, NJ You Can Count On
Here at Omni Demolition, we believe that pricing is not the only factor that you must consider when getting the services of demolition contractors in Elizabeth, NJ. Just like any other major construction or remodeling plan, having a property demolished requires the skills of professionals, along with the use of appropriate equipment. No need to break the bank to avail of first rate service and exceptional outcome. Always making sure that our clients are not kept in the dark, our demolition experts will guide you accordingly when it comes to recommended methods, pricing and procedures to be enacted. We are highly competent and able to handle any project you may have.
Demolition vs. Deconstruction in Elizabeth, NJ
Demolition is taking down or dismantling a building or structure with a strong and overwhelming force whose end result is rubble or waste. Demolition is the actual tearing down of a structure to be done by a demolition expert. A deconstruction may be a prerequisite to the actual demolition process where hazardous materials are taken out prior to the tear down of the structure. On the other hand, whole-house deconstruction entails tearing down an entire structure and salvaging any reusable or recyclable materials.
Why Hire Us for Your Demolition Project in Elizabeth, NJ
Our demolition experts have done thousands of contracts and not a single one has given us negative feedback. If you wish to have a an effortless and hassle-free experience when leveling a property in Elizabeth, NJ, we are the demolition contractor that you can rely on. We also take time to really understand your needs and deliver according to your desires with no excuses. Do not be tricked by demolition contractors who cannot walk the talk. Whether small or large, we strive to always provide you with the highest possible standards of service in completing your projects within your budget and timeframe without complications. Whether small or large, we strive to always provide you with the highest possible standards of service in completing your projects within your budget and timeframe without complications.
Our Main Demolition Services in Elizabeth, NJ
Industrial Demolition services: We have taken down massive structures such as warehouses, industrial buildings, bridges, power plants, and mills. Our special equipment and expertise allow for the safe demolition of vast properties.
Commercial Demolition services: You can call our demo company if you need someone to knock down commercial structures such as commercial centres, groceries, airplane hangars and the like.
Concrete Demolition and Recycling Services: We are a safe demolition company. We also listen to what you are saying. Are you trying to cut down on costs and reduce wastage? Once our demolition experts have demolished your concrete structure, we can grind it into gravel or turn it into an aggregate for making new concrete.
Scrap Metal Demolition Services: As an all-around demo company, we can also take care of any unwanted steel erections and metal scraps onsite. We follow a certain procedure in salvaging items that are still good for future use so you can be sure nothing goes to waste.
What Sets Us Apart from Others Elizabeth, NJ
Our demolition experts and highly skilled demolition contractors have worked on the most noteworthy projects in Elizabeth, NJ. We take pride in employing some of the finest calibre of demolition experts throughout the city. An emerging demo company from years back, we are now among the top contractors in the city when it comes to leveling residential, commercial and industrial properties. That is why we are recognized as the leading demo company.
Methods Used for Demolition and Deconstruction in Elizabeth, NJ
Explosive Demolition: Our qualified demolition experts have years of experience in explosive demolition projects. Using our expertise and meticulous planning, we will safely execute your project with minimal disruption to your surroundings.
Non-Explosive Demolition: This method of demolition does not use explosives. Our local demolition contractors can use equipment such as wrecking balls, excavators and bulldozers.
Selective Demolition: This is a type of demolition whereby building materials, part of the structure or building are separated and then sorted for the purpose of reusing or recycling. Our demo contractors have mastered the art of selective demolition that other building demolition companies do not have.
The Main Equipment Used in Demolition in Elizabeth, NJ
Hydraulic breakers – Powerful excavators necessary in every demo company, hydraulic breakers or crushers are used to excavate structures quickly. These are commonly used to grind up concrete or rocks.
Wrecking balls – Attached to a crane, these heavy balls made of steel are used to weaken structures. They are swayed right into the building causing it to break and collapse.
Hydraulic shears and rock breakers – Designed to cut through the toughest materials with very minimal effort, these tools are attached to excavators to do the job. They can slice through rocks, concrete, metal, wood and steel.
Bulldozers – Serving multiple purposes, bulldozers can be used to haul items and waste as well as help knock down weak structures or level mounds of soil.
Dumpers – In the demolition business, dumpers are used to transport debris from the demolition site.
Cranes – Demolition contractors use cranes to attach a wrecking ball to it. The wrecking ball suspended on a crane is then swung to the targeted structure. A demo company can use cranes to remove debris from high areas of a demolished structure. Cranes can also be used to load debris onto a dumper.
Crawler Loaders – They can be used to bring down heavy smaller-sized structures. They can also be used to move debris.
Go Ahead and Contact Us for All Your Demolition Needs in Elizabeth, New Jersey
Our demolition company in Elizabeth, New Jersey is the best one in town. We will meet all your demands and give the same meticulous attention to your projects no matter the size. Our demolition company provides all our clients with dynamic solutions for all their Elizabeth demolition and deconstruction needs. Get in touch with the leading Elizabeth deconstruction and demolition company. Call us at
(855) 885-3366
for a free consultation today.
Zip Code Areas We Service in Elizabeth
07208, 07202, 07201, 07206, 07207