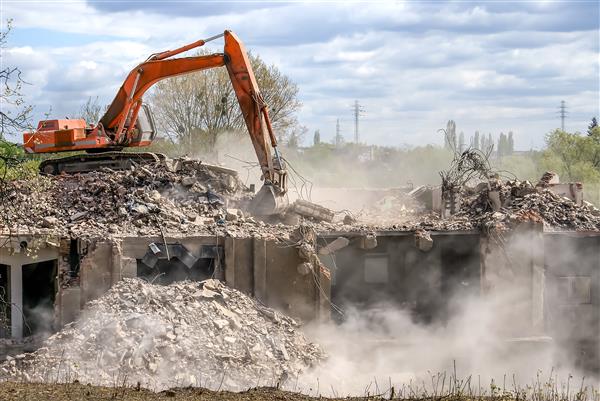 Your Ultimate Concrete Removal Company in Jersey City, NJ
There are a number of reasons why you might need to hire our concrete removal services in Jersey City, NJ. Our highly trained experts undergo rigorous and continuous training to ensure that any concrete slab removal or concrete hauling job is executed safely and correctly. Whether it is taking down an old building to replace it with a new one or improving the condition of a derelict building, Omni Demolition has the right people for the job. We make sure to charge affordable fees for any of our services when all the work is done.
Important Equipment Used for Concrete Removal in Jersey City, NJ
Most fly-by-night companies do not invest in good equipment or worse, they utilize faulty machinery which can cause delays and substandard outcomes. We have access to pallet jackets, hoists, bobcats and other equipment so we can ensure the timely delivery of our Jersey City, NJ concrete slab removal services. Mounted breakers are used in heavy demolition work in Jersey City, NJ. Demolition hammers are efficient and quick when it comes to demolition work such as removing concrete driveway, concrete slab demolition or concrete wall demolition. We offer a wide range of services, which include concrete slab demolition. Other equipment used in demolishing concrete are pallet jacks, hoists and bobcats.
When Do You Need Concrete Demolition Services in Jersey City, NJ?
Some property owners in Jersey City, NJ may delay hiring a demolition contractor for the sake of avoiding expenses. It not only allows you to erect new buildings but it also gets rid of aging, dilapidated and unsafe structures. We have all the equipment needed to perform quality concrete hauling or demolition. Oftentimes, damages to properties require a complete removal and replacement instead of a concrete resurfacing which only hides the damage. Having them torn down can be quite a challenge as opposed to erecting them.
Do You Require Permits for Concrete Removal Services in Jersey City, NJ?
When it comes to conducting a concrete removal or concrete hauling project, existing policies and permit requirements may vary from state to state. When choosing among the different local concrete removal companies, make sure to ask if they can assist you with the permit application. Definitely, here at Omni Demolition, our experts can help you get the documentation needed so you can start your project sooner rather than later. If you are unfamiliar with the paperwork required when demolishing or reconstructing properties in Jersey City, NJ, you can relax knowing that we are here to make things easier for you. Other contractors hire a third-party permit service provider to file the necessary permit but this could only mean additional expenses for you. If you work with our experts at Omni Demolition, you can be sure that you'll have a great experience.
How Much Does a Jersey City, NJ Concrete Demolition Cost?
The most common question in every contractual project is how much will it cost. In addition to the demolition permit costs, you should also factor in the total cost of the service. In urban areas, demolition companies charge a minimum of $4,000 for their fees. Hauling and disposal costs depend on the amount of debris and the distance from the demolition site to the disposal facility. Our concrete demolition projects in Jersey City, NJ include patio demolition, patio removal, tearing down walkways and walls, demolishing decks, entire buildings, among others. There are special circumstances that can affect the cost of your demo project. The actual demolition typically ranges from $4,000 to $14,000.
Expected Duration of a Concrete Demolition in Jersey City, NJ
We pride ourselves in having a quick an efficient turn around time in our concrete demolition projects. Our team of experts, however, is the most knowledgeable in the industry when it comes to concrete slab removal, or concrete hauling so we can guarantee the quickest operations without compromising quality and safety. We put a lot of thought into every step of the process so the safety of our workers and the satisfaction of our clients are completely assured. As soon as we assess the situation, we can draft a plan and present it to you for approval. We do not give our clients overly ambitious timelines.
Why Recycle Concrete in Jersey City, NJ?
Constructions, concrete demolition and removal projects produce a lot of by-products and potential waste. Recycling has economical and environmental benefits. Our concrete demolition contractors facilitate the hauling of reusable concrete to ensure an organized clearing of the site. It is also an environmentally friendly approach of dealing with the waste. Recycled concrete has been gaining popularity among the community of demolition and construction experts in the city.
Why Choose us for All Your Concrete Demolition Needs in Jersey City, New Jersey?
We offer various concrete demolition services. No matter what concrete slab removal projects you have, dial our phone number today and we will be glad to provide you with a free estimate. Experience a professional concrete removal service that is reasonably priced. If you are still in doubt whether Omni Demolition is the contractor to sign with, you can browse our website for customer testimonials and proof of our unquestionable workmanship. Call us today at
(855) 885-3366
for a free consultation and ask one of our agents for a free estimate.
Zip Code Areas We Service in Jersey City
07310, 07311, 07302, 07307, 07306, 07305, 07304, 07097, 07303, 07308, 07395, 07399