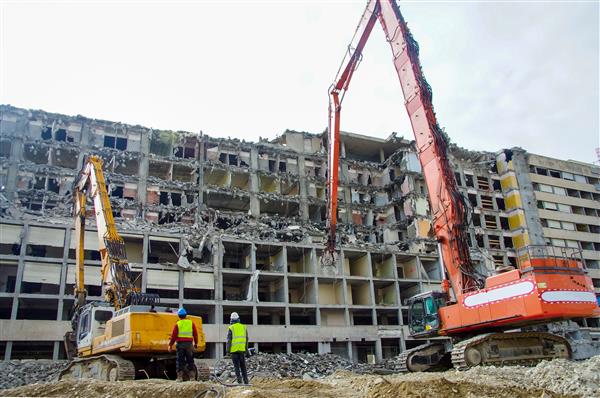 Demolition Contractors Jersey City, NJ: Your Go-To Demolition Company
The strength of Omni Demolition lies not only in its state of the art equipment and the expertise of its demolition contractors but the commitment that we have in providing unsurpassable services. We are an established service provider when it comes to experience, skills and workmanship. If you need to hire a professional demolition contractor in Jersey City, NJ without spending a ridiculous amount of money, you have come to the right place. Unlike other service providers, our demolition experts are all highly skilled and experienced in this business. The primary projects we undertake are demolition and deconstruction.
We Do Demolition and Deconstruction in Jersey City, NJ
Demolition is taking down or dismantling a building or structure with a strong and overwhelming force whose end result is rubble or waste. A demolition expert may order a deconstruction if parts of the original structure need to be retained or hazardous materials and reusable items need to be extracted before an actual demolition. Knowing the accurate requirements for your project is important to steering it into the right direction. It entails tearing down the components of a building for the purpose of recycling, re-using as well as waste management. As opposed to a full demolition which entails completely crushing a certain structure, deconstruction is the strategic taking apart of a building and putting away its reusable components.
Why Come to Us for Your Demolition Project in Jersey City, NJ
We have demolition experts who plan everything meticulously, from the bringing in of our equipment up to the clearance of the property from wastes and debris. First and foremost, our selection of advanced and reliable equipment enables our demolition contractors to be highly efficient as well as cost-effective. Most sales agents will promise everything just to close a deal but are no longer accountable when their team fails to deliver. Our demolition contractor will use special equipment and apply all the necessary skills in ensuring that the demolition process does not cause harm or injury to anyone or anything.
Our Range of Demolition Services in Jersey City, NJ
Industrial Demolition services: We have the expertise, equipment and manpower to take down, mills, plants, manufacturing buildings among others without compromising the integrity of neighbouring structures.
Commercial Demolition services: We are the demo company to call when it comes to commercial spaces that require strategic planning, especially narrow and often crowded areas. Our capability in wrecking restaurants, grocery stores, and office buildings shows our mastery in handling business districts.
Concrete demolition and recycling services: If you want to save time and money, our demolition experts can also extract concrete materials and slabs onsite to be broken down into reusable gravel.
Scrap Metal Demolition Services: Our demo company will expertly demolish your scrap metal projects. Our crew will downsize as well as dismantle the steel structures then process, bundle and recycle the materials.
We Set the Pace for Other Demolition Companies in Jersey City, NJ
Our highly trained demolition contractors are able to offer flexible services to suit your specific needs. We take pride in employing some of the finest calibre of demolition experts throughout the city. As an established demolition company in all of Jersey City, NJ, we see to it that our services, equipment and workmanship are always above customer satisfaction. As a trusted demo company, we have established a life-long relationship with our loyal patrons who can attest to our efficiency and commitment to getting the job done.
Main Methods for Demolition and Deconstruction in Jersey City, NJ
Explosive Demolition: Done by licensed demolition experts in Jersey City, NJ, this method may sound dangerous and it could be when proper procedures are not followed. After explosives are strategically laid out, a switch is all it takes to completely take down a building.
Non-Explosive Demolition: This method of demolition does not use explosives. Our local demolition contractors can use equipment such as wrecking balls, excavators and bulldozers.
Selective Demolition: This is also known as interior demolition. When your building or property is structurally sound but its interior needs to be remodeled or upgraded, our demo contractors apply selective demolition. We use highly advanced demolition techniques giving us a reputation that other building demolition companies cannot match.
We Facilitate High-End Equipment for Demolition in Jersey City, NJ
Hydraulic breakers – Commonly known as hydraulic hammers, these are often used by our demo company to grind up slabs and concrete structures.
Wrecking Balls – Buildings or structures that are more than 6 storeys high are demolished with the help of a wrecking ball suspended on a crane by a steel rope. The wrecking ball is pulled then released towards the structure. With force, the steel ball strikes the structure and demolishes it in bits.
Hydraulic shears and rock breakers – These specialized accessories allow cutting into a variety of materials such as metal, wood, rocks, and cement.
Bulldozers – Common equipment in construction sites used for excavating and hauling materials or waste. This machine can also be used to flatten or level structures hence the term bulldoze.
Dumpers – Dumpers are also known as tipper trucks. They are used for transporting rubble or waste from the demolition site. If you are in the demolition business, safety is paramount and some of the safety hazards are demolition wastes. A dumper is a very important in removing the large amount of debris from the site.
Cranes – Demolition contractors need a crane for attaching a wrecking ball to it. It can also be used to lift heavy things onto or off the structure. A demo company will almost always have this piece of machinery on a demolition site.
Crawler Loaders – They are effective in bringing down structures. They can also be used to clean up a demolition site. Crawler loaders can help move debris. Its tracks enable the unit to move easily and freely on the property.
Call Us for Outstanding Demolition Services in Jersey City, New Jersey
If you are in dire need of a reliable demolition company in Jersey City, New Jersey but are quite not sure what kind of method you will require and how much it will cost you, do not hesitate to call us. Signing with us means you deal with our highly diligent specialists who will never present mediocre work to our clients. Find out why we have remained the #1 demolition company for years as you experience top of the line customer service. Our work integrity and reasonable packages are only some of the reasons why we are a well renowned Jersey City deconstruction and demolition company. Give us a call today at
(855) 885-3366
and we will get back to you as soon as we can.
Zip Code Areas We Service in Jersey City
07310, 07311, 07302, 07307, 07306, 07305, 07304, 07097, 07303, 07308, 07395, 07399