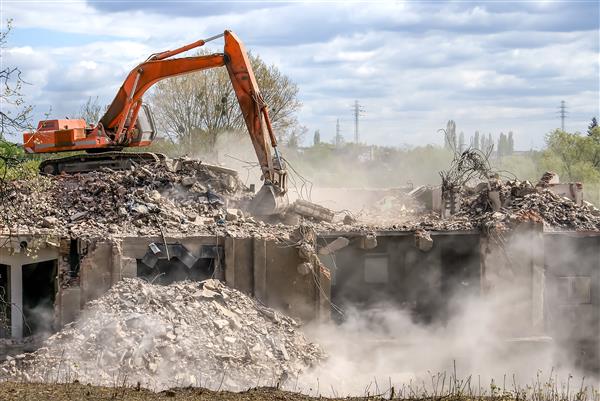 Your Company of Choice for Your Concrete Removal Projects in Newark, NJ
Concrete removal involves tearing down concrete buildings and structures in Newark, NJ. Our highly trained experts undergo rigorous and continuous training to ensure that any concrete slab removal or concrete hauling job is executed safely and correctly. Our reliable craftsmen do not believe in making excuses. We achieve 100% success in all our projects by examining the task at hand from all conceivable angles and then deciding on the course of action that is best suited for your project.
Special Equipment Used for Concrete Removal in Newark, NJ
From plowing to chipping to drilling and demolishing concrete, we are your go-to company. We can perform services like concrete slab removal that you may need for your Newark, NJ project as soon as possible. Mounted breakers are used in heavy demolition work in Newark, NJ. Some of the services we offer include removing concrete driveway, concrete slab demolition, and concrete wall demolition. Through controlled and precise actions, chipping hammers are used to chip away specific areas. After the demolition, the waste has to be dealt with, so we also have special machinery for concrete hauling. We are meticulous in our service delivery ensuring that your solution is customized to achieve the best possible results.
When Do You Need Concrete Demolition Services in Newark, NJ?
We have handled all kinds of cement deconstruction in Newark, NJ and we can safely say, our team is experienced in anything and everything under the sun. One of the most important questions is whether your concrete structure or building needs to be demolished in the first place. We have an expert team of laborers, managers and engineers who see to it that demolition and concrete hauling standards are met if not exceeded. Concrete demolition is necessary when your structure becomes old and dilapidated; when your structure has widespread cracking; when moisture penetrates into the ground, freezes and then pushes up the concrete; or when you plan to improve or put up a new structure. Do not just settle for a renovation job where they will only apply another layer of material on the affected structure, hiding the weakening structure below.
Which Concrete Removal Permits are Required in Newark, NJ?
When it comes to conducting a concrete removal or concrete hauling project, existing policies and permit requirements may vary from state to state. Other concrete removal companies may charge you extra to process the necessary permits. The city imposes a strict policy in permit application. We will make sure that you have all the permits you need to ensure an uninterrupted execution of your demolition project. You may be required to get in touch with the gas, electric and water company for clearances or reports.
How Much You Should Spend on a Newark, NJ Concrete Demolition
The cost of a concrete demolition project depends on the size and location of the project. You need to factor in the cost of permits and hauling as well. In addition to permit application fees in Newark, NJ, there is no accurate range of expenses that we can give outright as every project requirement is unique. If you live in an urbanized location, expect the permit application fees to go up to a thousand dollars or more. There will be tricky companies who will make a simple patio demolition or patio removal as complicated as possible to deceive you into agreeing to unreasonably expensive estimates. No need to get worked up in guessing project costs when all you have to give us a call and we will be happy to give you a free estimate. As for the service, you might spend around $4,000 to $15,000+, depending on the urgency of the request, size of the project and overall condition of your property in Newark, NJ.
Estimated Time a Concrete Demolition Project Should Take in Newark, NJ?
Time taken to complete a concrete demolition project varies. We use a complete inventory of tools and equipment for jobs such as a concrete slab removal, concrete demolition and concrete hauling. There are unforeseen factors that we take into consideration before settling on a completion date for your project such as extremities in weather conditions. After we check the overall condition of your property in Newark, NJ, we can start discussing the available options. Other factors determining the length of time your demolition project will take are the area of the concrete structure, the thickness of the concrete slab and the type of slab.
How Can I Reuse the Concrete Waste Generated from My Project in Newark, NJ?
The recycled material from a concrete demolition and removal project can be used as aggregate in making new concrete and in construction work. Concrete recycling is an integral part of concrete demolition. Feel free to ask our concrete demolition contractors about recycled concrete. The aggregate is used in the production of new structural concrete. Concrete recycling also reduces waste in landfills.
Hire a Premium Concrete Demolition Company in Newark, New Jersey
That is why you need our concrete demolition services in Newark, NJ from experienced professionals to execute such complex undertakings. There are many reasons why Omni Demolition should be your number one pick for all your concrete slab removal projects. We guarantee to provide superior quality concrete slab removal, site cleanup and other services no matter where you live in the city. At Omni Demolition you are guaranteed not only commitment and proven expertise from our team of veteran specialists but also 100% site safety and transparency when it comes to billing and procedures being done on your property. Book a concrete removal service today!
Zip Code Areas We Service in Newark
07103, 07102, 07105, 07104, 07107, 07106, 07108, 07112, 07114, 07101, 07175, 07184, 07188, 07189, 07191, 07192, 07193, 07195, 07198, 07199