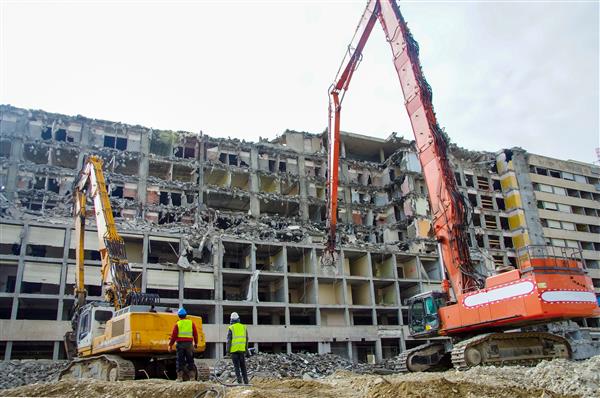 Demolition Contractors Newark, NJ The Demolition Company That You Can Count On
Having been in the demolition business for years, Omni Demolition has built an unshakable reputation as the leading demolition company in Newark, NJ. Our goal is to establish strong customer ties through honest business and outstanding workmanship. We have an enduring assurance to safety. Unlike other service providers, our demolition experts are all highly skilled and experienced in this business. There are no second guesses when you sign with us.
The Objectives of Demolition and Deconstruction in Newark, NJ
Demolition is the tearing down of buildings or structures partly or completely. Demolition is the actual tearing down of a structure to be done by a demolition expert. A deconstruction may be a prerequisite to the actual demolition process where hazardous materials are taken out prior to the tear down of the structure. It entails tearing down the components of a building for the purpose of recycling, re-using as well as waste management. They can also be torn down mechanically with the aid of hydraulic equipment such as bulldozers, excavators or planes.
We are the Most Competent Specialists for Your Demolition Project in Newark, NJ
Our demolition experts and demolition contractors in Newark, NJ offer superior services in demolition for all your projects. Some demolition contractors may offer you an attractive contract with a very cheap price tag, but are you sure you are getting a steal? Our word is our bond. We have an impeccable record of giving our clients value for their money while never compromising on the quality of our work. You will not find another demolition contractor in all of Newark, NJ who will help you save and spend wisely.
Choose from Our Wide Variety of Demolition Services in Newark, NJ
Industrial Demolition services: We have the expertise, equipment and manpower to take down, mills, plants, manufacturing buildings among others without compromising the integrity of neighbouring structures.
Commercial Demolition services: We are a prominent demo company in handling commercial buildings even in the most unimaginable spaces. We have taken down storehouses, grocery stores, airplane hangars, and large public structures among others.
Concrete demolition and recycling services: Let our demolition experts know if you wish to maximize the use of the structure's concrete materials and we will break them down into reusable gravel.
Scrap Metal Demolition Services: Allow our demo company to remove useless steel erections onsite and salvage reusable metal for recycling instead of hiring a separate contractor, which means more expenses for you.
Key Advantages Against Other Demolition Companies in Newark, NJ
Despite being highly preferred over other demolition contractors, we keep our feet grounded. Our demolition experts and demolition contractors are dedicated to meeting all your needs. As an established demolition company in all of Newark, NJ, we see to it that our services, equipment and workmanship are always above customer satisfaction. That is why we are recognized as the leading demo company.
Safely Regulated Methods for Demolition and Deconstruction in Newark, NJ
Explosive Demolition: It is also known as the implosion method. Our demolition experts fix a building's or structure's slabs, columns and beams with explosives. Once the explosives detonate, the columns collapse and so does the building or structure.
Non-Explosive Demolition: Our local demolition contractors will use a wrecking ball to bring down your structure. This method is cheaper than explosive demolition.
Selective Demolition: Recommended for buildings that are being rebuilt, selective demolition involves carefully removing some parts of the building to make way for a modified construction. Unlike new and upcoming building demolition companies, our demo contractors are experienced in extracting parts of the building while still maintaining its structural integrity.
We Utilize Well-maintained Equipment for Demolition in Newark, NJ
Hydraulic Breakers – Our demo company will use this heavy hammer to demolish rocks or concrete structures. Hydraulic breakers are also an important part of recycling operations.
Wrecking Balls – A wrecking ball is a heavy ball made from steel. It is attached to a crane and is used to strike down structures from a manageable height.
Hydraulic Shears and Rock Breakers – They are usually attached to excavators and then used to make clean cuts through concrete, metal, wood and rocks of large structures.
Bulldozers – A favorite among contractors, a bulldozer can be an intimidating piece of equipment on wheels although it is fairly easy to maneuver. It can be used to transport copious amounts of waste, as well as to wreck walls.
Dumpers – A necessity in every demolition business, dumpers are used to haul waste materials off the demolition site. It ensures the pre-construction area is free from any trash or debris brought about by the demolition.
Cranes – Demolition contractors use a crane to attach a wrecking ball. A demo company can also use a crane for moving materials on the different levels of the structure or building.
Crawler Loaders – They are very efficient in moving heavy materials and dirt piles. Some models of the crawler loaders are able to push down heavy smaller-sized structures. They are also used to clean the ground.
We are the Number to Call for Premium Demolition Services in Newark, New Jersey
Avoid dealing with deconstruction hassles and overpriced bills when you sign with our demolition company in Newark, New Jersey. You can rest easy knowing that we have a solution for all your demolition projects. Our demolition company is the Newark demolition and deconstruction company you have been looking for. Our Newark deconstruction and demolition company has highly skilled personnel with years of experience in the demolition business. Call us today at
(855) 885-3366
and allow us to assist you with your demolition requirements.
Zip Code Areas We Service in Newark
07103, 07102, 07105, 07104, 07107, 07106, 07108, 07112, 07114, 07101, 07175, 07184, 07188, 07189, 07191, 07192, 07193, 07195, 07198, 07199