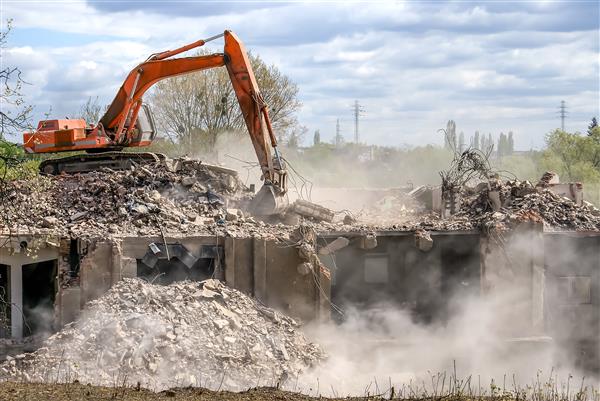 Your Premium Concrete Removal Company in Paterson, NJ
We are experts in providing concrete removal in Paterson, NJ. When it comes to concrete slab removal and concrete hauling, we are your number one choice. When your concrete structure has become old, shaky, unstable and unsightly, it is definitely time to consider getting rid of it for aesthetic reasons and most importantly, for safety purposes. No amount of training can bring the average amateur provider up to speed with the kind of workmanship and commitment that we can only perfect through years of experience.
High-power Equipment Best for Concrete Removal in Paterson, NJ
When looking for a contractor to hire, do not get drawn in by bargain prices. Instead, double check the company's performance and the condition of their equipment. Omni Demolition does not only invest in quality equipment for concrete slab removal in Paterson, NJ, we utilize high end dumpers for concrete hauling as well. A few examples of the equipment we use include chipping hammers, demolition hammers and hydraulic concrete crushers. Whether we are hired for removing concrete driveway, concrete slab demolition, or concrete wall demolition, you can guarantee no equipment failure onsite. Trust us to start removing concrete driveway and other concrete structures at your project location as soon as you give us the green light to commence work. Diamond wire saws are able to to cut through thick concrete and is usually used in heavy demolition work. We are well equipped in handling all your concrete removal and concrete hauling projects.
Why You May Need Concrete Demolition Services in Paterson, NJ
When is it necessary for you to get demolition services in Paterson, NJ? Temporary resurfacing cracked surfaces or patching up crumbling foundations will only cause repeated spending, more hassles and even threaten the safety of the building occupants. Signing with us means you get professional demo as well as concrete hauling that is beyond the required standards. The most common reasons why concrete wears out easily include extreme temperature fluctuations, corrosion and overload. With our trusted services, you have our assurance that the job will be done correctly and safely.
What Reports or Paperwork Do I Need for a Paterson, NJ Concrete Removal Project?
Here at Omni Demolition we want you to save money when hiring us to do a concrete removal or concrete hauling project, so we will take care of filing the permit for you. Make sure that when you select among the concrete removal companies in the city, you check how well the staff can help you in preparing the requirement. This is usually determined by the type of demolition project and the location of the project. Some property owners and even contractors hire permit services or companies who manage the building permit application process. The good news is that at Omni Demolition, we will take care of everything.
Concrete Demolition Expenses in Paterson, NJ
The cost of a concrete demolition project depends on the size and location of the project. You need to factor in the cost of permits and hauling as well. There are a number of factors that contribute to the overall cost of your concrete demolition project such as the type of concrete used. For a budget of $400, you will be able to complete the removal of unreinforced concrete from a patio that is two hundred square foot in size with zero disposable fees. Patio demolition and patio removal are some of the demolition projects we specialize in. There are special circumstances that can affect the cost of your demo project. The actual demolition typically ranges from $4,000 to $14,000. Manpower, permits and type of equipment used also determine the cost of the project.
How Long Can I expect a Concrete Demolition Project to Take in Paterson, NJ?
With the right equipment, tools and skill sets, a concrete demolition team can finish a service within a short time frame. To eliminate demolition delays, we plan all our concrete slab removal and concrete hauling in Paterson, NJ effectively with hands-on management principles. We will only give you and agree on realistic time frames when all things have been factored in such as the size of the project. Count on us to ensure that your project is executed perfectly. We adhere to all the fundamental and basic principles of effective project management.
Concrete Recycling in Paterson, NJ?
Whether you are an environmental advocate or you just want to make some extra money, recycling wastes from a completed concrete demolition and removal project is the way to go. Concrete recycling is an integral part of concrete demolition. Our concrete demolition contractors can also use recycled concrete for landscaping projects. We recommend recycling concrete because it can be reused as a good quality construction material. Recycled concrete has been gaining popularity among the community of demolition and construction experts in the city.
Make the Wise Decision by Calling Us for Concrete Demolition in Paterson, New Jersey
That is why you need our concrete demolition services in Paterson, NJ from experienced professionals to execute such complex undertakings. Whether you require a simple concrete slab removal or a major interstate pavement, our team of experts is the most knowledgeable for the job. We guarantee to provide superior quality concrete slab removal, site cleanup and other services no matter where you live in the city. We have been in this business for many years. We guarantee to come and fix your concrete-related problems fast. With our experts, you won't worry about accidents, hidden costs, and other concerns. Contact us today for a concrete removal service!
Zip Code Areas We Service in Paterson
07522, 07524, 07514, 07513, 07505, 07504, 07501, 07503, 07502, 07509, 07510, 07533, 07543, 07544