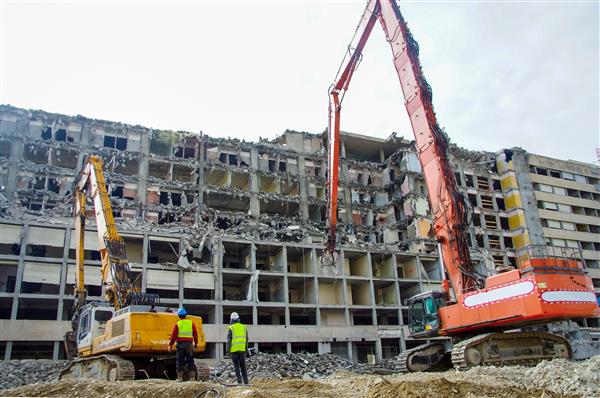 Demolition Contractors in Paterson, NJ: The Number 1 Demolition Company
Omni Demolition has demolition contractors at your service whose specialty is providing superior-quality, safe and cost-effective services for all our clients. We are dedicated to working on your project with no distractions whatsoever. You never have to worry about timelines. Always making sure that our clients are not kept in the dark, our demolition experts will guide you accordingly when it comes to recommended methods, pricing and procedures to be enacted. We are highly competent and able to handle any project you may have.
How is Demolition Different from Deconstruction in Paterson, NJ?
Demolition is aimed at basically bringing down a structure. A demolition expert may order a careful deconstruction prior to a demolition to carefully remove chemically hazardous materials as a safety precaution. A deconstruction may be implemented on its own or as a pre-demolition procedure. There are two types of deconstruction: selective and whole-house.
Why Sign Us for Your Demolition Project in Paterson, NJ
Our demolition experts and demolition contractors in Paterson, NJ offer superior services in demolition for all your projects. First and foremost, our selection of advanced and reliable equipment enables our demolition contractors to be highly efficient as well as cost-effective. Most sales agents will promise everything just to close a deal but are no longer accountable when their team fails to deliver. Our demolition contractor will use special equipment and apply all the necessary skills in ensuring that the demolition process does not cause harm or injury to anyone or anything. Whether small or large, we strive to always provide you with the highest possible standards of service in completing your projects within your budget and timeframe without complications. Whether small or large, we strive to always provide you with the highest possible standards of service in completing your projects within your budget and timeframe without complications.
Our Demolition Services in Paterson, NJ
Industrial Demolition services: We have tried and tested thorough demolition of industrialized buildings. Our record includes taking down plants, manufacturing buildings, mills and the like.
Commercial Demolition services: Being a world-class demo company, you can rest easy knowing that your property is in safe and capable hands. We have the capability to bring down commercial structures such as warehouses, airplane hangars, shopping malls, garages, office buildings and sports facilities among others.
Concrete demolition and recycling services: Our demolition experts are experienced in salvaging not only metal scraps but concrete structures and slabs as well.
Scrap Metal Demolition Services: As an all-around demo company, we can also take care of any unwanted steel erections and metal scraps onsite. We follow a certain procedure in salvaging items that are still good for future use so you can be sure nothing goes to waste.
We are on Top of Other Demolition Companies in Paterson, NJ
We take pride in deploying demolition experts and demolition contractors who are not simply knowledgeable on the job but also skilled and experienced all across the state. Our demolition experts and demolition contractors have an established performance record of completing demolition jobs in the right way, on budget and on time. Our demolition company in Paterson, NJ makes use of a unique approach that minimizes waste and maximizes recyclable materials. Our demo company delivers effective and safe results on your time and budget.
The Types of Methods Used in Demolition and Deconstruction in Paterson, NJ
Explosive Demolition: This method should be done only by experienced demolition experts in Paterson, NJ as it involves safety parameters that should be strictly observed. It involves turning a switch to initiate an explosion, which will then collapse the building into a mound of rubble.
Non-Explosive Demolition: Our local demolition contractors will use a wrecking ball attached to a crane to knock down a building. The heavy wrecking ball is swung several times on the targeted structure before it can collapse.
Selective Demolition: This is also known as interior demolition. When your building or property is structurally sound but its interior needs to be remodeled or upgraded, our demo contractors apply selective demolition. We use highly advanced demolition techniques giving us a reputation that other building demolition companies cannot match.
Common Equipment Used for Demolition in Paterson, NJ
Hydraulic breakers – Massive earthmovers used at our demo company to drill and break concrete areas in no time.
Wrecking Balls – Buildings or structures that are more than 6 storeys high are demolished with the help of a wrecking ball suspended on a crane by a steel rope. The wrecking ball is pulled then released towards the structure. With force, the steel ball strikes the structure and demolishes it in bits.
Hydraulic Shears and Rock Breakers – They are used to cut through concrete, rocks, wood and metal.
Bulldozers – A bulldozer is a heavy piece of equipment that has a robust bucket attachment. This attachment enables the bulldozer to clear trash, rubble and debris from a demolition site. Bulldozers are multi-purpose, they can also be used to push down heavy smaller-sized structures.
Dumpers – If you are in the demolition business, you will definitely need a dumper/ tipper truck for transporting demolition waste.
Cranes – Demolition companies use cranes to move materials from different levels of a structure. A demo company will also use this machinery together with a steel ball. For a wrecking ball to work, it has to be attached to the crane.
Crawler Loaders – They are very efficient in moving heavy materials and dirt piles. Some models of the crawler loaders are able to push down heavy smaller-sized structures. They are also used to clean the ground.
Call Us for Outstanding Demolition Services in Paterson, New Jersey
Our demolition company in Paterson, New Jersey is the best one in town. We believe in providing professional and affordable services. Our demolition company never offers excuses; we simply provide professional and timely services guaranteed to accommodate your budget. As the top Paterson deconstruction and demolition company, no job is ever too big or too small for us. Call us at
(855) 885-3366
for a free consultation today.
Zip Code Areas We Service in Paterson
07522, 07524, 07514, 07513, 07505, 07504, 07501, 07503, 07502, 07509, 07510, 07533, 07543, 07544