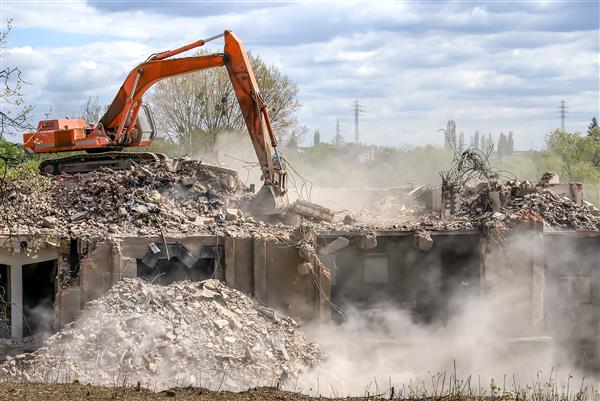 Trust Only the Authority in the Concrete Removal Business in Trenton, NJ
When looking for a concrete removal contractor in Trenton, NJ, relying on ads may not be the best option, so if you are doing your own research, we are here to help you make the right decision. We do not just know the basics of concrete slab removal; we are certified experts. We have well-trained experts who can help you with tasks such as concrete hauling, partial house demolition and site cleanup. Whether it is taking down an old building to replace it with a new one or improving the condition of a derelict building, Omni Demolition has the right people for the job. You can rely on us to get the job done.
Important Equipment Used for Concrete Removal in Trenton, NJ
Be careful of contractors in Trenton, NJ that use outdated and broken down equipment for this could mean impending delays to your project, or work that is so poorly done you will have to hire another company to redo the job. Here at Omni Demolition, in order for a concrete slab removal job to be successfully completed, using the right equipment is very crucial. Service providers who have faulty equipment will surely cause delays in your project or worse, add their own repair expenses on top of your original bill. We specialize in removing concrete driveway as well as concrete wall demolition. Depending on the nature of the project, we select different equipment to deliver maximum results. We also provide concrete hauling to clean up the site after we finish cutting and crushing your walls, driveways or ceilings. Despite the power it possesses, it creates little noise and dust making it perfect for demolition work in inhabited areas.
When Should You Book a Concrete Demolition Service in Trenton, NJ?
One of the most important questions when it comes to concrete demolition services in Trenton, NJ is if the circumstances call for demolition at all. There are various factors that affect the life span of concrete. Our concrete removal services and concrete hauling will not only help you get rid of old unsightly structures but will also ensure that your property has better aesthetic appeal. We have experts in Trenton, NJ who are well-equipped to help you knock down any part of your house. Regardless of the size, we will see to it that we finish the project on time. All of the technicians follow safety procedures to ensure the project flows smoothly without any delays.
Permit requirements for a Concrete Removal in Trenton, NJ
When it comes to conducting a concrete removal or concrete hauling project, existing policies and permit requirements may vary from state to state. Avoid dealing with questionable concrete removal companies that overcharge for permit processing fees. Start by applying for a permit from the local authority. There are several instances where you need to get a permit from your local council such as: when a building is to be entirely demolished, part of the building is to be demolished or more than a half of a given floor area of a building or structure is to be demolished. Your main goal should be to minimize the risks of delaying the project by preparing the necessary documents beforehand.
Cost of Concrete Demolition in Trenton, NJ
Some contractors in Trenton, NJ will give you rock bottom packages which could mean poor quality services while some will be too expensive with no guarantee that they will deliver as promised. This estimate is for the removal of unreinforced concrete of a two-car driveway with zero disposal fees. Quite a number of concrete removal companies in Trenton, NJ reduce the cost per square foot once the project is a given size. The good news is that we have a competent team in Trenton, NJ that is able to customize solutions even for small projects such as patio demolition and patio removal for you at an affordable cost. For a budget of $10,000 you will be able to complete the removal of foundation and reinforced concrete. The actual demolition typically ranges from $4,000 to $14,000. We provide all types of demolition services at affordable rates.
How Much Time Should a Concrete Demolition Project Take in Trenton, NJ?
Every concrete demolition project is unique even if identical procedures may be done and the same equipment will be used which is why no specific time frame can be given without the details of the area involved. To eliminate demolition delays, we plan all our concrete slab removal and concrete hauling in Trenton, NJ effectively with hands-on management principles. This is a key aspect in our line of work. We understand the importance of service delivery to our clients in a timely manner. We always conduct a comprehensive check on every project we work on in Trenton, NJ. Rest assured we will take good care of your demolition needs in Trenton, NJ and provide a clearly defined timeline for the entire project.
Is it Possible to Recycle Concrete in Trenton, NJ?
Do you ever wonder where all the waste from a concrete demolition and removal project go? Concrete recycling is an integral part of concrete demolition. With the help of our professional concrete demolition contractors, you can recover some costs and contribute to other projects with your recycled concrete. You can get paid by companies who reuse concrete in major constructions such as road paving and you also help minimize damage to the environment through responsible recycling – it's a win-win situation! Recycled concrete is cheaper and more environmental-friendly, so we highly recommend using it.
Why Come to Us for All Your Concrete Demolition Needs in Trenton, New Jersey
Our team of experts uses modern concrete slab removal techniques and high end equipment, ensuring outstanding concrete demolition services at all times. No matter what concrete slab removal projects you have, dial our phone number today and we will be glad to provide you with a free estimate. We guarantee to provide superior quality concrete slab removal, site cleanup and other services no matter where you live in the city. First rate customer service need not make a dent in your savings. Dial our phone number today and let us know what concrete removal service you require.
Zip Code Areas We Service in Trenton
08638, 08611, 08618, 08629, 08609, 08608, 08601, 08602, 08603, 08604, 08605, 08606, 08607, 08625, 08645, 08646, 08647, 08650, 08666, 08695