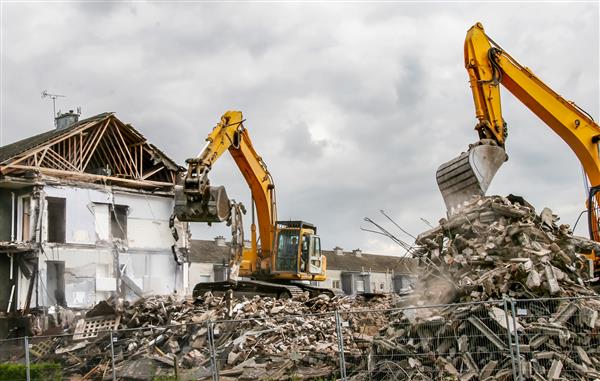 Omni Demolition – The Best Provider of House Demolition Service in Trenton, NJ
Contrary to popular belief, house demolition in Trenton, NJ is not just about blowing off some structure or tearing down buildings. It is an engineered process aimed at the safe and efficient removal of supportive structures. Omni Demolition is one of the best house demolition companies in the country. Omni Demolition has many full-time employees; we own our trucks and equipment; and our residential demolition contractors are well trained and capable of handling any demolition job. Don't let the damage worsen and affect the rest of your house. Call in a professional to have the area checked. All of our work is conducted by experienced machine operators who can work even on your mobile home demolition project to ensure a safe demolition project. Omni Demolition is here to assist you with your needs.
Home Demolition Methods in Trenton, NJ
The process of house demolition in Trenton, NJ can be a risky and messy undertaking. Demolition methods vary according to building location, construction materials, disposal techniques and the overall demolition goal. Our approach differs depending on the size of the building and its overall condition. Trust our team to discuss every detail of the demolition plan. With the extensive knowledge and experience of our residential demolition contractors, we can provide a reasonable working schedule. Hire only residential demolition companies that have the know-how and technical knowledge to tailor their approach to your distinctive home demolition project. We put our best foot forward whether we're working on a mobile home demolition project or demolishing a three-storey home.
Requesting a Trenton, NJ Home Demolition Cost Estimate
Now that you know how we handle our Trenton, NJ house demolition service, you might be wondering how much we charge. You may end up hurting yourself while carrying out the task on your own. Some home demolition companies also have high rates because there are instances where they need to do additional tasks other than demolition. We at Omni Demolition will assign seasoned residential demolition contractors to work on your project. In addition, we provide the best rates even for small projects such as a mobile home demolition. With our detailed price quotation, we aim to help you decide which team to hire. Trust us at Omni Demolition to handle your project seriously.
Get Your Residential Demolition Permits in Trenton, NJ
A house demolition project will require you to apply for a permit. Other special inspections and documentation for your mobile home demolition may be asked from you depending on the state you are in. There are several requirements you will need to secure so the local government can process your application. If you choose to work with our team, we will happily assist you in completing the requirements and processing the permit application.How to Organize for a Residential Demolition in Trenton, NJSo you've made up your mind to hire a professional for your Trenton, NJ home demolition plan. The next logical step is to prepare your house for the demolition job. Start by clearing the area and removing all your furniture and valuables. A demolition contractor then starts the process with the removal of valuables from the building, such as the copper wiring; then follows the removal of materials like glass, asbestos sheets and other materials, which are considered to cause serious safety hazards during and after demolition. The area will be completely cleared out and no one but authorized personnel will be permitted near it. Getting a timeline is vital because all demolition projects, even mobile home demolitions, leave a huge mess, and a timeline will give you an idea when the demolition will actually take place and how long the entire process will be. It is important to set up clear exit routes for debris clearing machinery. Site clearance of debris should be immediately assigned to a designated area where debris is being sorted.
Instances That Call for Residential Demolition in Trenton, NJ
After some time, the structure of a house weakens due to constant exposure to changing weather, as well as other stressors. Or perhaps the land needs to be prepped for a new construction. New structures are hardly demolished, but every so often old buildings that were poorly constructed don't pass the test of time. Also, overcrowded or outdated structures are prone to various infestations or contamination. When structural safety is a concern, tearing down and starting from scratch is often the best initial step to making enhancements and upgrades to your estate. This calls for residential demolition work to be done in Trenton, NJ. Instead of booking a renovation job for unsafe structural issues, we suggest a demolition service instead.
Residential Demolition Equipment We Use in Trenton, NJ
Our residential demolition contractors only use top-quality equipment. With the extensive industry background of our contractors, you can definitely enjoy outstanding home demolition deals, regardless of how small or big your property is. The project may call for the use of excavators, cranes, and large hydraulic equipment, etc. For large buildings, it requires the use of wrecking ball. At times, explosives are used to knock down huge structures. The dimensions of the structure to be destroyed determine the type of instruments to be used for demolition.
Call Us and Start Your Home Demolition in Trenton, New Jersey Today!
We are not your typical sloppy residential demolition company. We are a company that prides itself in being able to provide reliable and efficient services. Our crew is always available to help you. After the call, we guarantee to send our residential demolition contractors to work on your Trenton, New Jersey properties fast. Rest assured that we follow strict measures when performing our services. Dial
(855) 885-3366
and we will gladly assist you.
Zip Code Areas We Service in Trenton
08638, 08611, 08618, 08629, 08609, 08608, 08601, 08602, 08603, 08604, 08605, 08606, 08607, 08625, 08645, 08646, 08647, 08650, 08666, 08695