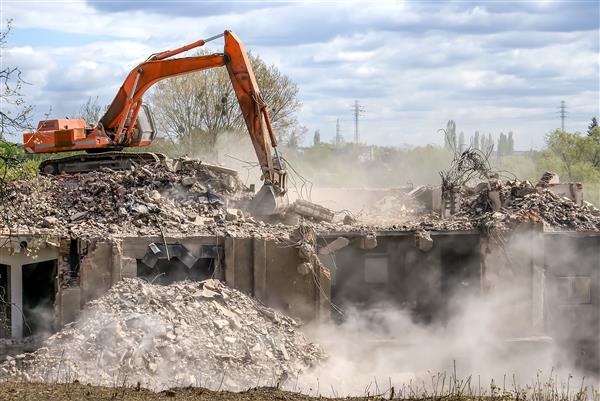 Cost-effective Solutions to Your Concrete Removal Needs in Reno, NV
Concrete removal is an essential part of any construction project in Reno, NV. Omni Demolition has the best concrete slab removal experts in the region. We have spent years perfecting our services. We have well-trained experts who can help you with tasks such as concrete hauling, partial house demolition and site cleanup. Our high ratings clearly speak for our loyal clients and how much value they get from hiring us as their contractor. After all the work is done and the dust settles, you'll find that our services are done with excellence and are very affordable.
Tools and Equipment We Use to Perform Our Concrete Removal Service in Reno, NV
Our contractors at Omni Demolition can perform a wide range of services because they are well-equipped. Within a reasonable timeframe, we can cut, crush and remove any size of concrete structure. Some of the equipment we have includes bobcats, trackers, pallet jacks and track loaders. Omni Demolition uses state of the art technology dedicated to do rapid yet effective concrete slab removal and concrete hauling. Here at here Omni Demolition, our bobcats, hoists, pallet jacks and all the other tools we use in the trade are all well-maintained to ensure continuous operations. Our tools and equipment can be used on various projects of various sizes. As such, our services such as concrete slab demolition and concrete wall demolition are perfect for any type of situation. Our team periodically conducts machine inspection and maintenance to guarantee that everything we need for the job is in tip-top condition. After we cut and crush the concrete, we can also provide concrete hauling services to get rid of or recycle the waste materials. Hydraulic concrete shears are used in secondary demolition where they help to separate concrete from steel reinforcements and further reduce the size of the rubble.
When Do You Need Concrete Demolition Services in Reno, NV?
When is it necessary for you to get demolition services in Reno, NV? One of the most important questions is whether your concrete structure or building needs to be demolished in the first place. The concrete demolition and concrete hauling process is necessary in some circumstances such as when your structure has aged significantly, when your building has widespread cracking, when you are planning to improve or upgrade your structure and when frost heave occurs. Oftentimes, damages to properties require a complete removal and replacement instead of a concrete resurfacing which only hides the damage. Do not just settle for a renovation job where they will only apply another layer of material on the affected structure, hiding the weakening structure below.
What Reports or Paperwork Do I Need for a Reno, NV Concrete Removal Project?
The government usually requires permits for a concrete removal and concrete hauling project in Reno, NV. There are several concrete removal companies in the city, so make sure you select one that will help you all throughout the process. Planning to have a concrete demolition job done in your property? Depending on the nature of your project you may or may not need one. This however varies with your location. Ignoring permit requirements can become a costly affair. Some demolition projects will require a planning permit.
How Much Should I Pay for a Concrete Demolition Project in Reno, NV?
Applying for a demolition permit can already cost you more than $200. The price can go up, depending on where your project is located. The cost of demolition is impacted by several things like the amount of concrete that needs to removed. The good news is that you are guaranteed to get bigger savings when hiring us as opposed to our competitors. Our concrete demolition projects in Reno, NV include patio demolition, patio removal, tearing down walkways and walls, demolishing decks, entire buildings, among others. For a budget of $10,000 you will be able to complete the removal of foundation and reinforced concrete. We can help you regardless of the type of project you wish to work on.
How Much Time Should a Concrete Demolition Project Take in Reno, NV?
Concrete is usually reinforced with tough steel making it virtually indestructible. A concrete demolition project needs the services of professionals to have it done right and safely. We have access to high precision tools, which allow us to facilitate our services like concrete slab removal and concrete hauling faster and safer. What we can say is that for all contractual projects, we do what we can in terms of equipment and manpower readiness to ensure nonstop operations and an early finish. We devise a plan to safely accomplish your project in a cost-effective way with projected timelines and then submit our proposal to you. This is because the speed and performance of hand held tools varies greatly with that of automatic or advanced machinery.
What To Do With Crushed or Used Concrete in Reno, NV?
Concrete demolition and removal projects make the most amount of wastes and debris which is why, instead of throwing them away, it is best to make an effort to avoid harming the environment when disposing of these materials. Because we are an environmentally friendly company, preserving our surroundings is at the forefront of our mission. Our concrete demolition contractors are knowledgeable in inspecting rubbish and identifying which ones are valuable. We encourage recycling of concrete debris. It reduces disposal to the city's landfills. Contractors also take advantage of recycled concrete as they are not only environmentally-friendly but also cost-effective while still proven durable.
Why Choose us for All Your Concrete Demolition Needs in Reno, Nevada?
Our company, Omni Demolition has established a huge number of loyal patrons who prefer our concrete demolition services over other services providers in Reno, NV. Omni Demolition is home to the most well-trained concrete slab removal and demolition specialists. Furthermore, whether you have a strict budget or timeframe, there is no problem we cannot solve. We use various techniques when we provide our services to ensure that we finish the project within the targeted time frame. We are also an environmentally friendly company with a focus on recycling reusable materials after a concrete demolition undertaking.
Zip Code Areas We Service in Reno
89521, 89523, 89439, 89503, 89502, 89501, 89506, 89509, 89508, 89519, 89512, 89504, 89505, 89507, 89513, 89515, 89520, 89533, 89555, 89557, 89570, 89595, 89599