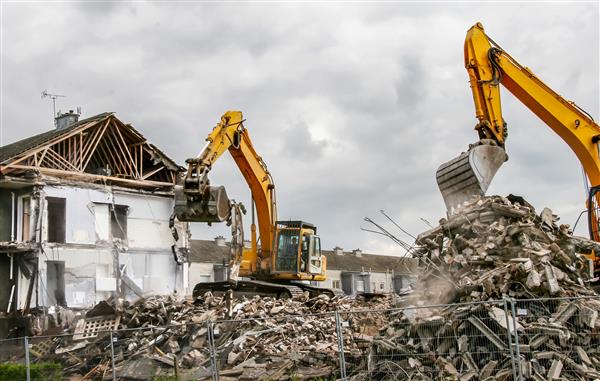 Omni Demolition: A Reliable and Trustworthy Residential House Demolition Company
We provide complete house demolition services in Reno, NV for any size of project. Compared to other local house demolition companies, we have more high-powered equipment and professional residential demolition contractors. We have a team of seasoned residential demolition contractors who can readily assess your property. While we recognize the sentimental and even historical value of any building, when signs of danger are spotted, we recommend having it demolished. Once you see thick cracks on the wall or observe any signs of a weak foundation, you must schedule an appointment with a building expert right away. This way, you can already assess the situation and decide if you will need a renovation or demolition job. You can always count on our team of professionals to work on your project swiftly especially when it comes to small projects such as a mobile home demolition. It could be about making your dream home a reality or making some improvements in the appearance of an old house.
Home Demolition Techniques in Reno, NV
We make sure to create a comprehensive plan before we start a house demolition. Demolition methods include top-down deconstruction, crane, high reach arm, remote-controlled demolition, and implosion. Our residential demolition contractors are stringent when it comes to following the EPA guidelines. Compared to other residential demolition companies, we charge very reasonable fees, and we can work on projects of any scale. Rest assured, our mobile home demolition team will come on time and work on your project with great precision.
Obtaining a Home Demolition Quote in Reno, NV
Building a house often involves a huge sum of money, but did you know that a house demolition in Reno, NV can also be quite significant? Rest assured, our staff will provide you with a free cost estimate that briefly describes the services included in the package. By examining the rates, you can check which among the different home demolition companies in the area offers the most competitive services. We guarantee to send qualified residential demolition contractors to assist you. In addition, we provide the best rates even for small projects such as a mobile home demolition. Upon your request, we can provide a full breakdown of the fees you will need to pay. Unlike other companies, you can get everything you need from our contractors for a fair price.
What are the Residential Demolition Clearances I Need in Reno, NV
Compile the required documents together with your application form and submit to the Reno, NV local office. You can't start a house demolition or mobile home demolition job without a permit from the local government. You must secure the documents required in Reno, NV. If you choose to work with our team, we will happily assist you in completing the requirements and processing the permit application.
Preparations Before a Residential Demolition in Reno, NV Begins
We highly recommend keeping your kids, pets and other people away from the vicinity of the house so our Reno, NV home demolition team can work as quickly as possible. Start by clearing the area and removing all your furniture and valuables. The entire area must be vacated, which means that no one will be permitted near it except for allowed personnel. You will also need to have a definite timeline for undertaking a mobile home demolition. This way, you will know how long the procedure will take, and what you should do once it's done.
Why You Should Book a Residential Demolition Service in Reno, NV
The strength of various structures fades over time. Sometimes, a building degrades faster when it is exposed to extreme temperature changes, pest infestation, water damage or fire. Perhaps you are happy with the basic structure of your home, but want to add a room. To do this you need a residential demolition professional to do the job, to make sure that the rest of the house remains safe and intact. Depending on the overall condition of your house, professionals may recommend breaking down and rebuilding the affected structure or doing a small renovation job to boost the strength of the material. If your property has undergone extensive fire damage or water damage, it is important to call a residential demolition company in Reno, NV as soon as possible. We will only need to study the place to know where we should start first.
Exceptional Quality Residential Demolition Equipment for Your Reno, NV House
For many years, thousands of homeowners have depended on our team of residential demolition contractors to help them with their property. At our company, all our home demolition professionals are equipped to work on any size of residential building. Some of the heavy machinery that demolition contractors need to use consist of wrecking balls, cranes, bulldozers, jackhammers, chainsaws and sledgehammers. Occasionally, they even need to use explosives. Our equipment such as track loaders and excavators allow us to deliver stellar services. We will give you an estimated completion date to help you plan your next residential project.
Call and Book Your Reno, Nevada Home Demolition Appointment Today
We are a reliable residential demolition company with the equipment and expertise to get the job done on time. Contrary to what most people believe, demolishing a house or any type of building is not an easy task. You will need to have the right equipment, plus years of knowledge and experience so you can correctly work on the damaged sections of your house. Our residential demolition contractors have been rated #1 in Reno, Nevada. Guided by the standards set by the industry and our extensive experience, we guarantee to provide the service you deserve. Give us a call at
(855) 885-3366
so we can get started on your demolition project!
Zip Code Areas We Service in Reno
89521, 89523, 89439, 89503, 89502, 89501, 89506, 89509, 89508, 89519, 89512, 89504, 89505, 89507, 89513, 89515, 89520, 89533, 89555, 89557, 89570, 89595, 89599