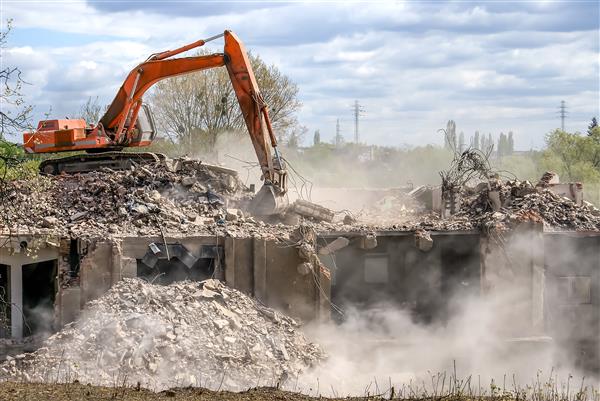 Your Company of Choice for Your Concrete Removal Projects in Staten Island, NY
We are experts in providing concrete removal in Staten Island, NY. If you have a desire to transform your old home into a new one, then we will no doubt make it happen here at Omni Demolition with our concrete slab removal and concrete hauling services. Whether it is taking down an old building to replace it with a new one or improving the condition of a derelict building, Omni Demolition has the right people for the job. After all the work is done and the dust settles, you'll find that our services are done with excellence and are very affordable.
Important Equipment Used for Concrete Removal in Staten Island, NY
From plowing to chipping to drilling and demolishing concrete, we are your go-to company. Our contractors at Omni Demolition use a wide range of equipment when we perform our services such as concrete slab removal. Mounted breakers are used in heavy demolition work in Staten Island, NY. Mechanical concrete demolition is used on bigger sized structures such as a concrete silo. Types of equipment used for getting this kind of job done are bulldozers, excavators, loaders and cranes. We also use jackhammers, pallet jacks, bobcats and hoists for demolition work such as removing concrete driveway, concrete slab demolition and concrete wall demolition. Rotary hammers, on the other hand, can demolish concrete using the hammer alone or they can make holes in concrete. After we cut and crush the concrete, we can also provide concrete hauling services to get rid of or recycle the waste materials.
When Should You Book a Concrete Demolition Service in Staten Island, NY?
Concrete demolition in Staten Island, NY is necessary when you need to bring down an old structure in order to erect a new one. Concrete is no exception and the time inevitably comes when you will need to demolish your concrete structure in Staten Island, NY, for one reason or another. Whatever your demolition and concrete hauling requirements are, we can help you achieve all your goals at a budget-friendly price. Concrete demolition is necessary when your structure becomes old and dilapidated; when your structure has widespread cracking; when moisture penetrates into the ground, freezes and then pushes up the concrete; or when you plan to improve or put up a new structure. It could be that you want to replace an old structure with a new one or to remodel an existing structure.
Are Permits necessary for Concrete Removal in Staten Island, NY?
Before you can start a Staten Island, NY concrete removal, concrete hauling project or any other related service, you need to secure a few documents. Start by applying for a permit from the local authority. Some concrete removal companies may charge extra for processing it on your behalf but not us—we are here to make the permit process as simple and effortless as possible. If you have just moved to Staten Island, NY or if this is your first ever attempt in handling a major renovation or structural change, chances are you do not know which requirements you need and how you can get the necessary permits completed. There are several instances where you need to get a permit from your local council such as: when a building is to be entirely demolished, part of the building is to be demolished or more than a half of a given floor area of a building or structure is to be demolished. The good news is that at Omni Demolition, we will take care of everything.
How Much Can a Concrete Demolition Project Cost in Staten Island, NY?
Expect to pay an average of around $200 to secure a demolition permit alone. Sometimes, the charge can go up, depending on the rates of your local government. The bigger the size of the concrete, the more the job will cost. We are not after a one-time money-making scheme. Instead we take care of our clients to maintain a healthy and harmonious professional relationship that will last for years. Our concrete demolition projects in Staten Island, NY include patio demolition, patio removal, tearing down walkways and walls, demolishing decks, entire buildings, among others. Additional fees may follow for services like inspections for water, electrical and sewer disconnections. This is because, removing reinforced steel in the concrete structures requires manual cutting.
How Much Time Should a Concrete Demolition Project Take in Staten Island, NY?
Time taken to complete a concrete demolition project varies. We also explain the permit requirements and application to our clients before we provide services such as concrete hauling and concrete slab removal. We will only give you and agree on realistic time frames when all things have been factored in such as the size of the project. The bigger the demolition structure, the more time it will take to complete the job. Your budget also determines the time it will take to complete your project.
How Can I Reuse the Concrete Waste Generated from My Project in Staten Island, NY?
It comes right after a concrete demolition and removal project. Managing reusable resources is an effective way of minimizing the growing amount of wastes that households, commercial establishments and industrial buildings produce. The process of recycling done by our concrete demolition contractors includes salvaging rubble from demolition, crushing it, pre-sizing and sorting. In this day and age of strict adherence to environmental laws, recycling concrete is a welcomed option. Recycled concrete can also be used in a number of landscaping settings such as paving stones, water features, boulder rock walls, retaining walls, erosion structures, and other uses.
Why Choose us for All Your Concrete Demolition Needs in Staten Island, New York?
If you have been looking to hire a concrete slab removal expert, chances are you have seen ads from other providers in Staten Island, NY who offer the cheapest concrete demolition services, but are you sure you want to risk spending on a contractor that has no credibility and is seemingly desperate for clients? Hopefully not. No matter what concrete slab removal projects you have, dial our phone number today and we will be glad to provide you with a free estimate. We are self-driven in completing all our tasks with accuracy. If you are still in doubt whether Omni Demolition is the contractor to sign with, you can browse our website for customer testimonials and proof of our unquestionable workmanship. We also follow strict measures and carefully evaluate our demolition and removal plan to avoid delays. We professionally handle each client request in Staten Island, NY.
Zip Code Areas We Service in Staten Island
10302, 10303, 10310, 10306, 10307, 10308, 10309, 10312, 10301, 10304, 10305, 10314