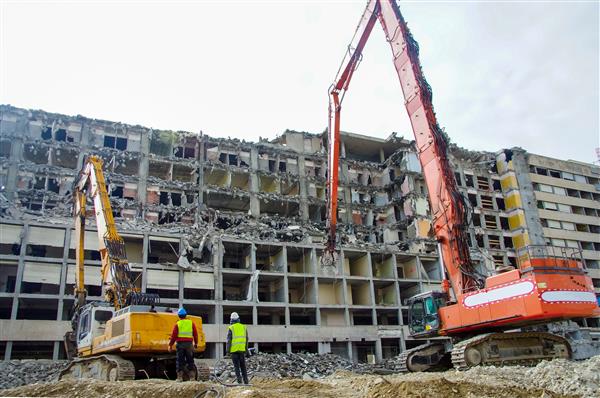 Demolition Contractors Staten Island, NY: The Number One Demolition Company
Here at Omni Demolition, we believe that pricing is not the only factor that you must consider when getting the services of demolition contractors in Staten Island, NY. You never have to worry about timelines. Our demolition experts always provide reliable and efficient services in a proactive manner. You can rest assured that our affordable services are top-notch. To achieve this, our demolition experts apply strong verbal, communication, analytical, managerial, decision-making and time-management skills.
What are the differences Between Demolition and Deconstruction in Staten Island, NY
Demolition is a faster process in comparison to deconstruction. Our demolition expert tests and removes hazardous material before knocking down the building. Some of the items salvaged in deconstruction are: roofing materials, windows, plumbing fixtures, doors, cabinets, flooring among others. It entails tearing down the components of a building for the purpose of recycling, re-using as well as waste management.
You can Trust Us with Your Demolition Project in Staten Island, NY
Our demolition experts have a solid record of work experience aside from continually receiving refresher trainings every now and then to ensure that they are well updated with any enhancements or changes in technology and procedural protocol. Our demolition contractor is at your service to fulfill all your needs. It is our core mission to exceed all your expectations. Our demolition contractor will handle your needs on a one-on-one level and ensure that your project is given the undivided attention it deserves.
We Offer a Wide Array of Professional Demolition Services in Staten Island, NY
Industrial Demolition Services: We can handle any challenging industrial demolition project you may have. With our world-class equipment and staff, we are able to demolish plants, mills, manufacturing buildings and so on.
Commercial Demolition services: Need your commercial demolition project done right the first time? Our demo company will take care of that for you. Our portfolio includes: airplane hangars, restaurants, grocery stores, gas stations, warehouses and libraries among others.
Concrete demolition and recycling services: We are the only demolition experts who carefully set aside re-usable materials from your site for possible future use such as slabs to be crushed later on into gravel.
Scrap Metal Demolition Services: Our demo company will expertly demolish your scrap metal projects. Our crew will downsize as well as dismantle the steel structures then process, bundle and recycle the materials.
A class Above the Rest in Staten Island, NY
Despite being highly preferred over other demolition contractors, we keep our feet grounded. We are a class above the rest. What sets us apart is our unshaken resolve to achieve 100% in customer satisfaction. An emerging demo company from years back, we are now among the top contractors in the city when it comes to leveling residential, commercial and industrial properties. Our demo company delivers effective and safe results on your time and budget.
Main Methods Used in Demolition and Deconstruction in Staten Island, NY
Explosive Demolition: Our demolition experts in Staten Island, NY bring down structures or buildings by removing the main structural elements such as the walls and pillars with the help of explosives. This reduces the building's structural stability, causing it to collapse under its own weight. This method is faster, environmentally friendly and safer when compared to other methods.
Non-Explosive Demolition: Our local demolition contractors will use a wrecking ball to demolish a building in situations that do not allow the use of explosives.
Selective Demolition: Our demo contractors are the most sought-after for their record in successfully extracting or tearing down selected parts of a structure. We are one of the few building demolition companies who can conduct a customized approach depending on the client requirement.
Important Equipment Used for Demolition in Staten Island, NY
Hydraulic Breakers – Our demo company uses a hydraulic breaker to demolish rocks and concrete structures. Its powerful hammer causes destruction on the targeted object in a matter of seconds.
Wrecking balls – Attached to a crane, these heavy balls made of steel are used to weaken structures. They are swayed right into the building causing it to break and collapse.
Hydraulic shears and rock breakers – A modification to excavators, these tools help in cutting through solid surfaces such as wood, metal, rocks, and concrete.
Bulldozers – They are used to push demolition debris. They are also used to tear down smaller structures, clear the property of rubble or pile the debris.
Dumpers – Essential in clearing a demolition site, our dumpers make it easier and quicker to take out unwanted debris and materials from the site to be properly disposed of. Our demolition business has invested in quality dumpers to ensure a speedy clean-up of the property and that your project timeline is met.
Cranes – Aside from being used to secure a wrecking ball, demolition contractors in our demo company also use cranes to lower and lift materials within the site.
Crawler Loaders – Also meant to be used in excavating, crawler loaders have declined in popularity compared to hydraulics that can be used in heavy drilling. This equipment, however, can run on its own power as opposed to hydraulic excavators that more often require towing.
For all your Demolition Needs contact us in Staten Island, New York
There is no other demolition company in Staten Island, New York that offers high quality services with reasonable prices as us. We have a brilliant track record of achieving 100% success despite hostile or challenging work environments. Our demolition company never offers excuses; we simply provide professional and timely services guaranteed to accommodate your budget. Our Staten Island deconstruction and demolition company has highly skilled personnel with years of experience in the demolition business. Go ahead and give us a call today at
(855) 885-3366
. We are always at your service.
Zip Code Areas We Service in Staten Island
10302, 10303, 10310, 10306, 10307, 10308, 10309, 10312, 10301, 10304, 10305, 10314