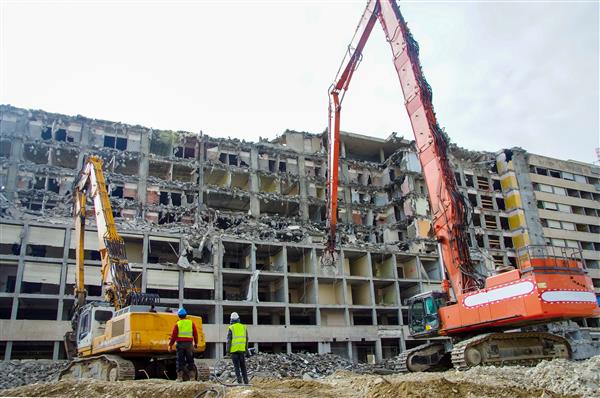 Demolition Contractors in Albany, NY: Your Trusted Demolition Company
For years, Omni Demolition has continuously served and established its reputation as the most trusted demolition contractor in Albany, NY. We will be able to complete your project in a professional, cost-effective and safe way. Our demolition contractor is on standby at all times ready to cater to your needs. We have a team of seasoned demolition experts ready to act on any project. You can rest assured that our affordable services are top-notch. To achieve this, our demolition experts apply strong verbal, communication, analytical, managerial, decision-making and time-management skills.
The Main Variances of Demolition and Deconstruction in Albany, NY
Demolition is aimed at basically bringing down a structure. Deconstruction is when a demolition expert carefully dismantles or takes down a structure with the aim of reusing or recycling the materials. Deconstruction differs from demolition in that, it involves tearing apart a building or a home in a manner that salvages materials. There are two types of deconstruction: selective and whole-house.
Highly Recommendable Services for Any Demolition Project in Albany, NY
We know that before you consider hiring us, you will want to understand how the job gets done by our demolition experts. Compared to other demolition contractors who are highly profit-driven, we are committed to giving back to the community through outstanding workmanship and transparent transactions. One of our biggest hallmarks is giving you undivided personal attention. Our demolition contractor will handle your needs on a one-on-one level and ensure that your project is given the undivided attention it deserves. From the start to the finish of your project, we are focused on your absolute satisfaction. From the start to the finish of your project, we are focused on your absolute satisfaction.
Take Advantage of Our Demolition Services in Albany, NY
Industrial Demolition services: Our countless contracts include leveling massive structures such as worn-down factories, mills, and chemical warehouses.
Commercial Demolition services: Our demo company uses superior equipment and expertise in tackling various commercial demolition structures such as strip malls, warehouses, office buildings, hotels, bridges, grocery stores and airplane hangars among others.
Concrete demolition and recycling services: Our demolition experts can break down concrete surfaces and slabs into reusable gravel.
Scrap Metal Demolition Services: Allow our demo company to remove useless steel erections onsite and salvage reusable metal for recycling instead of hiring a separate contractor, which means more expenses for you.
We Lead, Other Demolition Companies Follow in Albany, NY
We take pride in deploying demolition experts and demolition contractors who are not simply knowledgeable on the job but also skilled and experienced all across the state. Our demolition experts and demolition contractors have an established performance record of completing demolition jobs in the right way, on budget and on time. Our demolition company is experienced in implementing both small and large projects. Our demo company appreciates all our clients and we demonstrate this by endeavoring to give you nothing but the very best.
Methods Used for Demolition and Deconstruction in Albany, NY
Explosive Demolition: If you want to demolish a big structure, you have to bring out the big guns. Our demolition experts in Albany, NY use explosive demolition for larger buildings. It is as effective as it is safe.
Non-Explosive Demolition: Our local demolition contractors will use a wrecking ball attached to a crane to knock down a building. The heavy wrecking ball is swung several times on the targeted structure before it can collapse.
Selective Demolition: In cases of remodeling or renovation, demo contractors may be required to pull apart specific areas of the structure. We exceed other building demolition companies when it comes to precision in conducting selective demo such as disassembling interiors, floor coverings, ceilings and walls.
Utilizing the Proper Equipment for Demolition in Albany, NY
Hydraulic breakers-Heavy-duty excavators are used at our demo company to aid in breaking or crushing concrete segments of the building. Be wary of contractors who have poorly maintained equipment such as hydraulic breakers because this will surely cause delays in your timeline.
Wrecking balls – Attached to a crane, these heavy balls made of steel are used to weaken structures. They are swayed right into the building causing it to break and collapse.
Hydraulic shears and rock breakers – These are helpful in cutting all sorts of steel, wood, rocks, concrete and metal. They make a very clean cut within a short period of time.
Bulldozers – Serving multiple purposes, bulldozers can be used to haul items and waste as well as help knock down weak structures or level mounds of soil.
Dumpers – A dumper or a tipper truck is essential in the demolition business. This vehicle is specially designed to carry debris such as gravel, or demolition waste in bulk away from the property. It makes cleaning up the property after demolition easier and faster.
Cranes – Demolition contractors use cranes to transfer materials within the site especially from lower to upper floors and vice versa. Aside from being used as a pulley, our demo company also uses cranes for wrecking balls.
Crawler Loaders – Also meant to be used in excavating, crawler loaders have declined in popularity compared to hydraulics that can be used in heavy drilling. This equipment, however, can run on its own power as opposed to hydraulic excavators that more often require towing.
We are the Number to Call for Premium Demolition Services in Albany, New York
Settling with an amateur demolition company in Albany, New York may seem cost-effective at first but mishaps and faulty work onsite may cost more of your resources, time and energy. There's a reason why we continue to be highly recommended by building contractors and the rest of our clientele. Our demolition company's spotless track record in handling minor to major demolitions is your guarantee of our high quality service, expertise and commitment to each and every project. Our Albany deconstruction and demolition company is licensed and highly reputable. Get in touch with us today at
(855) 885-3366
and we will be more than glad to help.
Zip Code Areas We Service in Albany
12208, 12209, 12204, 12206, 12207, 12202, 12203, 12205, 12210, 12222, 12201, 12212, 12214, 12220, 12223, 12224, 12225, 12226, 12227, 12228, 12229, 12230, 12231, 12232, 12233, 12234, 12235, 12236, 12237, 12238, 12239, 12240, 12241, 12242, 12243, 12244, 12245, 12246, 12247, 12248, 12249, 12250, 12255, 12257, 12260, 12261, 12288